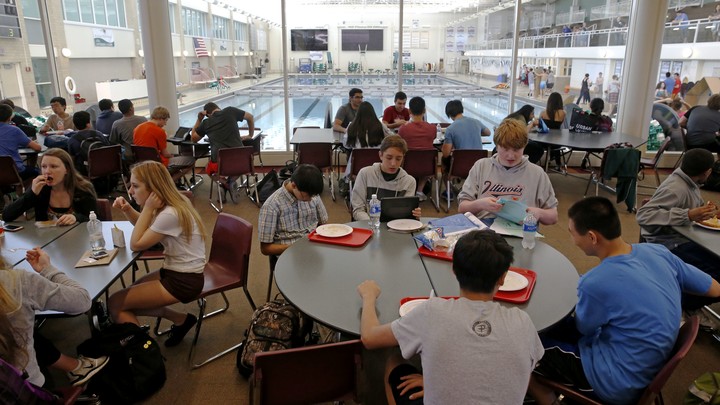 Eric Hoover | The Chronicle of Higher Education
[Kristina] Anderson, a sincere 29-year-old with crystal-blue eyes, takes the hallway to the resort's convention center. Two hundred law-enforcement officials, mental-health experts, and campus-safety officers have come for the Association of Threat Assessment Professionals' spring conference. She takes a seat toward the back of a room and listens as the keynote speaker, Sheriff Jerry L. Demings of Orange County, describes the police response to the fatal shooting of 49 people at an Orlando nightclub last year. ...
Soon, Anderson notices her heart pounding. She puts two fingers to her neck and checks her pulse. Fast. She breathes deeply, trying to slow the sudden creep of anxiety. She's nervous about tomorrow's presentation, but she feels something else, too. It's the weight of an approaching anniversary.
On April 16, 2007, a troubled student armed with semi-automatic pistols killed 32 people and wounded 17 others at Virginia Tech. Anderson was one of them.
* * *
The Contemporary Reality of Corporal Punishment in American Schools
Jess Clark | NPR
Robbinsville High School sits in a small gap in the Smoky Mountains of North Carolina. Green slopes dotted with cattle hug in around the school before they rise into a thick cover of pine trees.
David Matheson is the principal here. And he's the only high-school principal in the state who still performs corporal punishment. At Robbinsville, corporal punishment takes the form of paddling—a few licks on the backside Matheson delivers with a long wooden paddle.
North Carolina state law describes corporal punishment as "the intentional infliction of physical pain upon the body of a student as a disciplinary measure." Robbinsville High School's policy allows students to request a paddling in place of in-school-suspension, or ISS. Last year, 22 students chose it.
* * *
What Happens When a Student Has No Lunch Money?
Emily Foxhall | Houston Chronicle
The small crisis takes place countless times at the lunch hour in schools across Greater Houston: Students have no lunch money, for all sorts of reasons.
The solution du jour in many area school districts is cheese on bread, which officials describe as a necessary balance between child nutrition and fiscal responsibility. While not exactly Dickensian, these "alternative meals" are the best the school officials say they are able to do. ...
But such meager fare is sparking debate from Austin, Texas, to Washington over the obligation increasingly low-income public schools face to feed kids who either haven't applied for free or reduced-price meals or don't have lunch money.
* * *
The Monetary Backlash Against an Abusive For-Profit Chain
Zoë Kirsch | ProPublica, Slate
The Muscogee County School Board in Columbus, Georgia, dealt another blow to embattled Camelot Education when it voted Monday night to delay for three months a decision on whether to hire the company to run its alternative education programs.
The delay in awarding the $6.4 million annual contract comes in the wake of a recent report by ProPublica and Slate that more than a dozen Camelot students were allegedly shoved, beaten or thrown by staff members—incidents almost always referred to as "slamming."
* * *
How Military Families Navigate the Special-Education Landscape
Dianna Cahn | Stars and Stripes
The strain of having a special-needs child is hard on families, but it's particularly tough when families move a lot and must navigate a new school and the complexities of special-education law in a new state every few years—the norm for military families.
Add to that the difficulties of one spouse being away frequently for their job—and often trying not to make waves because it could detract from his or her career—and military families can get pulled to breaking point.
* * *
Colleges' Endless Pursuit of Students
Jeffrey Selingo | The Atlantic
Compounding the low yield rates are stagnant retention rates among first-year students and colleges' over reliance on tuition dollars as a main source of revenue. In a move to fill seats with students who will stay through graduation and are able to pay a significant slice of the tuition bill, colleges are increasingly turning to Big Data to better pinpoint prospects as early as their sophomore year of high school. The new approach builds on colleges' efforts of the past two decades in which they aggressively adopted the playbook of consumer marketers by purchasing student names from the big testing companies—the ACT and the College Board.  
* * *
A Former Hockey Player Triumphs Despite Paralysis
Eric He | Daily Trojan
It's mid-afternoon on a Friday in the courtyard of the Troy East apartment complex—a block away from the University of Southern California campus—and Jack Jablonski is standing up.
He's in the middle of a rehabilitation session and is strapped into equipment at his chest, waist, and ankles, his arms resting on a tray protruding from a chest plate.
Getting to this point takes a lot of effort for Jablonski and his two trainers, Alicia Villarreal and Brent Brayshaw. They've moved him from his wheelchair to a massage table and stretched every part of his body from his shoulders to his Achilles vigorously for half an hour. Always sitting in a wheelchair means Jablonski's muscles are tense.
We want to hear what you think about this article. Submit a letter to the editor or write to letters@theatlantic.com.