The Privilege of School Choice
When given the chance, will wealthy parents ever choose to desegregate schools?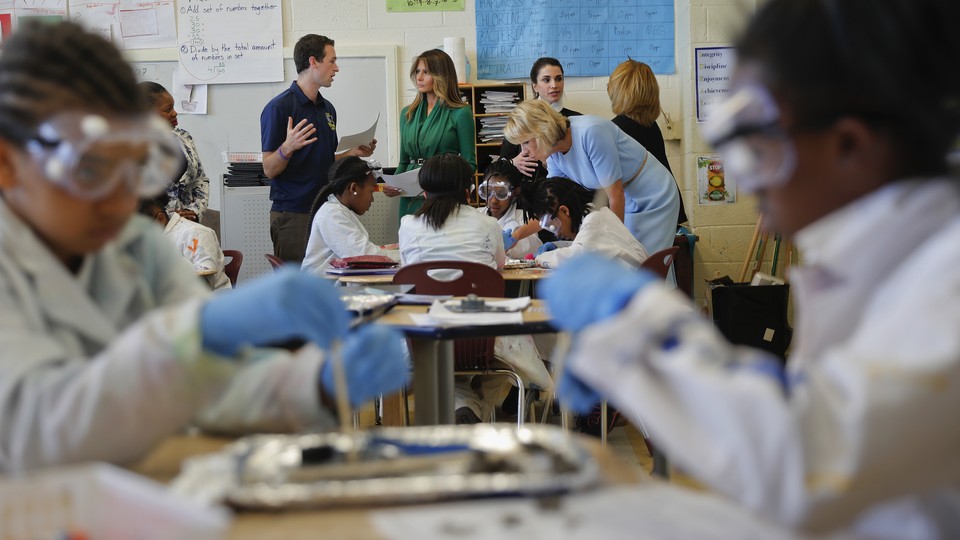 Last year, a contentious zone change in New York City forced well-off parents to decide whether or not to integrate a high-poverty school. The exact-same scenario had played out a half-century earlier during the city's brief attempt at school desegregation.
On November 23, the morning after his home was drawn into a different school zone, Mark Gonsalves slipped out of his office in Midtown Manhattan and rode the subway to the Upper West Side. He met his wife outside a tan-brick building on West 61st Street. It was P.S. 191. Together, they entered the school's library, a sparse room with butterfly stickers pasted to the wall and wooden shelves full of donated books. A promotional video was playing. It showed children of different races smiling as they made papier-mâché sculptures and visited a local museum. Gonsalves, who is an executive at a sportswear company, pulled out a pen and paper. The couple had come to size up the school.
It was not where they had dreamed of sending their youngest son, Justin. Seven years earlier, with their first child on the way, they had bought a co-op apartment around the corner from a school on West 70th Street, P.S. 199. In a district where most public-school students are poor, 199 is a bastion of privilege. Its parent association raffles off backstage Hamilton passes and weeklong ski-resort stays to augment the school's budget. Its students, who are disproportionately white and Asian, score in the 97th percentile citywide on standardized tests. In fact, its success drew more parents to the neighborhood than the school could accommodate, so the city decided to shrink its borders. The proposal cut Gonsalves' building out of 199's zone. Suddenly, the path that he'd carefully plotted for his son from private preschool to elite public kindergarten was in jeopardy. He and his neighbors fought the plan. But, two days before Thanksgiving, the district education council approved it. Gonsalves' family was now zoned for P.S. 191.
After the video ended, the school's principal, Lauren Keville, introduced herself. Keville is 39 years old and has curly brown hair that falls past her shoulders. When speaking to adult audiences, she has a polite, professional air. With children, she is effusive, complimenting their outfits in the hallway and crouching beside their desks to talk face-to-face. When she was hired to take over P.S. 191 in 2014 she inherited its defining paradox: It is surrounded by wealth but weighed down by poverty. Luxury apartment towers with sweeping views of the Hudson River soar above the school, and a private tennis court, inaccessible to its students, sits beside it. The tower-dwellers don't send their children to 191. Instead, most of its students come from the Amsterdam Houses, a low-income project across the street. Last year, just over 86 percent of the school's students were black or Hispanic, and 82 percent were poor. (At P.S. 199, 15 percent of students were black or Hispanic, and 7 percent were poor.) The zone change offered 191 a reprieve from its overwhelming poverty—but only if the rezoned parents gave it a chance.
"We are doing a lot of exciting things at our school," Keville said to the handful of parents who, along with the Gonsalveses, had come for a tour. "We're excited to open our doors and share that with you." Over the next 35 minutes she described the new math and reading curriculums she'd introduced, arts grants her staff had won, and Mandarin classes she was planning. Gonsalves, who is pink-hued and bald, took notes and snapped photos on his phone. Then Keville led the parents on a tour. In a first-grade classroom, the students waved colorful paper turkeys for Keville to admire. "You're such happy first-graders!" she said.
After the tour, Gonsalves lingered on the sidewalk outside the school. "I don't know," he said. He wasn't convinced it had all the resources he wanted. And even though he'd been zoned for it, he had other options: He could apply to different schools, or move. "We're certainly looking at that," he said. P.S. 191 needs parents like Gonsalves if it's ever going to end its damaging racial and socioeconomic isolation—yet they don't need it. It's a conundrum facing schools across the country: How can you persuade parents with other options to choose integration?
President Donald Trump and his education secretary, Betsy DeVos, have a simple plan to make education great again: Give parents more choice. Trump released a budget outline in March that's intended to expand the number of charter schools, pay for some students to attend private schools, and redirect federal funds to follow students to the public schools they select. But even if Congress goes along with Trump's plan, privileged parents will still have the most school options—a fact that isn't great for poor families.
The main way well-off families choose schools is by choosing where to live. Increasingly, they're settling in districts where most children look like theirs. "Rich districts are being created, and leaving middle-to-poor districts behind," said Ann Owens, a sociologist at the University of Southern California, citing research she conducted with Sean Reardon of Stanford University and Christopher Jencks of Harvard. Students in some of the richest districts score four grade levels above their peers in the poorest districts, Reardon found. Even within diverse districts, rich and poor students—which often also means white and nonwhite students—are frequently sorted into separate schools. In their analysis of large districts, Owens, Reardon, and Jencks found that segregation between poor and non-poor students in public schools grew more than 40 percent from 1991 to 2012. Rising residential segregation by income has fueled that growth, as most children attend their local public school.
But families can also opt out of their neighborhood school. Many districts allow parents to apply to transfer programs, magnet and charter schools, or gifted-and-talented programs as alternatives to their nearest public school. Those options are open to any parent, but the most advantaged families are often best equipped to chart a course to their preferred school. (In New York, that can involve hiring consultants to guide them through the elaborate public-school admissions process, or paying tutors to prep their 4-year-olds for the gifted-and-talented test.) The upshot is that even when privileged and poor families live in close proximity, they often attend separate schools. A 2007 study of 21 large districts found that most schools had higher poverty rates than their surrounding neighborhoods—a pattern triggered largely by well-off families choosing private, magnet, or charter options instead of their local public school. "If you define choice as deciding not to enroll in the school that serves your neighborhood, then choice leads to greater segregation," said Salvatore Saporito, a professor at the College of William & Mary who conducted the study with Deenesh Sohoni.
At the same time, more schools across the country look like P.S. 191, highly segregated by both race and income. In 2013-14, the most recent year data are available, more than one in six students attended schools where the vast majority of their classmates were both poor and black or Hispanic—over twice as many as in 2000, according to a report by the Government Accountability Office. Students in those schools are more likely to be held back in ninth grade, kicked out of school, and taught by an inexperienced teacher, and are less likely to be offered critical classes like calculus and physics, the report found. This link between students' race, their exposure to poverty, and the quality of the schools they attend is what makes segregation harmful to students, Reardon found. In the largest study of its kind, Reardon analyzed the test-score gap between white students and black and Hispanic students in every school district in the country. He estimated that roughly one-fifth of the average metropolitan area's racial achievement gap is due to racial segregation because of the higher poverty rates in schools attended by many black and Hispanic students. "School poverty," he said, "turns out to be a good proxy for the kind of educational opportunities a school can provide."
These trends converge in New York City. One of the nation's most multicultural metropolises has one of its most segregated school systems, according to a 2014 analysis by the Civil Rights Project at the University of California, Los Angeles. Neighborhood divisions are largely to blame: Housing policies helped steer families of color and whites into separate neighborhoods, which were reinforced by school-zone lines. Yet student-sorting also happens in mixed neighborhoods. More than 120 of the city's 734 elementary schools have student bodies that are poorer than the populations of their surrounding catchment areas, according to a 2016 report by the New School's Center for New York City Affairs. And 59 schools in racially mixed zones are almost entirely black and Hispanic. One of the report's starkest examples is P.S. 191. In the school's zone, where swanky apartment buildings bump up against the housing project, the median household income is about $124,700. But among families who send their kids to 191, it's $64,000.
Parents make their school choices in a world shaped by public policy—or its absence. The courts never ordered New York City to desegregate its schools, and the city eventually abandoned a plan that civil-rights groups had pressured it to create in the 1960s. Remarkably, P.S. 191 and 199 were part of that desegregation plan, which was ultimately doomed by white resistance. Since then, policymakers and education reformers in New York and across the country have labored to raise the quality of segregated schools while also giving families more school options. But all that choice comes at a cost. In P.S. 191's case, two-thirds of the kindergarten students who lived in its catchment area last year found spots in other public schools. Those who remained required extraordinary support: Not only were most poor, but nearly one-third had disabilities and almost one-fifth lived in homeless shelters or other temporary housing. (By contrast, 14 percent of P.S. 199 students had disabilities, and 1 percent were homeless.) The rezoning had the potential to change that by reassigning families to different schools. Still, parents like Gonsalves would have to be convinced to accept their new assignment. That job fell to Principal Keville.
* * *
Keville had gotten to work quickly after taking over P.S. 191. A former school-improvement consultant, she shook up 191's staff and overhauled its curriculum in her first year as principal. The school had struggled before she arrived, but it still inspired devotion: Some teachers dedicated much of their careers to it, and parents who'd gone there as children later entrusted it with their own kids. Keville was equally passionate. Each morning, after commuting to school from her home in Brooklyn, she'd stand outside to greet parents as they dropped off their children. Last June, during the school's carnival, she joined a group of boys as they did a dance called the "Stanky Legg," while teachers and parents cheered her on. "I love the school. I love the work. I love the kids," she explained. "It's just exciting for me."
In August 2015, after her first year at 191 had just ended and her reforms just started, the state branded the school "persistently dangerous." The label was based on school-reported incidents of student misbehavior, which can range from shoving and bullying to criminal activities. Some of the incidents dated back to before Keville arrived. Teachers said the label was misleading, and pointed to problems with the reporting system (which the state later revamped). But warranted or not, the designation battered the school's already weak reputation. "This has been a dark cloud for us," Keville said at a public meeting that year.
Nine blocks away, P.S. 199 faced a different problem. The school, which has won a National Blue Ribbon Award, has such pull among affluent parents that many shop for homes within its boundaries. (During the rezoning process, an ad for a $2.7 million apartment near the school reassured potential buyers that it was still zoned for 199.) Once they're in, parents invest heavily in the school. "I think a piece of it is we all know if we didn't have this amazing school that we'd be sending our kids to private school or leaving the city," said Nadine Gerber, whose daughter is in the fifth grade at 199. The parent-teacher association amassed $777,000 last year. (P.S. 191's PTA raised $27,000.) The group has funded class trips, theater workshops, recess monitors, a science teacher, and student laptops, according to PTA documents. But 199's abundant resources have led to a shortage of seats. Even with the building filled above capacity, nearly 100 would-be kindergarteners in the school's zone had to be placed on a waitlist in 2015. So, that fall, the city proposed shifting some families in 199's zone to its under-enrolled neighbor, P.S. 191.
On a Saturday afternoon that October, many of those families crowded into 191's auditorium for a public hearing on the plan. After a student choir sang a song about brotherhood, and an education-department official explained the logistics of the plan, parents lined up behind microphone stands to attack it. They came prepared: A flyer posted in one of the rezoned apartment buildings, a co-op called Lincoln Guild, had urged residents to "Show up in force to show our mass displeasure" and provided detailed talking points. Some speakers called for a single 191-199 zone, which they said would make both schools more diverse. (That proposal may have been more strategic than civic-minded: The flyer said that one way to block the rezoning was to "provide as many viable alternatives and rationales as possible"—including a "shared zone.") Others insisted that 191 was an unacceptable option for their children. When one dad asked who would move if they were rezoned for that school, hands shot up across the auditorium. Keville listened silently from her seat in the first row, her hands folded neatly in her lap. When it was her turn to speak, she stood and faced the crowd. It was her chance to ask the parents to reconsider their assumptions about 191. But just as she started, a man cut her off. "This is not the opportunity to talk about how great the school is!" he shouted from his seat.
Even if 199's overcrowding made the zone change inevitable, it still blindsided parents who'd paid a fortune to live near the school. Many saw it as a betrayal of a tacit agreement between the city and higher-income families: If you keep your kids in the public system, we'll let you secure spots in the top-ranked schools if you purchase homes in their zones. That might sound counter to the ideals of public education, but the parents had reason to think city leaders were in on the deal. When Mayor Bill de Blasio was asked at an unrelated press conference that November whether he was willing to rearrange zone lines to promote school integration, he replied: "You have to also respect families who have made a decision to live in a certain area oftentimes because of a specific school." Such families have "made massive life decisions and investments because of which school their kid would go to." The flipside of this bargain is that redrawing school boundaries could affect children's schooling—and their parents' real-estate investments. As one dad put it at that October hearing: "We want the best for our children. We want the best for our property values."
At the same time, the prospect of P.S. 191 panicked some rezoned parents. (The change only applied to incoming students; no current 199 students would be moved.) The "persistently dangerous" label was alarming, as were the very low test scores. The scores should not have been a surprise: Social-science research over the past 50 years has shown that concentrating low-income students of color in the same schools lowers their achievement levels. In 2006, the economist Douglas Harris found that only 1.1 percent of high-poverty schools consistently performed at a high level (which he defined as having students in two grades achieve high scores on math and English exams for two years). By contrast, 24.2 percent of low-poverty schools met that mark. If P.S. 191 got an influx of affluent students, its scores would inevitably rise. But many parents want to see high scores up front. "One-ninety-one will continue to be shunned until the test scores are improved," a dad in a gray sweater and glasses said at a hearing.
Racial anxieties coursed through the debate, often just below the surface. White and Asian parents who opposed the rezoning often began their public comments by praising diversity and stating that race played no part in their resistance to 191. (In surveys, it's common for whites to downplay the importance of race in choosing schools, even as studies find it's a top consideration in their actual decision-making.) Yet outside the hearings, racially tinged rumors about 191 circulated among some parents. A woman whose child attends a predominantly white school in the area and asked not to be named said she'd been told that some 191 students serve as drug mules for local dealers; another woman who asked not to be named told me she'd heard that an older 191 student had pulled a knife on a pre-kindergartener. (The school's head pre-k teacher at the time strenuously denied that any such incident occurred.) Among parents of color, it seemed undeniable that bias accounted for at least some of the opposition. "They say it's about rezoning," a black woman who lives the Amsterdam Houses and whose child attends 199 said at one of the October hearings, "but what they're worried about is having to integrate with public-housing minority kids."
The previous year, the UCLA report on New York's severe school segregation had attracted widespread attention, prompting New York City lawmakers to require the city education department to release more detailed demographic data about every school. The schools at the center of the Upper West Side rezoning proposal and a similar one in Brooklyn offered vivid illustrations of that divide. Yet Mayor de Blasio, who had promised at his 2014 inauguration to "put an end to economic and social inequalities that threaten to unravel the city we love," had barely acknowledged the issue. And when his handpicked schools chief, Chancellor Carmen Fariña, a 50-year veteran of the school system, was asked about her views on school diversity, she gave a now-infamous response that rich and poor students needn't necessarily attend the same schools—they could be pen pals.
Soon after the hearing where Keville was cut off, Fariña held a town-hall meeting at P.S. 191. The town hall offered an opportunity to make a stronger case for integration. Instead, she made rambling remarks, saying she personally valued diversity but that integration can't be imposed on parents. "I think it's a question of what I believe in and what I can convince other people to believe in," she told a packed auditorium. A few weeks later, as parents continued to rage against the rezoning, the education department decided to table it.
At that point, Mark Gonsalves had no reason to believe Justin would go anywhere but P.S. 199. The family lived in Lincoln Towers, a cluster of high-rise co-op buildings that overlook the school. Their one-bedroom apartment, which the couple bought for $540,000, was a tight fit: They used some bookcases and a curtain to convert the dining-room nook into a bedroom for Justin and his older brother, Josh. But the Towers offered them a safe haven in the heart of the metropolis—a place where elderly residents sell their handiwork at an annual crafts fair, and children play soccer in the development's private park. "It's one of the rare places that feels like it's in the suburbs, but it's in the city," he said. To Gonsalves's relief, the development was spared from the first rezoning proposal.
That changed last summer. The city unveiled a complicated new rezoning plan to replace the one they'd tabled. P.S. 191 would now move into a new building down the street. Families in the Amsterdam Houses would no longer be zoned exclusively for 191; some would now be matched to P.S. 199, and others to a third school. And two of the eight Lincoln Towers buildings, including Gonsalves's, would be reassigned to 191. Suddenly, kids who laughed and rode scooters together on the weekend would part ways each school day—some would attend a neighborhood gem, others a school best known for its proximity to a housing project. "I don't want two communities at Lincoln Towers," Gonsalves said. "I bought at Lincoln Towers to be part of one community."
Residents, including some without school-age children, began to organize. They texted during the day and gathered in the evenings, looking for a way to keep the entire development zoned for 199. Together, they wielded considerable clout. They met privately with a top education-department official to register their objections to the rezoning, and invited a state lawmaker, Assemblywoman Linda B. Rosenthal, to discuss it at a town-hall meeting in their building. Worried that they came across as anti-integration in news reports, they approached a public-relations firm for guidance.
They decided not to hire the group, but did retain a lawyer who could mount a legal challenge if the rezoning was approved. They also invited reporters to a rally outside one of the buildings, where they were joined by Rosenthal and another state legislator. A dad used a bullhorn he'd ordered online for the occasion to rouse his neighbors, who held up signs and multi-colored balloons. Gonsalves was one of the speakers. He stood at a podium facing a television camera. He explained that both of his sons have special needs, and yet his neighbors had made them feel like a "typical family." But now, he said, "The Department of Education has proposed to rip up this community!" His neighbors stood behind him and chanted, "Makes no sense!"
Gonsalves made an unlikely adversary of Fariña and de Blasio. His father's parents immigrated to the U.S. from Portugal (Fariña's parents came from Spain), and his mother was a public-school teacher. He'd voted for the mayor. And yet he found the rezoning unacceptable, cynical even. It separated part of Lincoln Towers from a school with which it had a decades-long affiliation, and assigned families to a school whose test scores they found deeply troubling. It claimed to promote diversity, yet it placed the burden of integration on a subset of families while leaving many Upper West Side schools segregated. "We want real diversity," Gonsalves said last October, "but this plan is smoke and mirrors."
Despite his efforts, the rezoning was approved the following month. P.S. 191 was no longer an abstraction; it had become a decision the rezoned parents would have to make.
* * *
In 1954, the Supreme Court ruled in Brown v. Board of Education that racially segregated schools were inherently unequal. Yet a decade later, New York City found itself with more segregated schools than it had at the time of the ruling, not fewer. So in early 1964, with the nation transfixed by the southern civil-rights struggle, activists in New York City threatened to conduct a massive school boycott. To head it off, the city's Board of Education announced a large-scale integration plan. Among other measures, it called for "pairing" dozens of segregated elementary schools. Each pair would include a white school and a nearby black or Hispanic school; all students would attend one for a few grades, then switch to the other.
The city's civil-rights coalition was unimpressed, as the plan left scores of schools segregated. The coalition went forward with the boycott, which kept 460,000 students, or about 45 percent of the total, out of class—at the time, it was the largest civil-rights demonstration in American history. But many white parents were outraged with the pairing plan. Unlike "open enrollment," the city's largest desegregation effort to date, which had allowed black and Hispanic students in overcrowded schools to transfer to white schools, pairing would compel white students to change schools, too. Though all the paired schools were in close proximity, and the city promised them buses and extra funding, the fact remained that whites would now have to shoulder some of the burden of desegregation. To protest the plan, over 10,000 white parents marched to City Hall with signs reading, "We will not be moved" and "Fight school transfers!" In response, the Board of Education scaled back its program. Even though civil-rights advocates had demanded 80 to 100 pairings, and the board itself had identified 26 potential pairs, its final list included just four. One additional set would start with two grades the first year then expand. That pair was P.S. 191 and P.S. 199.
The two schools were separate from the start, built to serve entirely different populations. P.S 191 was tethered to the Amsterdam Houses. The development's 13 brown-brick buildings were conceived in the early 1940s as a way to revitalize a neighborhood known at the time as San Juan Hill, a black enclave that had become increasingly poor and dilapidated. But by the time planning for the housing project began, the black population was already on the decline, worrying some members of the West of Central Park Association that constructing a housing project in the neighborhood might "build up the negro population, rather than permit it to die out," as a housing official quoted them saying in 1940. They needn't have feared: When the Amsterdam Houses opened shortly after World War II, packed with returning veterans, most of its tenants were white. But as federal mortgage subsidies, which excluded blacks, sucked white families to the suburbs, its population shifted. Fifteen years after opening, the project's white population had dwindled from 70 to 19 percent. P.S. 191, which opened in 1956, reflected that change. By 1964, it was 95 percent black and Hispanic.
Just north of the Amsterdam Houses sat row after row of crumbling tenements. They housed factory workers, artists, and immigrants—"a well-integrated, racially and economically balanced neighborhood," as one woman put it at a 1957 hearing according to the book Manhattan Projects by Samuel Zipp. But in the eyes of the city's legendary planning czar, Robert Moses, the slum was a colossal waste of prime real estate. A new cultural center and higher-income housing could boost the area's property values and staunch the flow of middle-class families to the suburbs. Moses made the West Side his largest "urban renewal" project, bulldozing 48 acres to make way for the glittering Lincoln Center arts complex and new luxury housing—including Lincoln Towers.
Nearly 17,000 working-class residents and business owners were forced to leave the area, according to one estimate. Private developers were brought in to construct new housing for "the high-middle income group," as a 1956 city-planning document put it, but not for "families of lower income who may be eligible for public housing available elsewhere in the City." By 1965, a New York Times reporter was gawking at "the new West Siders," those "affluent and successful" people living in Lincoln Towers and other "opulent new apartment developments." Alongside the high-rises a new school was built, P.S. 199. When it opened in 1963, it was 66 percent white.
Some Upper West Side parents tried desperately to block the pairing. A few in Lincoln Towers and nearby Lincoln Guild sued to stop it. P.S. 199's PTA president wrote a letter to the Times warning that the plan would push white families out of the system. At contentious hearings, parents cited the amounts they'd paid to live in the towers next to the new 199. In private meetings in Lincoln Guild's community room, parents for and against the plan stood on tables to shout at each other, according to Bernard Stone, now 87 years old, who supported it. He said many of his liberal neighbors, like him, had cheered on the southern civil-rights movement. "What they objected to was taking the integration question up north." After the pairing debates, he said, "There was a lot of bad blood."
White families boycotted the day the pairing system went into effect, keeping 175,000 more students home from school than normal. At P.S. 199, nearly 40 percent of students missed class that day. Yet others embraced the plan. Some white parents met with their counterparts in the Amsterdam Houses to discuss how they could make the pairing work; together, they lobbied the city for extra services for P.S. 191. "We were going to make sure they gave every kid who was participating in the program the best quality education we could possibly get for them," said Yvonne Pisacane, 81, whose two sons attended both 191 and 199.
That was exactly the logic of civil-rights groups' push for integration: Schools serving students of color were much more likely to receive their fair share of resources if whites attended them, too. In anticipation of the pairings, the city painted classrooms and installed new furniture in formerly all-black schools that would soon enroll whites. "I am sorry that it took pairing to give us the facilities and the books we need," a teacher at a Queens school that had previously enrolled only black students told a reporter at the time. The city poured $150,000 into each pair of schools to pay for extra teachers and services. Black students at the paired schools made greater test-score gains than their peers in segregated schools. White students also made strides, though those who didn't switch schools saw their scores improve more.
Meanwhile, students ventured across class and color lines. Valerie Washington, who grew up in the Amsterdam Houses, became best friends with a girl from Lincoln Guild, Eve Becker. Soon Eve was attending Valerie's birthday parties (where she was the only white girl), and Valerie's class was going to watch Eve's father play viola in the Philharmonic. Both women said those experiences shaped them. "When I see people, color is there, but I'm really comfortable," Washington said. "It's never been a problem."
Yet the pairing remained a problem for many white parents who refused to enroll their children in 191. Stanley Becker, the school's principal from 1960 to 1980 (who has no relation to Eve), was determined to persuade them: He lowered class sizes and cut down on art instruction in order to boost test scores, while also appealing directly to skeptical parents. Becker, who's now in his 90s, recalled telling families at a private preschool that if they toured 191 and weren't impressed, he'd pay for their cab ride home. "Nobody came," he told me.
Instead, many whites fled the public system. In the pairings' first year, 941 white students left the 10 participating schools. By 1971, the schools' white population had shriveled from 53 to 33 percent; the Board of Education's own research arm said the experiment appeared to have failed to produce lasting integration. It's unclear when the 191-199 pairing finally ended, though several people said it lasted through the early 1980s. By then, 191 enrolled a "minuscule" number of white children, according to Becker. The desegregation program, he said dolefully, "never got a fair shake to begin with."
* * *
Parents in the '60s who wanted to escape the pairing had to move or pay for private school; in the modern "school-choice" era, families find themselves with many more options. In New York City, parents can now apply to up to a dozen elementary schools (including the school whose zone they live in, where they get priority), along with charter schools and gifted programs. But like the rest of the school system, choice looks very different for rich and poor families, white and nonwhite. Nowhere is that more evident than in the local district where P.S. 191 and 199 sit, which includes the Upper West Side and part of Harlem.
In the district's Harlem pocket, nearly two-thirds of families flee their assigned neighborhood schools, which are low performing, according to a Center for New York City Affairs analysis. But different families go different ways: Those who enroll in charter schools, which use a lottery admissions system, are disproportionately black and mostly poor; but among white students, an outsize share switch to public schools in other neighborhoods, including gifted programs that students must test into. (In fact, while just over a third of the district's students are white, nearly 60 percent of its gifted-and-talented students were white last school year.) Meanwhile, the children who stay behind are overwhelmingly poor and black or Hispanic. In Harlem, "parents with the most resources are able to take advantage of school choice," said Clara Hemphill, the education-policy director at the Center for New York City Affairs. "Those with the least resources wind up at their zoned neighborhood school."
Poor parents who try to choose schools beyond their neighborhoods often run into roadblocks. Maria Garcia, a nursing assistant who lives in a subsidized apartment adjacent to the Amsterdam Houses, enrolled her daughter, Alexa, in P.S. 191 a few years ago. She'd considered a charter school, but ruled it out because it lacked an after-school program. Last year, after learning about a city program that lets students transfer out of struggling schools, she got Alexa into high-performing P.S. 9. Garcia was awestruck. "Everything is just more advanced in there," she said. Then reality set in. She couldn't accompany Alexa on the subway to school each morning and still make it on time to her job in Upper Manhattan, some seven miles away. So, after one month, she put Alexa back in 191. "It's hard," she said. "As a single parent, no one's helping."
Wealthy parents can avoid all this shuffling around by buying homes in the zones of sought-after schools like P.S. 199, which has no space for transfer students. But those who choose to shop around usually have plugged-in friends or private-preschool staffers who can help with their search, and time to tour kindergartens and meet principals. That's what the parents did who were zoned out of 199. Gonsalves and his wife visited a charter school, a $29,500-per-year private school, and another high-performing public school in the district. They also scrutinized P.S. 191. Like their neighbors, all they'd known before the rezoning was that it wasn't considered a "good" school—"not an option," as several parents put it in interviews. Afterwards, they couldn't so easily dismiss 191, since it was now the only school where they'd be guaranteed a spot. So Gonsalves and his peers dug into its performance metrics, learned about its funding streams, researched its curriculum, and, in mid-December, went to hear Principal Keville present her vision for the school.
The presentation was held in 191's media center, a bright room with flat-screen TVs mounted along the walls and metal carts filled with laptops. It had been a library, but when the school couldn't afford a librarian, it petitioned a local councilwoman for funding to convert it into a technology lab. The Lincoln Tower parents sat together on one side of the room; Gonsalves stood at the edge of the pack, leaning against a window ledge. Propped against the windows were poster-sized renderings of the school's future home: A five-story space with two rooftop playgrounds housed inside a new luxury residential tower nearing completion just one block from 191's current building.
Keville recognized many of the parents. Several had pleaded with officials at the hearings not to reassign them to her school. One of the moms had dissolved into tears explaining that the city had alienated the very parents it hoped would "turn around" 191. Now, Keville had to assure them that the school wasn't what they imagined. Indeed, it had shed its "persistently dangerous" label in the past year, and nearly doubled its pass rate on the state English exams from 11 to 21 percent (though its math scores dipped). "It's really important to me and our school community that you feel excited about sending your children to school here," she told the parents. Most stared back, stone-faced.
When it was their turn to ask questions, many zeroed in on the school's resources. Like other high-needs schools, it has faced a budget double-whammy: Its low enrollment reduces per-pupil funding, and its low-income population limits parent donations. (It receives about $348,000 in federal Title I money that's reserved for schools with many disadvantaged students—less than half the amount that 199's PTA raises.) Gonsalves asked how the school would pay for the new Mandarin classes; Keville said she had asked elected officials for help. Another woman asked whether each class had assistant teachers. Keville said the school couldn't afford them beyond pre-kindergarten—unlike P.S. 199, whose PTA pays for teaching assistants in certain classes. "If we had the funding for it, it'd be really fantastic," she said.
The parents wanted a school that was already thriving academically and flush with funding—not one they considered a fixer-upper. The segregation of low-income students of color in P.S. 191 had left the school with fewer resources and lower test scores than its neighbors; now, privileged parents cited those byproducts of segregation as reasons to avoid the school—thus, maintaining its segregation. Linda Rosenthal, the state lawmaker who backed the Lincoln Towers residents in their fight to remain in 199's zone, said middle-class parents in the past were willing to put their children in under-performing public schools and invest in them until they improved. But that's changed. "Everything's too competitive. By kindergarten you have to have your kid in ballet and fencing and cooking," she said in an interview last September. "It's too risky now, at least in the eyes of most parents, to sacrifice some years of your child's education for a greater social good."
Not every privileged parent saw 191 as a sacrifice. Another family that had moved to Lincoln Towers largely because of P.S. 199 decided, after the rezoning, to apply to 191. The father said he felt confident in Keville's leadership and wasn't worried about the low scores—"Test scores aren't contagious," he explained. Student diversity was a plus, but not a big consideration; more important was the new building and the technology it'd come equipped with. Yet when he told people about his family's decision to enroll at 191, he said they were "shocked." "They ask questions to see if you've done your due diligence—like they don't entirely believe it," he said. He asked not be named because he didn't want to cause problems with his neighbors.
Yet his wasn't the only rezoned family that decided to enroll at 191. By the mid-January deadline, kindergarten applications were up 76 percent from the previous year. It was possible that some parents were just hedging their bets, reserving seats at 191 while they searched for other options. But some seemed genuinely excited—if not by the existing school, then by what they hoped it might become.
Among these newcomers, Andrew Chu presented a best-case scenario. A product manager at a financial-tech firm whose son started pre-k at 191 last fall, he'd joined the school's leadership team and offered to help start a "maker" program where students could build robots and tinker with 3-D printers. Keville embraced the idea, and Chu began reaching out to MIT professors and a company that sells maker kits. A Lincoln Guild resident, he planned to keep his son in 191 for kindergarten. To him, the entire school was a sort of maker project: A chance to reimagine what a high-quality education could look like in the 21st century, where student diversity and hands-on learning matter at least as much as test scores and fundraising. "I hope I'm not exaggerating," he told parents at an open house, "but it's kind of a once-in-a-lifetime opportunity to really be part of this process."
If Chu wanted to build on the strengths of the existing school and its families, some prospective parents seemed to view those as obstacles to overcome. After a tour in January, a man in a navy-blue sweater with his hair combed neatly to the side asked Keville, "What is your expectation as far as how the student population and the teacher population may change as far as what's in here today and what will be here in September?" A rezoned mother lamented how even if a cohort of higher-income families enrolled in 191's kindergarten, any money they donated would be spread throughout the school—not just among their children's classrooms. "I wish there had been an organically grown school alongside the current school," she told me.
It's still possible the new parents could get their own school-within-a-school. Part of the sales pitch made to rezoned parents was that 191 will add a gifted-and-talented program next fall, which will start with the third grade then expand. Keville promised to make it inclusive, but such programs are notorious for creating segregated enclaves within ostensibly diverse schools. The newcomers could also try to reshape the school by dominating the PTA, a common occurrence in gentrifying schools. That happened at 191 a couple years ago when a group of well-off white women took control of the PTA. As they began aggressively fundraising, many Amsterdam Houses families felt excluded. The tension came to a head when the PTA charged $2 for donated muffins at a bake sale. After teachers and parents said that was too expensive for many students, Keville had to ask for a price cut. Since then, all the women have moved on to different schools.
* * *
Did the rezoning work? It seems likely that P.S. 191 and P.S. 199 both will have more diverse populations now, even if it's unclear whether they can maintain that diversity or make it work in the classroom. Yet it's hard to call this a model of integration. It isn't possible to move every segregated school into a shiny new building in order to pull in privileged parents. And the city initiated this process because of overcrowding at 199, not segregation. Only later did education-department officials mention integration as a goal; by then, Fariña had already warned that the city could only push parents so far.
The official ambivalence harkened back to the 1960s when the city "school board's desegregation policies were small scale and defended half-heartedly because they already factored in the expected white community response," as the historian Matthew Delmont wrote in his recent book, Why Busing Failed. Since then, the courts have limited the tools that districts can use to desegregate, and the federal government has retreated from its role as enforcer. Yet local policymakers still have ways to promote integration—from crafting attendance zones that include families of different races and income levels, to adopting enrollment systems that factor student demographics into school assignment. "If you look at some of the districts that have had success with these programs, it's taken the political will of politicians to stand up and make a strong case in favor of school desegregation," Delmont told me. "It's almost impossible to imagine any of these things working if you can't actually say what you're trying to do."
In a brief phone interview last week, during which she was asked about her views on integration, Fariña avoided using that word. Instead, she opted for "diversity" or simply, "this." "This has always been a central priority of mine," she said. She said that she instructed her top deputies to make sure "this is part of their work," and has discussed it frequently in meetings with parents. She added that she is reviewing different ways of increasing schools' diversity, which she said includes the number of students with disabilities and English-learners they serve. Once again, she emphasized that parents must willingly choose this—though, now, she added that she thinks they will. "I believe, in the best sense of the word, that parents are moral human beings that want to do the right thing for their kids and other people's kids," she said.
Fariña's most explicit integration effort to date has been a pilot program that lets schools reserve a portion of their seats for disadvantaged students. So far, 19 of the city's roughly 1,600 public schools have opted into it and were accepted. However, she has promised to unveil a more comprehensive plan in the coming months. Pro-integration advocates want it to include changes to the way students are assigned to schools. In particular, some have called for "controlled-choice" admissions systems in certain parts of the city. Those systems would allow families to apply to any school in their local district, but would factor in their socioeconomic status when making matches so that poor and privileged students are spread somewhat evenly across schools. Education department officials are studying a controlled-choice plan created by parents in Manhattan's Lower East Side; however, they have expressed concerns that some students may not get into their top-ranked schools. But in a city where affluent families tend to cluster in a small number of coveted schools, it may be impossible to pursue integration without regulating those parents' choices. "That is the real sticking point," said a former education department official in the de Blasio administration. "In order to do it, you just have to say, 'These are the people I'm going to piss off.'"
If, as Fariña says, the administration is intent on getting families to cooperate, is there a way to sell well-off parents on integration? The reality is that much of the research on school integration focuses on the significant benefits for low-income students of color—including higher test scores and graduation rates, and even improved future earnings and health outcomes—while noting simply that white students usually aren't harmed. That won't sway privileged parents who are concerned primarily with their own children's future. But, for them, extensive research shows diverse classrooms help all students learn to approach issues with more complexity and enhance their reasoning as they grapple with alternative perspectives. "There is a growing body of research that suggests diversity makes us smarter," said Richard Kahlenberg, a senior fellow at The Century Foundation, a progressive think tank that promotes socioeconomic school integration.
After a P.S. 191 community event last month, where a student choir sang "Ode to Joy" while one of the school's few older white students played violin, a parent expressed a version of that idea. Serena Palumbo, who lives in a lavish condo building along the Hudson River, said she and her husband plan to send their 3-year-old to 191's preschool next year. "I personally don't want my daughter to live in a vacuum," she said. "Because at some point she will go out in the world and she will find that there are people of all colors and all religions, and she will have to deal with that."
Eventually, it came time for Gonsalves to choose. After visiting P.S. 191 and meeting with its staff, he decided the school was on an upward trajectory. And yet, he saw Principal Keville trying to scrounge money from elected officials and donors to fund her initiatives, while P.S. 199's PTA functioned like a private ATM. (This spring, the group raised about $300,000 at its annual auction; 191's spring donation drive has netted about $2,000.) He dwelled on 199's PTA-funded teaching assistants, and the fact that his son might not get one of the limited seats in 191's free after-school program, which gives priority to low-income families (199's program charges a fee).
City officials enabled the great chasm to grow between the two schools as privileged parents were allowed to crowd into 199 and stockpile their advantages there, while 191 struggled to serve far needed students with fewer resources. Now, it seemed to Gonsalves, the Department of Education wanted middle-class parents to somehow bridge that divide. "Would I want to do the common good? Yeah," he said. "But when the DOE's not willing to do the common good, it makes it a lot harder for me." And yet, the divide would not have existed were it not for generations of middle and upper-class parents—from those who fled the pairing, to those who live in 191's zone but opt into other schools—refusing to send their children to 191. In January, Gonsalves made his decision: He moved his family into an apartment in 199's new zone, and enrolled his son there.
Today, the idea that parents would consider some notion of the common good when deciding on schools can sound quaint; it certainly runs counter to Betsy DeVos' vision of unrestricted parental choice. But it's an idea with deep roots. A half-century ago, a parent named Bernice Silverman faced the same decision confronting the rezoned families today: Whether or not to integrate P.S. 191. "It touches very deeply at home. These are your kids. This is their education," she said in December. She still lives in the same apartment in Lincoln Guild, the co-op building that was part of the 1960s pairing and the current rezoning. At the time, she couldn't afford private school, but she could have fought against the pairing. "But my philosophy was, as a responsible citizen, as a liberal: This is the right thing to do." So she sent her boys to 191.
She had a choice, and she chose integration.
---
Reporting for this story was supported by a Spencer Fellowship in Education Reporting at Columbia University's Graduate School of Journalism.