The Inevitable Politicization of Commencement Speakers
Conferring degrees with a sprinkle of ideology—regardless of a school's intentions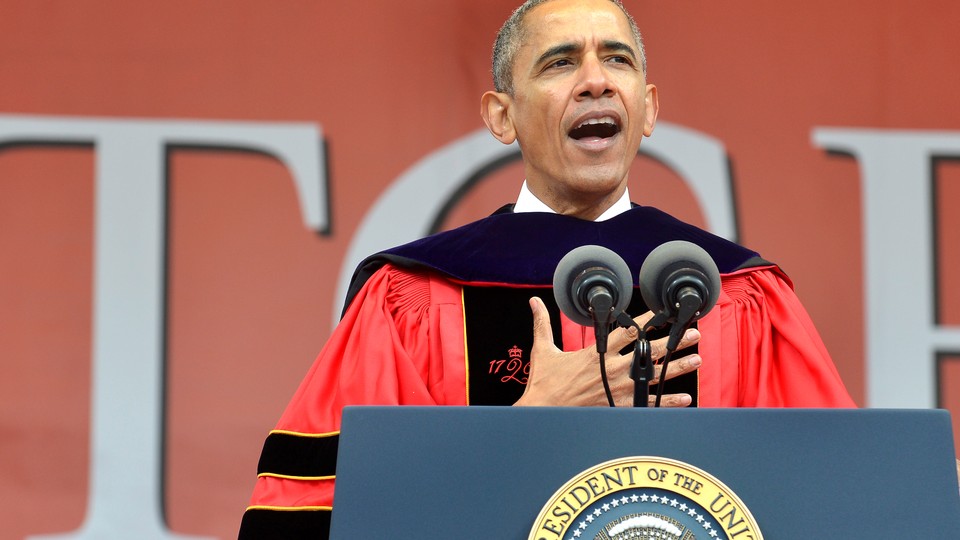 The rented robes are itchy, the mortarboard hats make everyone look dopey, and the patience required to snap the perfect picture makes Cubs fans who waited 108 years for a World Series title look unimpressive. College-graduation ceremonies have a lot working against them.
Despite its faults, though, the university-commencement ritual is not one that should be cast aside. It's of course important to celebrate the completion of a bachelor's degree, and the literal and figurative pomp and circumstance that play out as degrees are conferred can be quite meaningful. But there's also the fact that the true star of the day—the one who will grab many of the headlines—is not the student who worked two jobs to pay her way through school. It's not the student-athlete who woke up at 5 a.m. to lift weights four times a week. It's not the philanthropic leader who raised $1 million for hungry children while taking five classes.
Instead, it's someone marginally (or majorly, depending on the school) famous who has deigned to impart wisdom on the freshly minted graduates. And no matter how famous or not the famous person is, the likelihood that he or she will say anything meaningful is a complete gamble. But the commencement speaker is not necessarily at graduation for the graduates. Sure, it's exciting for students when someone high-profile comes to campus—especially if that person is speaking at an event honoring them. But the commencement speaker's public profile is not only a statement of a university's prestige, but also, increasingly, the embodiment of a university's political ideology. The commencement speaker is a brand extension, whether or not the university intends it to be. And that's perhaps true this year more than any other in recent memory.
Take, for example, Liberty University, a Christian college in Lynchburg, Virginia, and Wellesley College, a women's college in Wellesley, Massachusetts. The two schools have about as much in common ideologically as their 2017 commencement speakers: President Donald Trump and Former Secretary of State Hillary Clinton, respectively. In choosing Clinton, Wellesley announced to the world it is an institution with enough panache and status to snag one of the most high-profile women on the planet for its graduates. Beyond the star-power aspect, though, Wellesley reaffirmed its public commitment to liberalism and to resisting the president. Similarly, Liberty University's stock—in terms of name recognition and identification with contemporary Republican politics—rose when it announced President Trump's impending commencement address.
But these commencement-speaker choices are perhaps to be expected: These two institutions are well-known to be at the ends of the spectrum. After all, not only did Clinton go to Wellesley, but so did former Secretary of State Madeline Albright, the education historian Diane Ravitch, and scores of civil-rights activists. The school has long been an incubator for liberal thought leaders. Nor should it be surprising that President Trump will take the stage at Liberty: The president spoke at the school days before the Iowa Caucus last year, and Liberty's president, Jerry Falwell Jr., a loyal Trump supporter, was also tapped by the administration to lead a higher-education commission. Clinton will also speak at Medgar Evers College, which is part of the City University of New York system. And, though no announcements about President Trump's engagements have been made, it is traditional for the sitting president to speak at a number of ceremonies each year.
The Inside Higher Ed co-founder Scott Jaschik, who keeps track of commencement addresses across the country, said that universities typically don't want an overtly political speech at graduation. (Evading controversy on this front is already difficult even when politics aren't involved—just ask the University of Michigan, which opted out of selecting a main speaker this year, much to the chagrin of some students.) Unlike other campus-speaker events that welcome multiple perspectives and might include a question-and-answer portion, there is no opportunity to engage with a commencement speaker. Despite universities' intentions of finding agreeable speakers, the public's interpretation may not match.
But beyond the schools that tend to be more open with their ideological leanings, selecting a commencement speaker has become a public statement even for supposedly apolitical campuses today.
Take, for example, Northwestern University. When I graduated from Northwestern in 2016, the comedian and alumnus Seth Meyers delivered a laugh-filled address complete with the healthy ribbing of then-Republican presidential nominee Trump that the late-night host is known for. Meyers's speech was, as far as I can tell, well-received by a generally liberal audience.
This year, the tennis icon and social-justice pioneer Billie Jean King will address Northwestern's graduates. King is not a graduate of the university and ostensibly has no personal connection to the school, so the decision to invite her to campus cannot simply be interpreted as a celebration of a noteworthy alumna. Instead, selecting a woman who embodies liberal values (and who happened to have been with Clinton the night she accepted the Democratic nomination for president) seems like an attempt to reassert that Northwestern is an open, left-leaning campus—an image the school's president, Morton Schapiro, has individually cultivated with his repeated public support for safe spaces and campus activism.
Bringing King to campus squares the university in opposition to Trump's social platform and perhaps signals to prospective students that Northwestern is proud of and isn't afraid to reassert its politics—and that it is distinct from its peer institutions for doing so. And even if this thought process did not inform those who made the decision to invite King to the Evanston, Illinois, campus, the public perception of such a choice is to connect the school with progressive ideals.  And the university reinforced its liberal bent: In an emailed statement, Schapiro noted the barriers King broke for the LGBT community and said that "creating an environment that is truly inclusive—one that goes beyond increasing diversity percentages to trying to make every member of our community feel welcome and thrive—is a central goal at Northwestern." (To be fair, Ginni Rometty, the CEO of IBM who graduated from Northwestern in 1979 and currently serves as a business adviser to President Trump, addressed the school's graduates in 2015.)
Meanwhile, Vice President Mike Pence will address Notre Dame's graduating class this spring, a decision that also sends a political message despite the university's apparent goals. In an emailed statement, Paul Browne, the vice president of public affairs and communications at Notre Dame, said, "Pence's invitation says less about ideology than it does geography and history." Browne went on to note that despite the idea that the school has a tradition of inviting the president to speak during his first year in office, just six of Notre Dame's 171 commencement speakers have been presidents.
The Catholic university certainly has a more conservative reputation than, say, the University of California at Berkeley. It is also located in Pence's home state of Indiana, and University President Father John Jenkins said he considered inviting Trump to South Bend. In many ways, Pence is a safer, less polarizing choice whose accomplishments and status still align with the prestige of Notre Dame.
However, just as with Northwestern's decision to tap King as speaker, it is foolish to think that in choosing Pence, the powers that be at Notre Dame did not draw a line in the political sand—and perhaps many of its students do not stand on the same side of that line. Following the speaker announcement, a number of student groups at Notre Dame released statements denouncing the pick, and the precincts surrounding campus voted for Clinton in the presidential election, a clear sign that many in the university community oppose the platform of their commencement speaker. Picking someone famous to give a graduation address is far more politicized in today's environment, and the ruffled feathers at Notre Dame embody that reality.
There is plenty precedence for politicians speaking at commencement ceremonies, and this year is no different. What is different is that selecting King, Pence, or anyone else associated strongly with a particular position is now inevitably interpreted as a statement of a university's ideological culture. There is no way around the fact that many people who have no connection whatsoever to the given university, or those who may be considering applying to the school, can now draw a direct line between that school and some faction of the country's highly polarized political landscape.
The actual speeches themselves are virtually irrelevant; calling the content of commencement addresses cliche is a cliche in and of itself. Though some addresses may make the rounds on YouTube, these monologues aren't typically meant to be Shakespearean masterpieces that will stand the tests of oratorical time. Plus, graduations happen in such a highly concentrated time frame that it's unlikely one speaker announcement or speech will cut through the crowded landscape. Instead, a high-profile speaker can feel like the university is acknowledging the graduate's contributions to the school community and is offering a reward in the shape of a very famous person, a valuable final memory to impart on a group of people making the transition from student to potential donor.
Today, however, if that famous person is associated with particular political opinions, those opinions cannot be ignored. It comes with an increased emphasis on ideological symbolism that goes beyond just trying to get the sparkliest pick to address a graduating class.
At their best, institutions of higher education help students develop a framework for understanding and critical thinking. In selecting someone with prominent ideological values, universities impart one final lesson on graduates at the vulnerable moment when their glasses turn rosy and they are forced to reflect on their college experience. As the political climate remains divided, the college-admissions process has more twists and turns than Homer's Odyssey, and as universities rely on sophisticated techniques to make their student bodies the best and the brightest, separation from peer institutions—by any means necessary, including commencement-speaker selection—has become another way for schools to sculpt their prestige, identity, and authenticity.