Colleges' Endless Pursuit of Students
With increasingly sophisticated data, universities are constantly courting prospective attendees.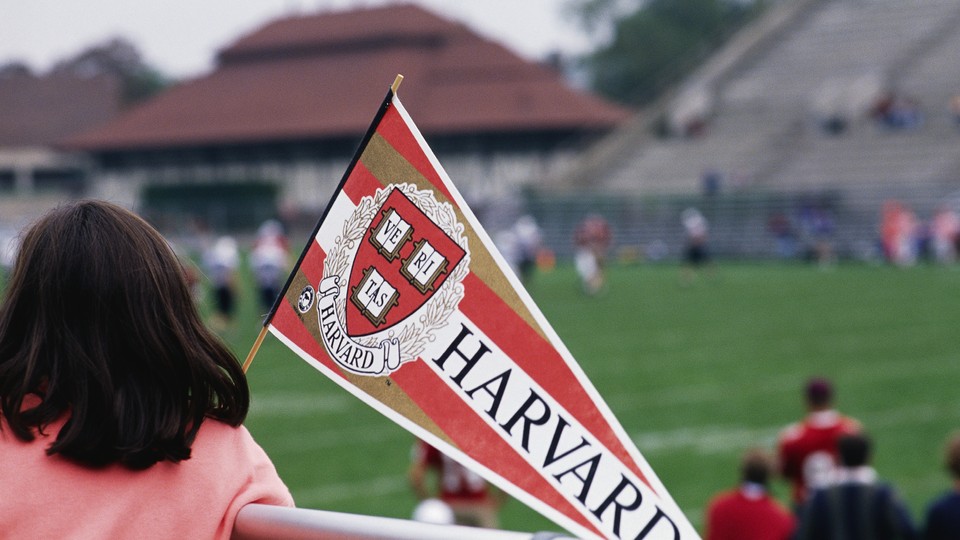 This is part one in a three-part series on the role of Big Data in the college-search process. Check back for future installments on sophisticated student-targeting formulas and data in an era of demographic change.
April is decision month for high-school seniors who still haven't made up their minds about where they're attending college next fall. With students applying to more schools than ever before—more than one-third now apply to at least seven schools—many seniors are likely weighing multiple offers as well as competing financial-aid packages.
As a result, colleges put on a full-court press in these final weeks before the traditional May 1 decision day, hoping a personalized email, a phone call, or a visit to campus with other admitted students will be enough to assure a deposit for the freshman class. But securing that commitment is becoming more difficult by the year for admissions offices nationwide. Yield rates—the number of admitted students who actually attend—have been in a free fall at all but the most elite institutions in recent years.
Compounding the low yield rates are stagnant retention rates among first-year students and colleges' over reliance on tuition dollars as a main source of revenue. In a move to fill seats with students who will stay through graduation and are able to pay a significant slice of the tuition bill, colleges are increasingly turning to Big Data to better pinpoint prospects as early as their sophomore year of high school. The new approach builds on colleges' efforts of the past two decades in which they aggressively adopted the playbook of consumer marketers by purchasing student names from the big testing companies—the ACT and the College Board.
In the pre-internet days, "student names were released once a year and the strategy was to get the names on the day they were released to get an admissions piece in the mail before students were flooded with materials from other colleges," said Scott Verzyl, the associate vice president for enrollment management at the University of South Carolina. "Now the marketing to students never stops."
The endless pursuit of students has upended the traditional admissions calendar into a year-round endeavor where both sides try to infer the intentions of the other. While colleges say the heightened attention allows them to find good students who might not otherwise apply, the outreach is rarely evenly distributed. Students with similar test scores and high-school grades might receive vastly different amounts of mail from colleges based simply on how they answered one or two questions when they registered for the SAT or ACT, or if they answered them at all.
What's more, the increased marketing by colleges doesn't necessarily mean students make better decisions about which college is best for them, said Nicole Hurd, the founder and chief executive officer of the College Advising Corps, which places recent college graduates in high schools to work as college advisers.
"The question for students is whether this is a school where they'll reach their promise or is it just a school with flashy marketing," Hurd said. "Admissions marketing is focused on college as a consumer good rather than an investment. It's all about the amenities for students. I've never seen graduation rates promoted in a marketing campaign." Indeed, in their marketing, many colleges emphasize the bells and whistles: the fancy dorms, climbing walls in the state-of-the-art recreation center, and sushi in the dining hall or all-night coffee shops.
From a marketing perspective, the college-search process begins when students take their first standardized admissions test in high school. As part of the registration process for the PSAT, the SAT, and the ACT, students are asked a series of questions about their grades, family income, interests, intended major, and types of colleges they might want to attend. The answers yield dozens of data points that are sold with the student's name and contact information to colleges and scholarship services.
The College Board first started to sell names in 1972. Neither the College Board nor the ACT would tell me how many names it sells a year, but in 2010 The New York Times reported the College Board sold 80 million names to about 1,200 colleges. Many admissions deans suspect the number is higher today. The cost has also increased, to 42 cents a name, up from 32 cents in 2010. In other words, marketing to students is a big business for the College Board and the ACT.
While some schools still rely on a scattershot approach to marketing and buy more names every year in the hopes it will produce more applications and hopefully yield top-notch students, the most sophisticated marketers among colleges are moving in the opposite direction and scaling back on their name purchases, said Jim Black, a former admissions dean and now president and CEO of SEM Works, a company that assists colleges with their enrollment strategies.
"I'm working with two public four-year institutions with similar profiles, and one purchases 20,000 names and the other 125,000," Black said. "The difference between them is the one with 125,000 is not targeting. They think more at the top of the funnel will equal more at the bottom."
A few schools also buy names to test for new pockets of students or assess marketing materials, by tracking whether students inquire about admission, visit campus, or apply based on the mailings they received. Franklin & Marshall College in Pennsylvania, for example, acquires a slice of names and doesn't send them anything. "We want to see if they inquire or apply without any marketing," said Eric Maguire, a vice president and the dean of admission and financial aid.
In another test, F&M recently bought names of students in the Northeast with a similar academic profile of students who tend to enroll at the school but who listed their top major interest as something the liberal-arts college doesn't offer, such as nursing. "In the past we wouldn't buy those names, even if they listed English or psychology second," Maguire said. Now F&M is acquiring those names to determine if students with multiple academic interests apply and enroll at the same rate as someone who clearly wants a liberal-arts education.
"The question is whether at 17, does a student really know what they want to study and how much does that impact their decision to engage with a college?" Maguire said. And for many high-school students these days, the answer to that question—whether they ever engage with a college during search process—often comes down to how they filled out their registration form for the SAT and the ACT, a task students usually complete without much thought.