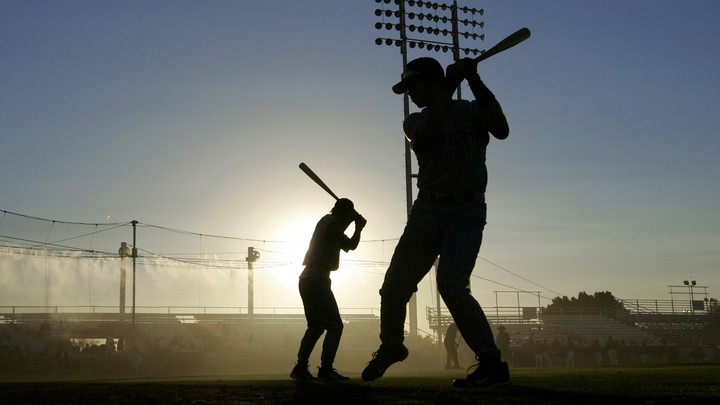 The Collapse of America's First Sports-Only College
Peter Keating | ESPN the Magazine
Forest Trail Sports University ... promised a new kind of college experience, focused on athletics. And these players—they have named themselves the Renegades, but Refugees would be just as accurate—are survivors of its collapse. Arriving last August at the for-profit program, which charged a tuition of nearly $33,000, they were consigned to an old hotel, without adequate facilities, staff or supervision, on a campus where the threat of violence turned out to be more common than classes.
And as the story of Forest Trail's implosion makes clear, the baseball players were the lucky ones. Athletes in most other sports were abandoned by their coaches. Some had to deal with serious injuries without being able to get proper treatment. None played anything like a full schedule of college sports.
"Forest Trail messed with our families, our money and our emotions," says Anna Roets, [a former student] Nick's mother. "These kids have been to hell and back."
* * *
Illinois's Historic Budgetary Failures Skew National Education-Funding Data
Rick Seltzer | Inside Higher Ed
It's impossible to examine state higher-education finances in 2016 without separating the collapse in Illinois from a more nuanced picture across the rest of the country.
State and local support for higher education in Illinois plunged as the state's lawmakers and governor were unable to reach a budget agreement and instead passed severely pared-down stopgap funding. Educational appropriations per full-time equivalent student in the state skidded 80 percent year-over-year, from $10,986 to $2,196. Enrollment in public institutions dropped by 11 percent, or 46,000 students.
* * *
How D.C. Became the Darling of Education Reform
Rachel M. Cohen | The American Prospect
When it comes to education reform, perhaps no city has inspired more controversy and acclaim over the last decade than Washington, D.C. Even today, uttering the name "Michelle Rhee"—the city's first schools chancellor appointed in 2007 after a major shakeup in the district—still evokes heated reactions from local residents. Following the dissolution of the local school board and the centralization of education decision-making within the mayor's office, then-Mayor Adrian Fenty commanded an unusual amount of power to change D.C.'s schools.
Over the past 10 years, the policies undergirding the national education-reform movement—offering more school choice, weakening teacher-union power, and creating new accountability systems (with incentives like pay-for-performance and teacher evaluations based partly on student test scores)—have taken hold in the nation's capital.
* * *
The '90s Edutainment Renaissance
Marc Snetiker | Entertainment Weekly
With the newly announced return of yet another paragon of millennial mystique—Carmen Sandiego, she of oversized fedoras and under-detailed itineraries—it appears time to make The Announcement: 2017's hottest new trend is '90s education.
You must understand something about the so-called "'90s kids" you read so much about on weblogs. It's not just all Nickelodeon cartoons and Disney princesses and discontinued lines of dunkable graham crackers. For this generation of Geocities slickers, growing up in the '90s also meant living on the receiving end of what the advent of computers meant for education; the 20- and 30-somethings whose thinkpieces you now actively ignore online probably first learned their typing skills and pixelated prowess through the educational programs worshipped in an ancient house of sacrifice known as a "computer lab."
* * *
Language-Learning Apps Are Failing to Help Struggling Students
Jenny Abamu | EdSurge
Waves of language-learning apps like Babbel and Duolingo have hit the market. But as the number of apps increases, academic achievement for [English-language-learner] students remains staggeringly low. Ninety-two percent of fourth grade ELL students scored below proficiency on the 2015 National Assessment of Educational Progress reading exams. According to WestEd, a nonprofit research and development organization, older ELL students struggle more than younger ones and are significantly more likely to drop out of high school than their native English-speaking peers.
* * *
How School Choice Turns Education into a Commodity
Jason Blakely | The Atlantic
Making educational funding "portable" is part of a much wider political movement that began in the 1970s—known to scholars as neoliberalism—which views the creation of markets as necessary for the existence of individual liberty. In the neoliberal view, if your public institutions and spaces don't resemble markets, with a range of consumer options, then you aren't really free. The goal of neoliberalism is thereby to rollback the state, privatize public services, or (as in the case of vouchers) engineer forms of consumer choice and market discipline in the public sector. ...
Many Americans now find DeVos's neoliberal way of thinking commonsensical. After all, people have the daily experience of being able to choose competing consumer products on a market. Likewise, many Americans rightly admire entrepreneurial pluck. Shouldn't the intelligence and creativity of Silicon Valley's markets be allowed to cascade down over public education, washing the system clean of its encrusted bureaucracy?
* * *
Navigating College With an Invisible Disability
Rilyn Eischens | Minnesota Daily
Every afternoon last semester, Ren Marie sat in the same spot in their living room, studying for one class. Even then, Marie—a University of Minnesota gender, women, and sexuality studies first-year with a registered disability—barely passed.
After transferring from DePaul University in Chicago, Marie registered their post-traumatic stress disorder, borderline personality disorder, depression, and anxiety with the University's Disability Resource Center. Marie thought a University letter stating they needed excused absences and more time on tests, among other accommodations, would help them navigate faculty interactions despite their mental-health issues.
But sometimes, that wasn't the case.
We want to hear what you think about this article. Submit a letter to the editor or write to letters@theatlantic.com.