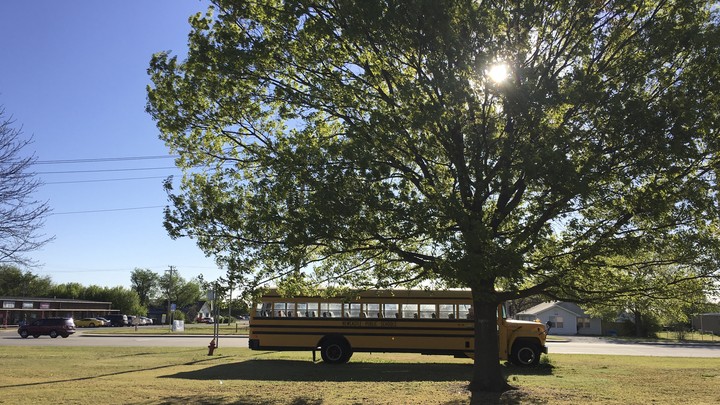 The Shaky Bus Data Leaving Atlanta Students at Risk
Marlon A. Walker | Atlanta-Journal Constitution
The Atlanta Journal-Constitution asked for and analyzed school-bus accident data from the state and metro Atlanta school districts, which raise questions about those safety procedures. There are gaps in the records and evidence that some district officials don't enforce their own policies. There's no evidence that district or state officials use the data at all.
That can put children at risk. More than 4,000 bus drivers hit the roads daily in metro Atlanta to deliver about 300,000 students to and from school. Those drivers can be as young as 18, with several districts employing drivers as old as 87. School buses in metro Atlanta are involved in about 100 accidents per month, according to the most recent data available.
* * *
How Harvard Business School Breeds Immorality
Duff McDonald | Newsweek
By the late 1970s, after nearly three-quarters of a century of existence, Harvard Business School had carved out a nice little niche in the management universe. It had proved itself a dependable supplier of prescreened and highly motivated graduates to big business. HBS was still a dependable supplier of highly motivated graduates in the 1980s, but they weren't going to big business anymore. They were headed to Wall Street and consulting.
HBS also continued to put a high gloss on the management myth of the day, but those myths were increasingly finance-related, in particular the merits of shareholder capitalism. And it continued to deliver pseudo-intellectual capital that practitioners could use to justify their decisions. In the 1980s, HBS had abandoned its mission of trying to educate an enlightened managerial class. Instead, it threw its lot in with Wall Street as it was dismantling the edifice of American industry HBS had helped build. HBS had nurtured the professional manager from his birth and then helped to kill him.
* * *
Should Post-Secondary Plans Be Required To Graduate High School?
John Byrne, Juan Perez Jr., and Hal Dardick | Chicago Tribune
Mayor Rahm Emanuel wants Chicago public high-school students to show they have a plan for what's next before they can get a diploma.
Emanuel's proposal would add one more big item to the graduation checklist for high-school seniors: proof they've been accepted into college or the military, or a trade or a "gap-year" program. The requirement would also be satisfied if the student has a job or a job offer.
The point, the mayor said, is to get Chicago Public Schools students in all parts of the city to stop seeing high-school graduation as an ending and get them to consider what's next.
* * *
How the Resistance School Was Born
Steve Annear | The Boston Globe
The first conversation took place late at night, shortly after the inauguration of President Trump. When a small group of graduate students from Harvard's John F. Kennedy School of Government convened, they reflected on what a new administration could mean for progressive values and how policy changes might influence state and local governments.
By late February, those intimate conversations among friends evolved organically into what's being called the "Resistance School," a four-part series of online sessions aimed at countering Trump's agenda. … The project's creators are even likening themselves to "Dumbledore's Army," the collection of students in the Harry Potter novels who quietly worked together to learn how to fight dark magic.
* * *
The Contemporary Education Reform That Evokes a Troubling History
Linda Sieg | Reuters
A push for patriotic content on the ethics syllabus in Japanese schools is rekindling fears that children will be taught to take a less critical view of the country's militarist past and a more submissive attitude to government.
The campaign to put patriotism back in schools has been a key part of Prime Minister Shinzo Abe's agenda since his first one-year term from 2006, when parliament revised a law setting out the goals of education to include nurturing "love of country" and respect for tradition and culture.
* * *
Public Universities Get an Education in Private Industry
Molly McCluskey | The Atlantic
Many in the scientific community and academia do sign the nondisclosure agreements—creating blind spots that make it impossible for the rest of the world to discern whether a corporation has had any undue influence on research. I spent a year poring over documents and talking to universities, companies, lawyers, and researchers to figure out what kind of role corporate funding plays in public-university studies across the United States. Nearly all of the people I spoke with talked about the increasing ease with which corporate representatives have access to researchers, although some were more comfortable with the arrangement than others.
* * *
A Lesson in a Principal's Suspicious Education
The Booster Redux Staff | The Booster Redux
Following the hiring of incoming Pittsburgh High School (PHS) principal Amy Robertson on March 6, discrepancies arose between Robertson's personal accounts of her education and information provided by education institutions she said she attended. The discrepancies cast doubt on the accreditation of a university she said she attended and the degrees she listed.
Robertson said she currently works as the CEO of an education-consulting firm known as Atticus I S Consultants in Dubai, and has resided there for over 20 years.
We want to hear what you think about this article. Submit a letter to the editor or write to letters@theatlantic.com.