When Preschool Happens at Home
A program in Boston helps new parents find solace.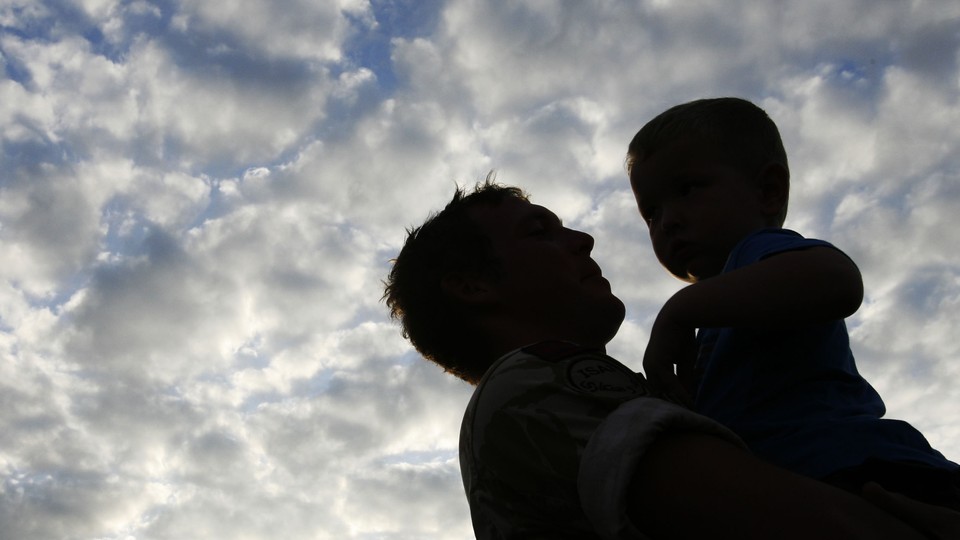 Samira Abdulkadir came to the United States 10 years ago, a young bride with a baby boy. She was from Somalia but came to the U.S. by route of Kenya, where she was married. The family settled just outside of Boston, in Chelsea, Massachusetts, and Abdulkadir had more children. Her second child, a girl, was born deaf. Then she had a boy, who died after five months in the hospital. Her next child, another girl, was also deaf—like their father.
When this youngest girl was born without hearing, Abdulkadir drifted toward despair. She spoke very little English, she didn't have any extended family in the area, she was still grieving the loss of her baby, two out of her three surviving children were deaf, and she said her husband couldn't share much of the responsibility at home because of his own disability.
MGH Chelsea HealthCare Center referred Abdulkadir to its Healthy Families America home-visiting program. The service is designed to support first-time parents, as well as those raising babies for the first time in the United States. The program offers supports to immigrant families adjusting to U.S. culture and an unfamiliar health-care system until their youngest child turns three. Based on individual needs, MGH home-visitors help connect families to social services, educational opportunities, and medical or mental health care. They also follow an early-childhood curriculum to ensure babies and toddlers meet developmental milestones on time.
The program became a lifeline for Abdulkadir, who said she might have ended up in a mental hospital were it not for the help from her home-visitor.
"I didn't have any support," Abdulkadir said through an interpreter. "The program has been my support."
Home-visiting programs appear in communities all across the country using hundreds of different models. Some, like Healthy Families America, are funded by the federal government. Others are run with state or local dollars. The goal, though, is generally the same. Home-visiting programs serve low-income, vulnerable populations and aim to make an early impact on the long-term health and well-being of both baby and family.
Harvard University's Center on the Developing Child emphasizes the need to start offering early-childhood supports at birth—if not sooner. Prenatally, researchers say, is even better. According to Al Race, the deputy co-director of the center, the importance of prenatal and 0-3 services is one thing that isn't getting enough attention in the nation's renewed push for expanded access to high-quality preschool.
"A lot of people feel like they've got their early-childhood box checked off if they do pre-k," Race said. Programs that start sooner, though, are likely to have greater long-term effects and for good reason. "There's a lot of learning and development that happens in the first three years of life."
In fact, researchers have found achievement gaps based on race and socioeconomic status are firmly in place by the time children turn 2 years old. Supports offered by home-visiting programs can help families break patterns of slower development that are common for children raised in poverty and increase self-sufficiency of adults. Importantly, they can promote positive parenting strategies—like creating a loving and supportive home, reading and discussing stories with children, practicing counting, and engaging in active play. All of these things can help prepare children for kindergarten and beyond.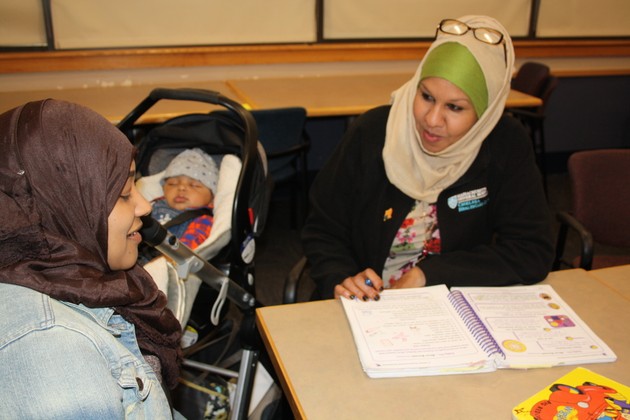 In Abdulkadir's case, the emotional support offered by her home-visitor has been invaluable. Having another adult to talk to and rely on has meant Abdulkadir doesn't feel so alone with her problems. And that's a big part of the program. Parents who are completely overwhelmed or suffering from depression do not have the capacity to give as much to their children as parents who aren't.
Maria Yolanda Wigozki, the MGH Chelsea HealthCare Center program manager, said it's not for a lack of love, but rather because "they have a lot on their plate." Sometimes parents are worried about housing, food, or employment. Many of them also are haunted by their pasts.
"Many of these immigrants and refugees have gone through trauma in their own life growing up as infants or teenagers, escaping from war, or escaping from gangs, or having domestic violence where they grew up," Wigozki said. "They already carry a lot of stress in them."
The home-visiting program can help adults learn to take care of themselves in order to take care of their babies. Participants are routinely screened for depression and substance abuse and referred to services if staff members find a problem.
Nationwide, the Healthy Families America program claims positive impacts on children, parents, and entire communities. In 2011, the U.S. Department of Health and Human Services named it one of seven proven home-visiting models. A long-term study in New York found only 3.5 percent of children in the program were held back in first grade, compared to 7.1 percent of children raised in similar circumstances who didn't get the services. Parent self-reports also found children in the program were exposed to less child abuse, physical discipline, and neglect.
A study in Arizona found alcohol use among parents was lower for Healthy Families America participants—12 percent versus 20.5 percent. And more than one-third of parents increased their level of education during the program period, compared to barely 7 percent of similar parents who didn't get services.
Reflecting on her experiences in the home-visiting program, Abdulkadir said support from the home-visitor helped her be more patient with her children, despite struggling with depression and an avalanche of family challenges. She developed strategies to retain her calm around her children and learned that common discipline strategies would work with her daughters even though they are deaf. Meaning they, too, could learn from being put in timeout or connecting bad behaviors with a loss of privileges instead of being subject to corporal punishment.
Healthy Families America sites like MGH Chelsea offer weekly home visits for the first six months of a child's life, after which the frequency varies based on a child or family's needs—once per month, once per quarter, or even every six months as they help adults find new jobs or enroll in education programs that whittle away the time they have for services. About 72 percent of families at MGH Chelsea remain in the program until their children age out of eligibility, and the latest program data shows every single enrolled child is in a developmentally appropriate range for communication, cognitive, and problem-solving skills.
Abdulkadir is unique in that she is now getting services through the program for a second time. Six months ago, she gave birth to another child, a boy who, like his sisters and father, is deaf. The crushing disappointment of his disability pushed her to advocate for a spot in the program once again.
The mother of four made concrete progress the first time around, but she wants the proven support as she gets back on her feet after this latest challenge. Already, she counts among her successes enrollment in English classes that helped her develop a working fluency in the language, which, in turn, helped her get a job at a local Dunkin Donuts. She also learned how to navigate the school system, finding placement for her daughters in programs that offer specialized services for children who can't hear.
A key barrier to even greater impact is capacity. Wigozki said about 400 children are born in Chelsea every year, and close to half of them could be eligible for the home-visiting program. Her staff, however, can only serve 100 families at a time.
Still, that's 100 families providing more stable homes where their children can grow up feeling safe and loved. And that's a critical foundation for later success in school and life.