Is the Push for Women in STEM Hurting Female Artists?
There is already a substantial gender gap in the arts, and President Trump's proposed budget cuts could exacerbate the problem.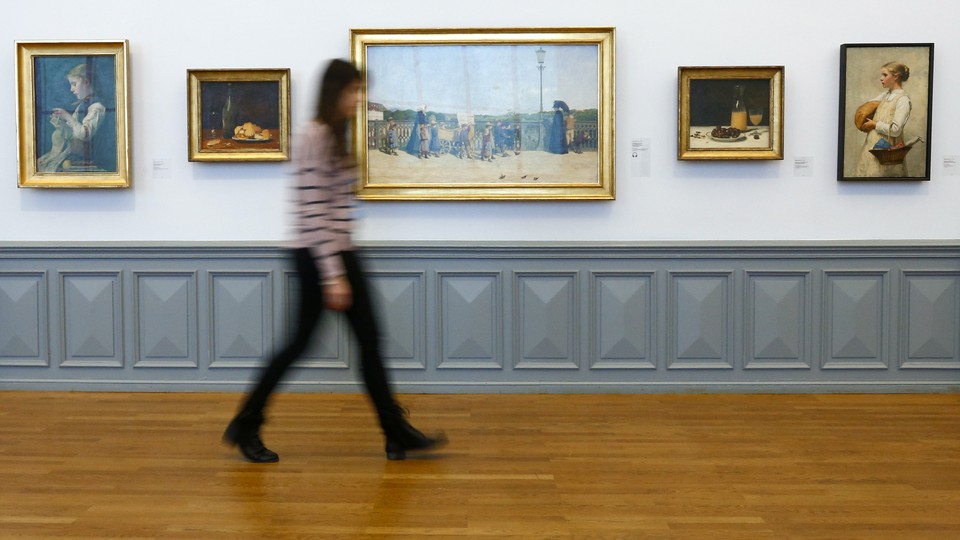 Madeline Johnson comes from a family of scientists. Her father studied aeronautical engineering at the Massachusetts Institute of Technology. Her brother has a Ph.D. in particle physics. But Johnson, a 2014 graduate from Skidmore College, studied ceramics. "I am the only artistic person in my entire extended family," Johnson says. "That's what made me happy."
Despite her arts education, Johnson works as an executive assistant at a finance firm in Boston. After a stint at a local bakery, then quitting to devote her time to ceramics, she needed a job to meet the high cost of living in the city, she says.
Meanwhile, Bess Chan, who graduated from Boston University in the same year as Johnson, studied computer science. As a senior, she applied for a software engineer position at Apple and aced the interviews. Now in her third year with the company, she has found herself in an uncommon position: Apple's global workforce is 68 percent male.
In the U.S., women make up close to 50 percent of the workforce but hold less than 25 percent of jobs in "STEM" professions—science, technology, engineering, and math. It's a gap the country has long been on a campaign to fix, with government initiatives, privately funded diversity programs (including Apple's), colleges that offer special STEM support for women, and other incentives. But now, Donald Trump has thrown women-in-STEM advocates for a loop. Last month, his budget blueprint proposed significant cuts in funding for science and health agencies, draining resources for researchers. For women in science, who receive less funding than their male counterparts, such cuts could be especially crippling.
For some women outside of the sciences, however, the proposed cuts only underscore a parallel problem women face in the arts—one that they say hasn't received the same amount of attention. While Trump recently signed two bills to encourage women to pursue careers in STEM, there are no arts-and-humanities equivalents. And Trump's budget proposes doing away with the National Endowment for the Arts entirely.
Johnson, for one, believes "women in the arts are in the shadow of STEM, because it is a field with more power, more sway, and more funding." Other female artists agree. Has the push toward STEM inadvertently stymied women in the arts and humanities?
* * *
The National Endowment for the Arts, which currently makes up 0.004 percent of the overall federal budget, provides grants for many women-focused arts organizations. "Funding for the arts is always scarce," says Roxana Fabius, the executive director of Brooklyn's A.I.R. Gallery, one grant recipient. She believes that cuts to the arts—like those to the sciences—will disproportionately affect women, making it difficult for female leaders in the arts to sustain their organizations.
The picture she paints is grim. According to the Art Newspaper's attendance survey, only 27 percent of 590 major art exhibitions in the U.S. featured female artists between 2007 and 2013. What's more, although women earn half of the Master of Fine Arts degrees granted in the U.S., only 30 percent of artists represented by commercial galleries are women. Without adequate support, representation for female artists in museums, galleries, and exhibitions suffers even more, she says. And when women see that female artists have a stage for their work, they're more inspired to pursue an arts career.
Sara Lederach, a fiber artist and the co-owner of Nashville, Tennessee's, Gallery Luperca, points out that female artists are not only underrepresented in exhibitions, but also in opportunities to make money. A recent Lehigh University study found that, on average, men with degrees in the arts—including performance, writing, and design—make nearly $20,000 per year more than female arts graduates.
Trump's proposed budget cuts would have serious implications for women driving the Nashville arts scene, says Lederach, who paints houses to supplement her income. "In our art world, lots of women run galleries and arts organizations. The people that we are in contact with are mostly women with a slight sprinkling of men. If funding will get cut, the big places will be fine, but all the women that run the smaller businesses that have a focus on accessibility or collaboration are going to be out of luck, and we'll have to go back to our side hustles."
* * *
Defunding of the arts and humanities is nothing new, notes Martha Richards, the executive director of WomenArts, a nonprofit that helps women find employment in the arts. In the 1980s, long before Trump's NEA-eliminating budget, she says, cuts in government arts funding killed arts jobs, setting a precedent of deterring aspiring artists as technology jobs began their ascent.
This trend damaged more than career availability in the arts, contends Kacie McCollum, a coordinator at Arizona State University's Project Humanities. It also changed the way the arts are perceived. "There's this misconception that if you're in STEM, it's better than anything else. It is what you need to do," McCollum says. "Those are things that don't hold true, but they're not talked about because the conversation [around STEM versus arts and humanities] is not broad enough."
In McCollum's view, the way the country looks at the arts is too narrowly framed in economic terms. Value is converted to dollars alone. "If your area's not valued and you can't make a living out there, that's also a societal issue about how we all reflect on what's important," she says.
For Lederach, convincing women of the value of careers in the arts is an issue of corporate advertising as much as it is of government funding. Many leading technology companies have massive campaigns to recruit female workers. "Those corporations that have chosen to empower women have a lot more financially at stake. On the level of perception, they have more to gain by saying, 'We're feminists, we're encouraging young girls to learn how to code," she says. "I don't think that there's been as much of a public push to say, 'girls, you should be artists.'"
But Chan, the Apple employee, doesn't see that as detrimental. "It's not necessarily neglecting arts, [it's that] there's no special push for it," she says. Chan felt the STEM pull as a high-school senior, when she took a computer-science class. Now, she believes the most effective way to get women interested in technology is offering opportunities to them when they are young. STEM jobs are critical to America; would it be reasonable not to incentivize them at this time? "Wherever the need is greater it makes sense for us to push towards that direction," she says.
* * *
At Apple, Chan says she is frequently reminded of the lack of female representation, going to big town-hall meetings without many women in attendance. Around the men in Silicon Valley, she sometimes feels the need to speak more quietly. As she sees it, the push for women in STEM is about creating a more welcoming environment for women in a male-dominated field.
Lederach, too, is working on creating a more welcoming environment. As Nashville's female artists reel from the proposed budget cuts, the best thing she thinks they can do is make more art. "I think that we've been handed a big pile of trash, but I like to make artwork out of trash," she says.
Johnson, working her 9-to-5 job in Boston, is a bit more uncertain. Like many others, she's still grappling with the idea of being a female artist in a tumultuous political and economic era—and knowing that her future will be more secure if she sticks with finance. She wonders, "Will I be able to do what I love?"