How School Start Times Affect High-School Athletics
Catching more sleep could help student-athletes catch more touchdowns, but some still argue sports schedules are a reason against moving back the first bell.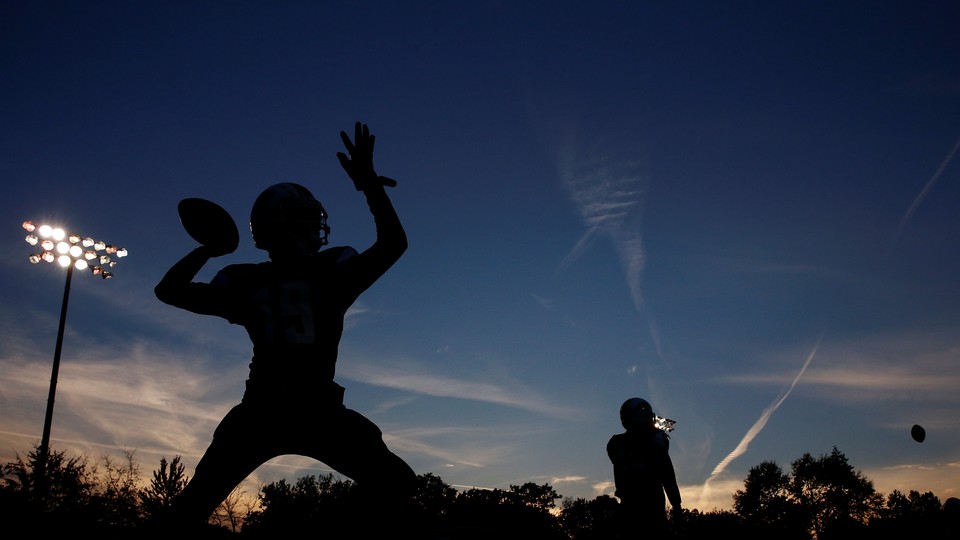 On March 13, the board of education in Sag Harbor, New York, a wealthy town on the eastern end of Long Island, sat down to discuss what time local schools should start. The principal question in front of the board was simple: Should Pierson Middle-High School, which is located in Suffolk County, New York, maintain its 7:35 a.m. start time or push back the opening bell to allow students more sleep in the morning?
Later start times have long been a pet cause for the board member Susan Lamontagne, a health advocate and Sag Harbor parent. In 2013, Lamontagne founded the Long Island chapter of Start School Later, a national organization that lobbies school districts to alter their schedules. A year later, she led a successful effort to push back start times at Pierson by 10 minutes. Unsatisfied with that modest change, she ran for the board in 2016 promising even later bells.
Now she was again bringing the cause to Sag Harbor, and this meeting was the first step toward change. She knew there would be resistance—there always was—but she hoped Sag Harbor residents could get on board with an 8 a.m. start time. That was earlier than the pediatrician-recommended 8:30 a.m., but at least it was later than 7:35 a.m.
But when it came time for public input, Don O'Brien made it clear that resistance to a 25-minute delay would be hard to overcome.
"You are putting our student-athletes at a disadvantage by having them get out at 3 o'clock," O'Brien, a father of two Sag Harbor elementary-school students and a varsity soccer coach in a nearby town, told the board. "Every single contest that we play next year will be affected by a 3 o'clock time. Every practice and every single game."
Another Sag Harbor parent, Rich Perello, took the microphone and decried what he saw as the district's apathy toward athletics. "It seems like there's a disconnect here between the people who are making the decisions and the kids who actually want to play sports," he said.
In O'Brien and Perello's view, Pierson's athletic programs wouldn't survive delayed start times. Sag Harbor is located at the east end of Long Island, and its student-athlete must often travel long distances to games in other districts. Later dismissal, the parents worried, could make getting to games on time more difficult. Plus, O'Brien and Perello pointed out, Pierson students share some sports teams with neighboring high schools, and coordinating practice could be tough if those schools start and end at different times.
But Lamontagne, who views start times as a student-health issue, is just as fervent about her cause as O'Brien and Perello are about theirs.
"I have been involved in this issue for many, many years, and I have yet to see around the country a community that raised this issue where the sports community didn't come out and panic," she told me. "The pattern is that they panic every time, the concerns are the same, and every single time, the concerns get addressed."
The debate in Sag Harbor mirrors similar conversations in districts across the country. Hundreds of schools in 44 U.S. States have already delayed start times in response to sleep-science research. But in more than a few other districts, attempts to push back the opening bells have failed because of the kinds of concerns being voiced on Long Island.
On one side are parents who point to extensive research on sleep cycles of adolescents, effects of sleep on academic performance, and the safety risks associated with sleep deprivation. On the other are those who are worried about what changing start times would mean to their everyday lives—beginning with high-school sports. But given the startling correlation between poor sleep and athletic injuries in teenagers, perhaps those two camps have more in common than they realize.
* * *
The research on school start times is unequivocal: Teenagers' sleep cycles differ from those of adults. While an adult (or a young child) may have no trouble dozing off at 10 p.m., adolescent bodies aren't wired to fall asleep before 11 p.m. If students are asked to wake up at 6 a.m. for a 7:30 a.m. first bell, they will struggle to record the recommended eight to 10 hours of sleep—or anything close to it.
This sleep deprivation has consequences. Studies have shown teenagers perform better in school when they are more rested. Students who sleep more are also less prone to depression, less vulnerable to car accidents, and more likely to wear seat belts and bicycle helmets.
Some parents figure students whose days begin later will simply stay up later at night, but surveys have found that students sleep considerably more when their schools start later. Everywhere from Boston to Minnesota, districts that have delayed start times have found decreases in tardiness.
"Erratic, irregular sleep patterns and insufficient or inadequate amounts of sleep for anyone, but especially adolescents, is damaging," said Amy Wolfson, a sleep researcher at Loyola University Maryland.
Armed with a wealth of evidence, both the American Medical Association and the American Academy of Pediatrics have formally recommended that middle and high schools start no earlier than 8:30 a.m.
Still, delayed start times find enemies across the country. Some parents worry that later start times will make it more difficult for them to get to work. Others protest that they need their teenagers around in the afternoon to look after their younger children. Or that high-schoolers won't be able to get jobs if they get out later. The prospect of added bus costs—moving start times can disrupt the equilibrium between elementary-, middle-, and high-school transportation schedules—are another consideration.
Though these issues are complicated and vary greatly by district, delayed-start time advocates point out that plenty of districts have effectively worked around them.
"Everybody thinks that the way they do it in their district is the only way and the best way to do it," said Terra Ziporyn Snider, the executive director of Start School Later. "But all you have to do is step outside your own school district and you start to realize that people run schools at all different times, all over the country, all over the world. … It turns out that community life revolves around public schools rather than vice versa."
High-school sports represent one of the most consistent roadblocks barring change. In almost every town where this issue is raised, at least one naysayer worries that pushing the school day deeper into the afternoon will mean shorter practices and irreconcilable scheduling conflicts with other schools.
"If you really put any value on high-school sports, I think the negative really outweighs the benefits," said Perello, one of the Sag Harbor parents, acknowledging that academics should always come first.
But do later start times always have to come at the expense of sports?
At Sharon High School in Massachusetts, where the start time was bumped in 2010 from 7:25 a.m. to 8:05 a.m., Principal Jose Libano simply asked competing schools if they could schedule games slightly later. When coaches at his school worried that extra warm-up time gave opposing teams an advantage, he told opponents they couldn't arrive for games in Sharon until students were out of class. On the road, Sharon officials warned referees players might need a few extra minutes of preparation before starting the games.
In Barrington, Illinois, where the school board recently approved an 8:30 a.m. start time for the local high school, the athletic director Mike Obsuszt isn't too concerned about the impact on his department. Maybe outdoor practices will be shorter, and maybe more games will be end early due to darkness, but the teams will find a way to adapt.
"If there's a group of people who know how to adjust to change, it would be coaches," Obsuszt said. "Even though there may be coaches who don't prefer, personally, the later time, they will adjust."
The change in start times in Barrington will surely affect the longtime softball coach Perry Peterson. He might have to re-align his schedule at the local middle school, where he teaches physical education, and he'll likely have to cope with less time for batting practice once he arrives at the softball field. Still, citing his confidence in sleep research and the school board's decision-making, he said he's not concerned and "can make it work."
If students or parents worry that these changes could put Barrington at a competitive disadvantage, Peterson has a persuasive retort: Last year's conference champion was a school that starts at 8 a.m. regularly and 9:45 a.m. on Wednesdays.
* * *
Though most research on the impact of adolescent sleep concerns academic performance, there's ample evidence that a restful night—and the quicker reaction times and sharper concentration that come with it—improves athletic performance as well.
Numerous professional sports teams have begun to view better sleep as a competitive advantage. The Seattle Seahawks track players' sleep through electronic wristbands, while the Boston Red Sox offer a "sleep room" inside Fenway Park. NBA teams optimize flight schedules to make time for sleep, and players have taken to napping before games. A 2011 Stanford study found that college basketball players ran faster and shot more accurately after getting more sleep.
And a 2014 paper published by the orthopedic surgeon Matthew Milewski and colleagues noted a correlation that should trouble any high-school athletic director.
In a study of 160 student athletes at a middle/high school in Los Angeles, Milewski found that sleep deprivation was the single best predictor of athletic injuries in adolescents. Students who averaged less than eight hours of sleep were 1.7 times more likely to suffer an injury than those who averaged eight or more hours.
The finding surprised Milewski at first, until he mulled it over a bit more. Soon, the idea that sleep-deprived teenagers might be prone to more injury risk—likely due to dulled reaction time or lack of alertness—seemed like common sense.
"All of our moms or parents told us once upon a time to eat your vegetables, eat the right foods, don't eat too much junk food, make sure you get enough sleep or you're not going to do well in school. And that's also true for sports," Milewski said. "The nice thing is, with a little bit of education, this could improve. It doesn't take much. Kids need to go to sleep."
* * *
Sports have always been important for Jeremy Ray, the superintendent of the school districts in Biddeford and Dayton, Maine. Early in his career he worked as a basketball official, before spending three years as a P.E. teacher and one as a middle-school athletic director.* Now, his office in Biddeford is decorated with Red Sox memorabilia.
But Ray is also well-read on school start-time research, and when Tracey Collins, head of the Start School Later chapter in southern Maine, reached out to him in late 2015 about moving his high school's first bell, he was immediately onboard. The more he learned about start-time research, the more convinced he was that Biddeford High School's 7:45 start was far too early.
"The science and the evidence is so clear, that if I did nothing at all and just continued on with the same start times, I was hurting kids," Ray recently told me.
So Ray and Collins began a meticulous outreach campaign. They presented the science to the local school board, hosted a meeting of board members from around the region, held public forums and spoke personally with opponents.
Ray knew that support—or at least tolerance—from the sports community would go a long way toward making a change. So he asked Biddeford's athletic director, Dennis Walton, to map out a full school year of delayed start times and determine if there'd be time for practice and how often athletes would need to be dismissed from school early.
Walton's finding: The athletic department would have little trouble adjusting to a new schedule. Teams would still be able to practice before the sun went down, and only rarely would students have to leave a few minutes before the final bell to get to games and meets.
Coaches had some questions, but Walton assured them their seasons would proceed, more or less, as usual. Ray spoke to Biddeford's football coach, explaining the link between sleep deprivation and athletic injuries, and convinced him that sacrificing a few minutes of practice was more than worthwhile.
Angry opposition to delayed start times in Biddeford never emerged, and neighboring towns joined the movement. On April 6, 2016, school boards in Biddeford, Dayton, and Saco—which share a Career and Technical Education school and therefore coordinate all scheduling—together voted to push back their opening bells.
The new schedule took effect in August, and though it's too early to fully analyze the effect of later start times, the change has so far corresponded with increased attendance, decreased tardiness, and fewer visits to the nurse's office.
Walton, the Biddeford athletic director, often hears from colleagues in other districts who are curious about delayed start times. His message to them is simple.
"It's like anything else: You adjust," Walton said. "And if what we're being told is that academically kids are going to benefit across the board from later starts, then I think that you have to say that takes precedence over the extra 20 minutes of practice time."
* * *
Sag Harbor's start-time debate doesn't look like it'll cool down anytime soon. O'Brien spoke in front of the Board of Education again on April 3, presenting a list of reasons why delayed start times at Pierson are unproductive and untenable. He and Perello promise to continue fighting against a schedule change.
"It'll definitely kill the sports," Perello said. "Shared sports definitely, and it'll be a hardship on regular sports."
Lamontagne doesn't know exactly what sports in Sag Harbor will look like if high school starts at 8 a.m. instead of 7:35, but she strongly believes her hometown can find a solution.
"I'm confident that we can make the move and address sports issues, because sports matter," she said. "They always say it's not logistically possible, and guess what? It always works out."
---
* This article originally misstated that Jeremy Ray worked as a high-school athletic director. We regret the error.