How Discrimination Nearly Stalled a Dual-Language Program in Boston
After years of advocacy, the city's first Haitian Creole–English school opens in the fall.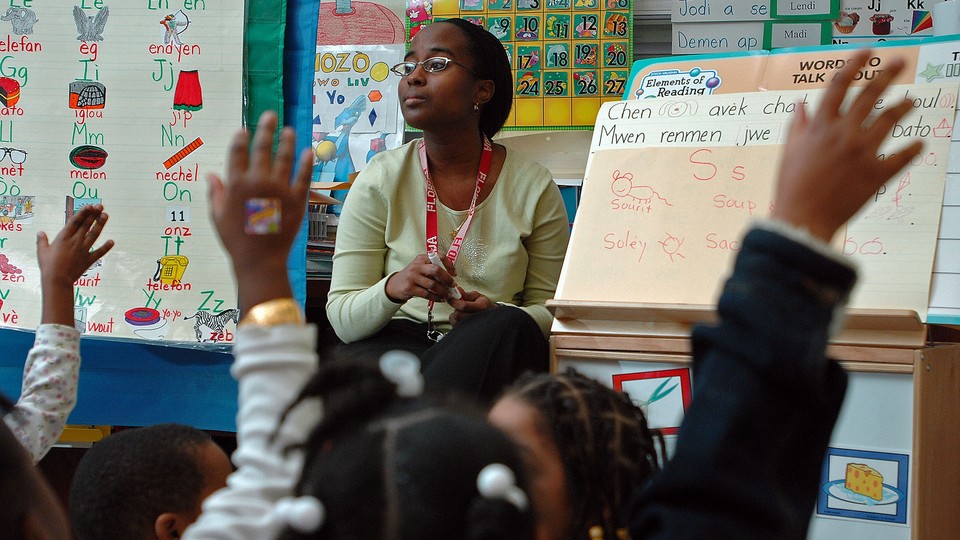 Geralde Gabeau, a longtime leader in Boston's Haitian community, used to work at the Boston Medical Center and with medical students at Boston University. Several years ago, there was a shortage of interpreters at the medical center to assist patients speaking Haitian Creole. Gabeau, turning to young adults in her own community, found few people had the necessary skills. Yet her university students spoke the language.
"There are so many white students willing to go to Haiti and learn the language," Gabeau said. "I was convinced something had to be done."
Gabeau has been part of a committed group of Haitian leaders who have spent much of the last decade pushing Boston Public Schools to open a dual-language program, in which children can take their classes, from math to social studies, in both English and Haitian Creole. The language is the third most-spoken language in Boston Public Schools, second only to English and Spanish—and the Spanish-speaking community has had a dual-language program that caters to its children since 1970.
Dual-language programs have been growing in popularity nationally for several years now, spurred on by demand among native speakers of common languages as well as monolingual English speakers who want all the benefits that come from bilingualism.
In Boston, however, it has taken a long time to get enough people—and the right people—to agree Haitian Creole deserved to join Spanish in the public schools' dual-language program. And it wasn't only district administrators who had to be convinced. The Haitian community wasn't entirely on board, either.
Michel DeGraff, a professor of linguistics at the Massachusetts Institute of Technology and a native of Haiti, draws that back to Haiti's history with its colonizers.
"We became free in 1804 but through the French language we did remain colonized," DeGraff said.
While the vast majority of Haitians speak Creole exclusively, French remains the chosen language of the nation's power elite. For more than two centuries, Creole has been attacked as inferior, as a poor dialect of French rather than a language in its own right, and as a limitation for its speakers.
DeGraff said even Haitian intellectuals have contributed to these ideas about Creole, with scholars arguing that the language limits people from thinking abstractly; that people need French to evolve, mentally; and that Creole has no syntax or orthography.
All of these things, DeGraff says, are false. And major universities in the United States have created departments to teach students Haitian Creole, recognizing its international relevance and linguistic value. Haitian Creole is spoken by far more people in the Americas than is French, and a surge of aid workers have been drawn to Haiti since its devastating 2010 earthquake. DeGraff says, linguistically, it is also an interesting language to study because, unlike most languages, it has a clear birthdate and birthplace—in 17th century colonial Haiti.
Besides MIT, the University of Massachusetts Boston, Indiana University, and Florida International University all have such programs.
At the K-12 level, Miami and New York City have programs that support bilingualism in English and Haitian Creole. Boston's program will be the first in Massachusetts, however, and Boston Public Schools administrators have worked with educators in Miami and other experts to develop a high-quality program.
Brain research has shown people who are bilingual perform better on a range of cognitive tasks, and long-term studies of students in dual-language programs show they score higher than their peers on standardized tests by middle school. When it comes to students who show up to school speaking a language other than English, dual-language programs that pair English with their native language have been the only ones shown to remove stubborn achievement gaps between these students and their native-English-speaking peers, according to the leading dual-language researchers Virginia Collier and Wayne Thomas.
Then there is the cultural benefit. Dual-language programs universally focus on both language and culture, giving students who come from that given culture an opportunity to see their own histories prioritized by their schools and giving other students an opportunity to develop a deep appreciation for people who are different from them.
Gabeau has spent years having conversations with her fellow Haitians in Boston about the merits of a dual-language program that allows children to become academically proficient in reading and writing in both Haitian Creole and English. When Tommy Chang became superintendent of Boston Public Schools in the summer of 2015, grassroots efforts got a boost from inside the district. A former English-learner himself, Chang has made cultural and linguistic inclusion a priority, advocating for greater sensitivity to the diverse backgrounds of the district's students.
And he has called for an expansion of the district's dual-language programming.
The Mattapan Early Elementary School will open in the fall of 2017 as the first expression of this goal. Located in one of Boston's largely Haitian neighborhoods, it will have one Haitian Creole and English dual-language classroom for 4-year-olds, featuring the district's renowned preschool curriculum administrators are having translated into the new language. Each year, the district will welcome another class of 4-year-olds into the dual-language program, which will expand into later grades as the inaugural class ages.
The school will also serve 3-year-olds, kindergartners, and first-graders in traditional classrooms, though school leaders expect to offer language supports to native Haitian Creole speakers in these grades, too, considering the makeup of the community.
Ireland Plancher, a member of the Massachusetts Association of Haitian parents, fought hard for the dual-language program. She said there are many families in Boston's Haitian community in which parents speak only Haitian Creole and children speak only English, creating a disconnect.
"We hope that it brings kids closer to their culture and family," Plancher said. Her granddaughter will join the program this fall.
Judith Mikel also plans to send her daughter. Mikel is of Haitian descent and has always spoken both English and Creole. Her husband doesn't speak Creole, however, and her 4-year-old daughter is being raised with predominantly English at home. Still, Mikel has heard the research about elevated brain functioning among people who are bilingual. She wants that for her child.
Mikel said she is not worried about her daughter feeling connected to the American side of her heritage because the family lives in the United States. But Mikel is proud of being Haitian and she wants her children to feel the same way. The dual-language program can support that and add an extra layer to their connection to Haiti.
"It's really important to me that not only she knows who she is and where she comes from, but also she knows the language," Mikel said.