How Colleges Use Big Data to Target the Students They Want
By tracking prospective pupils' digital footprints, schools can make calculated decisions about their admissions outreach—for a price.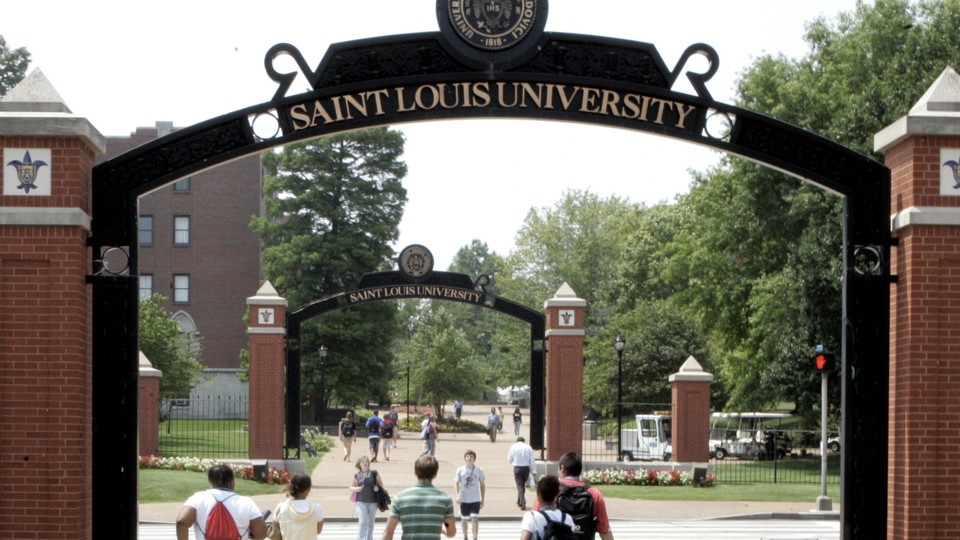 This is part two in a three-part series on the role of Big Data in the college-search process. You can read part one on colleges' year-long pursuit of students here. Check back for part three on data in an era of demographic change.
A decade ago, Saint Louis University found itself in a precarious situation. About half of the university's 8,600 undergraduates were from Missouri and Illinois, and the demographic forecast for the Midwest looked bleak: the number of high-school graduates from the region was projected to drop by nearly a third by 2028.
So the university started to dig deeper for prospects in its backyard, purchasing more names of prospective high-school students from the College Board and ACT and targeting those teenagers with marketing materials. At one point, admissions officials at Saint Louis University were buying upwards of 250,000 names annually.
"We approached searching for students the way most schools did at the time," said Jay Goff, the university's vice president for enrollment and retention management. "We would take the demographics of the previous year's freshman class and try to purchase more names that matched them the following year."
Given demographic trends, university leaders knew that such a strategy was unsustainable. Like many of its peers, Saint Louis University also wanted to recruit from new geographic regions and improve the racial and economic diversity of its student body, as well as its retention and graduation rates. Those goals called for a new way of searching for potential students, and in doing so, created a new data-driven approach to admissions adopted by hundreds of other colleges and universities over the past several years.
While few colleges follow the same admissions playbook, they are all taking their cues from the invisible array of algorithms that recommend music on Spotify, movies on Netflix, and books on Amazon. While colleges say the data help to target their marketing efforts, the new methods also explain why students with similar academic backgrounds now get varying degrees of outreach from colleges.
"We needed to focus on finding students who would be a good fit," Goff said. "So when we looked at the demographics of the previous class, we wanted to not only look at the students who chose to enroll at the institution, but those who ended up succeeding and were satisfied. We wanted to know if we could replicate those students."
The university began by analyzing three years of its most recent graduating classes, looking for students who finished on time with high satisfaction scores. Admissions officers found that almost half of the Roman Catholic research university's students were Catholic, for instance, and they had among the highest satisfaction scores. Nearly 80 percent of the students at the top of the list were also clustered in a small group of majors: health care, business, and STEM (science, technology, engineering, and math).
With the help of data from the College Board and the ACT, the university went on a hunt to find students in existing and new geographic markets matching the profile of the most satisfied students who recently graduated. Admissions officers knew that by combing through more than 120 potential data points produced from the questionnaire high-school students completed when registering for the SAT or the ACT they could find key points of overlap between what potential students wanted in a college and where Saint Louis University succeeded the most.
For example, admissions officers looked for high-school students who stated they preferred to attend a private, religiously affiliated college; performed community service in high school; and, given the preponderance of satisfied business majors on campus, had an entrepreneurial mindset (one of the questions asked of high-school students is whether they started a business or organization).
Because the university was trying to expand its geographic reach, officials also wanted students who in their questionnaires indicated they had the mindset to travel. Most students attend a college close to home. The students most willing to travel tend to have the most choices in where they can go because of their high standardized test scores. According to the ACT, students who score highest on the test—scoring between 33-36, the maximum—go to college farthest from their home (172 miles, on average), compared to just 45 miles for those who scored at the national average (20.8).
To reach those students, Saint Louis University added three positions to the admissions team and located the additional staff in new markets, including Southern California and Texas. Recruiters focused on specific high schools with large populations of students the university wanted and deployed targeted internet advertising in the regions. Today, only about one-third of Saint Louis University's students are from Missouri.
Since the university began to rely heavily on Big Data to drive its recruitment strategy, it has reduced the number of names purchased from the College Board and ACT by 40 percent and enrolled five of the six largest freshmen classes in the university's history. What's more, the campus has increased its four-year graduation rate to 71 percent—up from 62 percent in 2010—and about 22 percent of the university's students are eligible for Pell grants, meaning they mostly come from families earning less than $30,000. (By comparison, fewer than 20 percent of students at most of the wealthiest colleges in the U.S. receive Pell grants).
While other universities have achieved similar success using Big Data to target and personalize their outreach, admissions deans wonder how much longer the strategy will yield positive results. For one, as more campuses copy data-mining techniques from their peers, its effectiveness is diluted if schools find and recruit many of the same students. Second, the output from data mining is only as good as the initial information students supply to the College Board and ACT.
"Non responses from students are becoming an issue," said Wayne Camara, the senior vice president for research at ACT. "There is a drop off in students providing data." Students also give incorrect information on critical questions, like family income, because they don't know how much their parents earn.
As a result, colleges are beginning to search for alternatives to the traditional route of finding potential students by buying their names. Some have turned to a Louisville, Kentucky,-based company, Capture Higher Ed, that tracks how prospective students use university websites. Using a unique email link sent to prospective students or personal information they provide on a college's web site, Capture's software can tell universities what web pages were visited, how often, and what prospective students did before and after.
With that data, admissions can better understand the digital breadcrumbs students follow during the college search process, particularly what they do before they decide to apply or enroll. The data-mining enables schools to deliver personalized content on the web or send e-mails and texts to specific individuals, though critics worry it comes at the expense of student privacy. (Capture Higher Ed for its part says students are only tracked when they supply identifiable information to a school.)
More than 50 colleges and universities now use Capture's software, including Syracuse University, the University of Pittsburgh, and Colby College. Last year, the company tracked 20 million unique web visitors on its clients' sites. "Even for small schools," said Thomas Golden, the vice president of data science at Capture Higher Ed, "we found there is a significant amount of inbound traffic that's organic," meaning prospective students search for colleges on the web without ever being contacted by the campuses.
The pinpoint accuracy of data-driven marketing might shove aside old-fashioned name-buying among colleges in the future as admissions officials become more conscious of the cost of purchasing tens of thousands of names that result in enrolled students.

"To see where admissions marketing is going, we need to look at marketing in the business world," said Jim Black, the president and CEO of SEM Works, a company that assists colleges with their enrollment strategies. "Businesses discovered years ago that direct marketing was too expensive to gain customers. Higher ed is just a few years behind. Purchasing a list of names is a big investment to getting people in the door."