How Big People Shape Little Kids in Big Little Lies
The HBO miniseries is an honest reflection of parents' psychological impact on their children.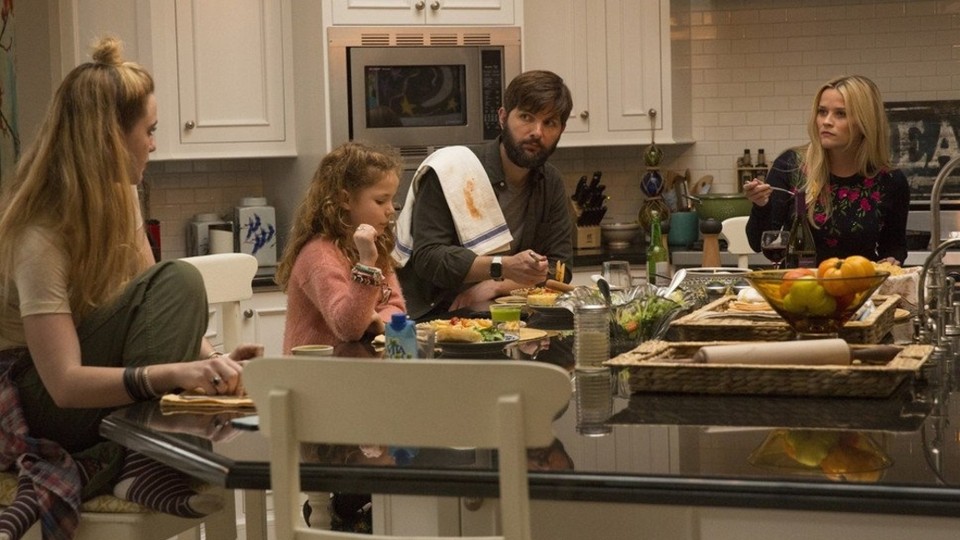 This post contains some spoilers for the first season of Big Little Lies.
HBO's recently wrapped miniseries Big Little Lies is a whodunit featuring attractive people grimly swirling wine and glaring at roiling surf from deck parapets. The adjective "soapy" frequently worms its way into reviews that unfairly boil the show down to its least compelling elements. The Wire it is not, but Big Little Lies isn't unserious just because it portrays denizens of a tax bracket few viewers can sniff.
"Many people dismiss the pain and complex struggles of the upper middle class—as if they bloody well deserve it," said Suniya Luthar, Ph.D., a fan of the show and a psychology professor at Arizona State University. "But these are real problems."
In its best moments, Big Little Lies addresses how privileged but troubled parents, lauded but dysfunctional schools, and a community both cozy and corrosive can shape the identities and behavior patterns of young children. It builds on and transcends a melodrama about affluence: largely wealthy women priming their children for success and contentment while simultaneously wanting to shelter them from the disappointment, conflict, and violence rippling through their own adult lives.
Luthar pointed out that, in trying to exercise such power over the trajectory of their children, these mothers may be setting themselves—and their children—up for failure. "When we rely on the splendor of our accomplishments for a fundamental sense of self-worth," she said, "a lot of times success is not within our control, and that can lead to profound anxiety."
I'm personally and professionally interested in how adults affect the habits of children. My daughter, who's not yet 2, will enter school in a few years, and I already worry about the curse words she can parrot with an endearing toddler's lisp. I'm also a teacher who has worked with both 5-year-olds and high-schoolers, and so I am often curious about what influences their behavior.
Twelve years ago, I walked into my third day of teaching prekindergarten to see a mom reprimanding a teacher for "incorrectly" refereeing a dispute between children. Both women smiled, but moments after her critic departed, the teacher tidied a box of Legos and confided that she didn't mind the kids so much as she did the parents. I'd soon meet many: moms who treated their 4-year-olds like victims after they bit classmates, moms who drilled their kids in elementary Spanish each morning and publicly extolled their "gift for language."
The Big Little Lies alphamom Madeline, among other protagonists, captures this approach to parenting. When Madeline repeatedly nags her older daughter, Abigail, about SAT tutoring, Abigail observes, "It's like you're grooming me to get to a place that you couldn't." The career-less Madeline lives for her children's achievements, as well as their need for her. With her "secret project"—selling her virginity online to protest "sex slavery"—Abigail both mocks her privilege and abides by Madeline's insistence that "a person's life needs to matter," advice she's likely heard for a decade. Insisting that she's far from "perfect," Madeline details her own mistakes in front of the daughter who has been taught not to make any.
While most of Big Little Lies happens outside the classroom, the school the show's kids attend reflects the larger community. The teachers, counselors, and mousy male principal are clearly cowed by the parents—an intimidating collection of venture capitalists, web developers, executives, and assertive housewives.
"It wasn't me," says 6-year-old Ziggy in the first episode, when his classmate Amabella blames him for her bruises. His teacher still demands he apologize in public, as much of the cast mumbles concern. "Sweetie, we just need you to say you're sorry," Ms. Barnes, the teacher, pleads. Innocent or not, Ziggy needs to appease the crowd.
Instead of conducting a private investigation, the school tries to get ahead of the thunderstorm they anticipate once Amabella's mom, Renata—a PayPal board member—sees her daughter's injuries. Ms. Barnes is asking Ziggy to give a performance. That's what Perry, an adult character, does. He regularly abuses his wife Celeste and, weakened in power after each assault on her, dramatically implores his "Sparkles" for forgiveness. But rote apologies are Band-Aids that temporarily cover festering sores. Kids shouldn't dole them out without real reflection and meaningful intent.
Indeed, the plot line around Amabella's bruises, and the larger theme of abuse, is emblematic of the myriad ways adults—both parents and teachers—shape kids early-childhood experiences. In fact, for Grace Kiriakos, a fourth-year doctoral student at the Wright Institute clinical-psychology graduate school in Berkeley, California, who regularly conducts assessments of children at a charter school, Ms. Barnes is the bully in this situation. "She's not facilitating due process or conflict resolution," Kiriakos said. "She's assigning blame."
"Bullying is a cyclical process," Kiriakos continued. "Behavior that's been learned somewhere in a different context. Redirecting the abuse [to someone else] reinforces the insidious cycle." As the drama around Amabella's injuries escalates with threatened lawsuits, a physical altercation, and a petition to expel Ziggy, neither parents nor educators excavate the truth or soothe the wounds suffered by multiple parties.
Big Little Lies, however, also demonstrates that adult influences are often out of adults' own control. When a psychologist pronounces Ziggy incapable of bullying, Jane, his mother, weeps with a relief; Ziggy's father was Jane's rapist, and she's afraid he's inherited his propensity for cruelty and criminality. "Many people believe personality traits and other qualities are heritable," said Susan Holloway, a professor at UC Berkeley's Graduate School of Education. "Some adoptive parents are likely to wonder more about the causes of their children's characteristics and behaviors than do parents who know their child's biological parents." While Jane encourages Ziggy to be sweet and sensitive, she almost sees him as damaged goods and begins worrying that she's helpless to guide him.
The children bear the fingerprints of the parents. Chloe, Madeline's younger daughter, learned to take charge from her mother, even if she's still just the queen bee of the first grade. Max, the boy who's actually responsible for Amabella's injuries, learned violence from his father, Perry,  and intimidates her out of telling on him. When it comes to governing their mini-society, the first-graders fare only slightly better than the adults—and that's thanks to Ziggy, who in part because of Jane's parenting, demonstrates bravery in eventually telling the truth when other kids stay silent. But there's also hope in the general malleability and resilience of children, and in Celeste—who, in the final episode, embraces her weeping son, the bully. "We all do bad things sometimes," she says, which can read as a final excuse for Perry—or as a rallying cry for forgiveness, reflection, and self-love in an environment hostile to them.
The show emphasizes that these children are being shaped at a crucial, formative stage of their lives. When Madeline and Abigail discuss "finding purpose" and "making a mark," the viewer knows that process starts long before high school. First-graders start learning academic skills to ensure future financial success and fulfillment. They build identities, learn social skills, take pride in talents, and learn from errors.
Yet even as young children are encouraged to prize authenticity, their parents construct facades to hide tortured interior lives. When playing dress-up and singing before an audience at the Elvis-and-Audrey-themed fundraiser bash, the adults inhabit versions of these enigmatic, troubled icons that reflect their real selves. Their Audrey costumes reference My Fair Lady and Breakfast at Tiffany's—stories about identity and transformation. Tellingly, both Jane and Celeste wear Hepburn's black gown and tiara from the latter film, in which Holly Golightly flees likely childhood abuse, an unsuitable marriage, and grabby suitors to attempt surviving on her own.
The bash is symbolic of a larger theme in the show: that its characters live in a wealthy community that offers only the illusion of comfort and coziness and calm. Yet adults are constantly judging each other in private—a dynamic emphasized by the catty, callous tone of the brief police-interview scenes woven into each episode—while projecting cordiality in public. The kids, meanwhile, are still just kids. In the opening credits, while their mothers face the camera with forced serenity, the show's children take turns making faces as they face the world, the camera, the eyes of the community, and the audience with uncontrolled, innocent, heartening delight.