Can Poetry Revolutionize the Parent-Teacher Conference?
A community-oriented program works to engage adults more meaningfully in the classroom.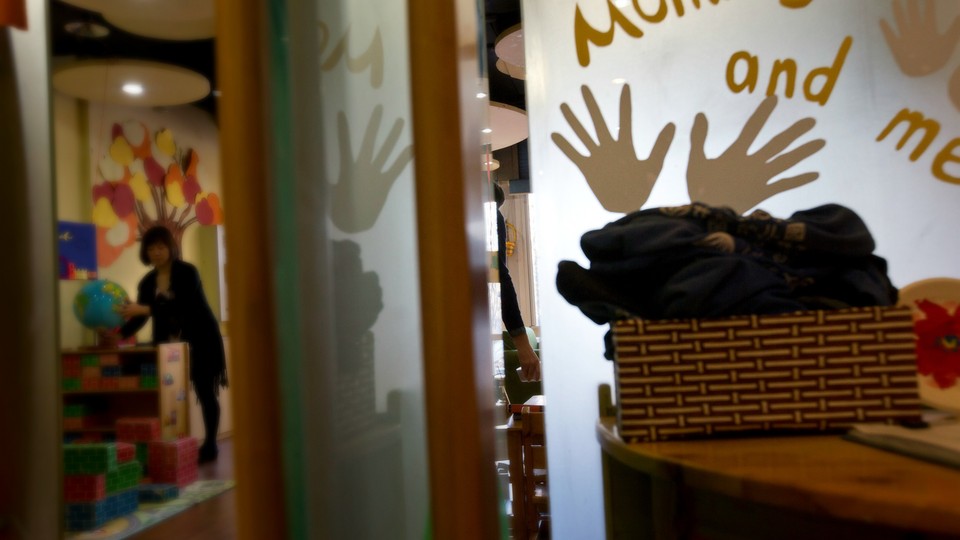 On a recent Tuesday evening, two sixth-grade teachers at Manhattan's West Prep Academy offered up a poem by Langston Hughes and described how to begin unpacking its meaning.
The teachers glanced around the purple-tiled classroom to make sure everyone had their pens and pencils out to mark up copies of "Dreams" with notes.
It was exactly the kind of lesson the teachers might have offered on an average school day. But this time, instead of a room full of middle-schoolers, they had a different audience: their students' parents.
"We do these in class all the time," Annery Quezada, a sixth-grade special-education teacher told roughly a dozen parents, referring to the process of analyzing a poem. "You want them to explain how they know what the main idea is."
What was happening in that classroom is an experiment in supplanting the traditional parent-teacher conference with a model that is just beginning to take hold in New York City. Known as Academic Parent Teacher Teams, an idea developed by a company called WestEd, the approach focuses on teaching groups of parents to engage their children academically and encourages them to talk about how their students are performing as a group—not just individually.
In traditional parent-teacher conferences, "I could see a parent for about a minute and a half, and it really focused on the negative and became a finger-pointing kind of thing," explains Daniel Wolf, a former teacher who works under the city's Middle School Quality Initiative, which has helped implement APTT. The model "is not about what a child got wrong on a unit test, but what can we do as a community to move students forward."
Roughly 500 schools in 22 states have used a version of the model, according to WestEd. Eighteen New York City schools are currently piloting it.
The investment in parent-teacher conferences jibes with school Chancellor Carmen Fariña's push to set aside more time for after-school engagement, with a focus on parent-teacher meetings.
"Often what we hear from families is, 'I want to help my child at home but I really don't know how to do that,'" said Megan Hester, an organizer at the Annenberg Institute for School Reform who works closely with schools and is familiar with the APTT model. "It incorporates a lot of the stuff that's talked about with parent engagement, but actually puts intention and structure around it."
At West Prep Academy—a middle school that serves an outsized share of low-income students compared with its Upper West Side district—the experiment with APTT began this school year.
Parents were invited to three separate 75-minute sessions evenly spaced throughout the school year, typically led by one or more of their student's teachers. They are given a chance to get to know each other, learn specific methods for talking with their children about schoolwork, and review their children's progress on math and reading tests together.
Between sessions, parents are expected to bring the strategies developed at the APTT meetings home: Something as simple as asking probing questions about what a child is reading, or playing a game that requires using math concepts like factors and products.
The West Prep Principal Carland Washington said his hopes for APTT don't center entirely around student achievement. He's also banking on more parents connecting with the school.
"In a school with low-performing students, and students who come in from low-income situations, we don't get a lot of parent participation," Washington said, pointing out that many students have parents who work multiple jobs or have been incarcerated.
At one of his school's most recent APTT meetings, the desire to build community was on full display. Over sandwiches and chips served up on paper plates, parents settled into the desks typically occupied by their children and were prompted to swap stories about how their kids spend their downtime and their academic strengths and weaknesses.
Hannah Yeats, a teacher at West Prep who co-facilitated the APTT session, shuttled around the room, occasionally encouraging some of the more timid parents to speak up or exchange phone numbers.
In the past, "parents had each other's numbers—and that's kind of faded," Yeats said. "We need to create community. There aren't structures in place to encourage that support system to be built."
These forums don't entirely replace more traditional one-on-one parent-teacher meetings, which still occur at West Prep and other schools participating in the program. At APTT events, parents do get a chance to review their own child's progress, only it's in the company of a dozen or so peers. On a bar graph projected at the front of the room, parents at West Prep were shown math and reading scores for the entire class, with each child identifiable only to his or her own parents with ID numbers distributed at the beginning of the evening.
The graphs showed how much progress the class had made since the previous APTT meeting, and how much growth was expected by the end of the school year. Showing student scores together is designed to emphasize the collective role parents can play in boosting an entire class's skills.
Lawrence Kenniebrew, a parent, said he appreciated the chance to check in on his daughter's progress, which showed strength in reading but room for improvement in math.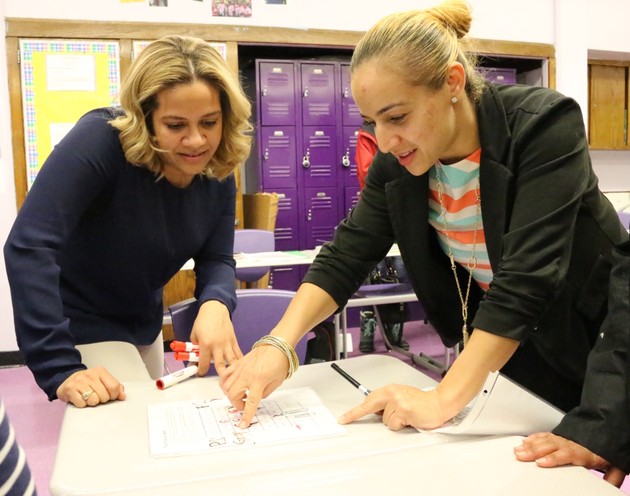 "After seeing what her scores are, I know I absolutely have to look at how to improve [math] because that's going to become much more critical down the line."
Kenniebrew, who works in counterterrorism for the Metropolitan Transportation Authority, said he likes the new format. One tip he picked up at the last meeting was to push his daughter a little bit more when he asked her about what she's reading.
"I would say, 'Alissa, what do you mean by that?'" he said, referring to one of the strategies presented earlier in the year. "It helped me to help her."
For teachers, the APTT model can be hard to pull off. At West Prep, some staffers spent hours discussing which skills they wanted to teach parents, conversations that were ultimately boiled down to 15-minute PowerPoint presentations. It can also be difficult to find enough time to allow parents to socialize, explain the key math and reading concepts, and help parents practice strategies for engaging their kids, all in one session.
"In an hour and fifteen minutes, I don't know if it's possible to do everything we're trying to do," said Yeats, the teacher who led the math game, and who is generally supportive of the approach.
The city is still figuring out how to successfully implement the program, according to the education department's Wolf, part of the reason the program has started small. He anticipates six more city schools will take on APTT next fall. "We do know that it's a heavy lift," he said.
Washington, the school's principal, said he's happy with the way the program is playing out. It can be difficult, he said, to get parents to show up, and the school has leaned heavily on the marching band to draw them in. "When the students are on stage, they will come," he said.
Since the school launched APTT this year, however, Washington has seen an uptick in parent volunteers to chaperone events, involvement in the school's parent association, and even some signs of academic growth.
"Just because parents don't come to school [to talk about academics] doesn't mean they don't want to support their children," he said. "This gives them a way to check in."
---
This post appears courtesy of Chalkbeat New York.