Why One University Is Sharing the Risk on Student Debt
Leaders at Purdue University believe their students don't need to take on private loans to graduate.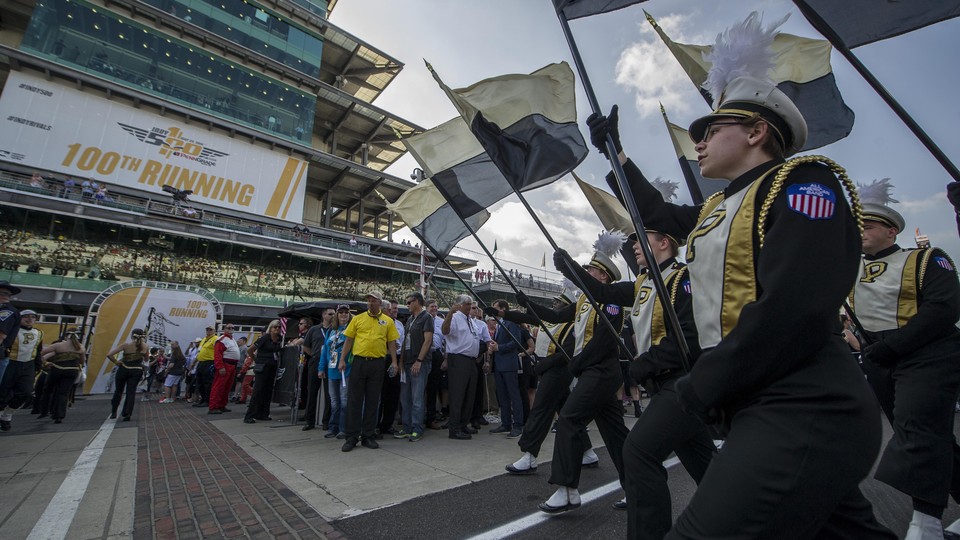 Most student financial aid for higher education comes in two forms: loans and grants. As tuition costs have grown, however, both options have had a hard time keeping up—grants are oversubscribed and loans have left college dropouts struggling to pay off debts without any of the financial benefits of holding a degree.
Mitch Daniels, the president of Purdue University and the former governor of Indiana, has been watching this storm brew for years. Since taking over Purdue in 2013, he's instituted tuition freezes, lowered room and board costs, and partnered with Amazon to reduce textbook costs for students. In his four-year tenure, he's cut student borrowing by 23 percent, and he's not done yet: "We continue to look for every way that we could send our graduates out with lower debt obligations," he explained.
Now, Purdue is experimenting with an alternative form of financial aid called an "income-share agreement" (ISA). ISAs provide students money to cover college costs, and in exchange, students agree to pay back a percentage of their future income for a set period of time—interest-free and capped. At Purdue, for example, a senior majoring in economics who took out $13,000 in a "Back a Boiler" ISA would pay 4.39 percent of her income over 100 months, up to a maximum of $32,500.
To the extent they have been used in higher education previously, ISA models have been strictly between private investors and students. In this case, however, the Purdue endowment is fronting the money and sharing in the risks. If a student struggles to secure a job after graduation or earns less than $20,000 per year, the college would collect no money. If a student is extraordinarily successful financially, Purdue could be paid back up to 250 percent of the amount originally awarded.
"These college-backed ISAs have the brand of the college behind them, and it's the college saying that 'We believe in our programs, we believe in our education, and we believe you'll be better for it as a cohort,'" said Zakiya Smith, the strategy director of the Indiana-based Lumina Foundation and a former senior policy adviser for education in the Obama White House. "It's essentially colleges putting their money where their mouth is."
Purdue is the first institution to take on ISAs since an attempt by Yale University in the 1970s that was, in the words of one higher-education policy expert, "an utter disaster."
"Part of that was obviously their design. They had done it on a cohort basis," explained Ben Miller, the senior director for postsecondary education at the Center for American Progress. "Everyone had to pay back until the cohort paid back everything." Because individual students were allowed to pay back the amount each had agreed to early while the cohort overall was required to meet a set target for investors, high-earners prepaid early, low-earners skated, and middle-earners were saddled with the burden of paying back investors.
At Purdue, no ISA recipient is required to pay more or less based on the earnings of another member of the cohort. This program represents a new way to administer ISAs, and those involved are well aware of their guinea pig status. This year, the university distributed just over $2 million—a relatively modest amount—to about 160 juniors and seniors in 79 unique majors. Next year, the program will expand to support sophomores.
There is a great deal of curiosity about the concept, and even policymakers and academics who have been skeptical of ISAs are eager to see what comes of this experiment. Daniels says Purdue won't hesitate to share its findings: "We're a public university; we love to do research and make it available."
Mike Konczal, a fellow with the Roosevelt Institute, said he is curious to see the results of Purdue's program. He did express concerns that the endowments running these ISA programs might be compelled to maximize returns with little incentive to lower the overall cost of tuition in general. He also emphasized that, although not traditional debt, ISA recipients "still have a monthly payment due, and if you've gotten into weird hardship, you're still in as much trouble as you were before. And, if you take time to raise your kid, the thing goes into deferment, so suddenly it's pushed into your 30s."
If a student takes a four-year hiatus from the workplace for graduate school, unpaid internships, child-rearing, a stint in the Peace Corps, or any other reason, all payments will also be deferred for four years. Unlike with loans, however, the recipient will not be accumulating interest on their ISA—the percentage of income paid will remain the same regardless of when they pay it.
There are several other substantial differences between ISAs and loans, most notably the fact that many people are unfamiliar with the former. An American Enterprise Institute study found that only 7 percent of students and 5 percent of parents had even heard of an ISA. When it comes to selecting the best financial-aid options, raising awareness of all of the choices available is only the first step.
"Part of what you're seeing here is that as more payment plans come into the marketplace with different terms, it becomes challenging to see what's the best deal for the student," Miller said. "And getting it wrong could end up costing you a fair amount of money."
The terms for these ISAs might be favored by students: The same American Enterprise Institute study found that, although initially skeptical, when presented with repayment scenarios for loans and ISAs side-by-side, more than half of the respondents preferred the repayment terms of ISAs.
"We've certainly focused on those students that would take those Parent PLUS or private loans on top of government assistance," Daniels said. "We think that ISAs in most cases are clearly superior to those private loans. We haven't counseled anyone to take them instead of public-subsidized loans." Private loans are difficult to secure without a parent cosigner, effectively barring some students that may need them the most.
"Loans keep score with interest; ISAs keep score with outcomes. If you pause payments on a loan because of financial hardship, the amount you owe will increase," said Tonio DeSorrento, the CEO of Vemo Education. Vemo Education operates the ISA program at Purdue and is working with additional universities to set up similar financial-aid programs. "Because ISAs keep score with outcomes, people aren't punished if they're unemployed or have low earnings."
According a 2008 report from the Institute for Higher Education Policy, many college-ready students who decide against college are unwilling to borrow money for tuition. For these debt-averse students, ISAs could be the answer.
"For students and parents who are borrowing to pay for college, they're often doing that because they want a well-paying job," DeSorrento said. "When a college is in an ISA with a student, it's sharing outcome risk with her. College isn't just about getting jobs, but for many people, at least some of the value is the job, so linking some of what's paid to colleges to employment outcomes can help colleges better serve students."
College-backed ISAs have been lauded as a way for colleges to have skin in the game with regard to the financial success of their students and to give institutions incentives to equip their students with marketable skills and support their alumni in securing employment.
"It's part of the concept of 'risk-sharing' and the idea that colleges should be on the hook, [which is] becoming popular in the federal conversation," Smith said. "Risk-sharing is a concept that has bipartisan support." Smith noted that bank-backed or traditional investor-backed ISAs "don't have the connection" and are "even more transactional." Funding relationships directly between investors and students lacks the value that can be added when schools participate and share accountability for student outcomes.
Even so, consumer protections will be critical if ISAs were to go mainstream. There is currently no designated federal regulator for these options, and disclosure requirements are unclear.
"Students have certain protections with federal loans that they don't have with ISAs,"Miller said. "I don't think there's a harm in trying new things as long as protections are in place to make sure that students don't get screwed."
Republican Senators Marco Rubio and Todd Young recently proposed legislation that would designate a federal regulator and require certain consumer protections on ISAs to qualify for safe harbor, or shield from certain consumer-protection lawsuits. The legislation would require that ISA providers specify the percentage of income, length of payment, maximum payments, and early termination terms. Finally, would-be ISA recipients would need to be presented with the terms of a comparable loan.
As legislators turn their attention to ISAs as another financial-aid option for students, more colleges might follow Purdue's lead. Sheila Bair, the president of Washington College and the former Federal Deposit Insurance Corporation (FDIC) chair under George W. Bush and Obama, has announced her intention to launch a similar program, also designed and administered by Vemo Education.
When asked what his main goal was in implementing Back a Boiler, Daniels's response was simple: "To liberate as many students as we can from avoidable student debt. As I said, we were doing that by other means—freezes and reducing costs and counseling—and this is just helping us take another percent or two off the total, and we hope it will do more as we go forward."