U.S. Naval and Military Academies See Rise in Sexual Assault
Reports of abuse on military college campuses may reflect larger issues of conduct among the armed forces.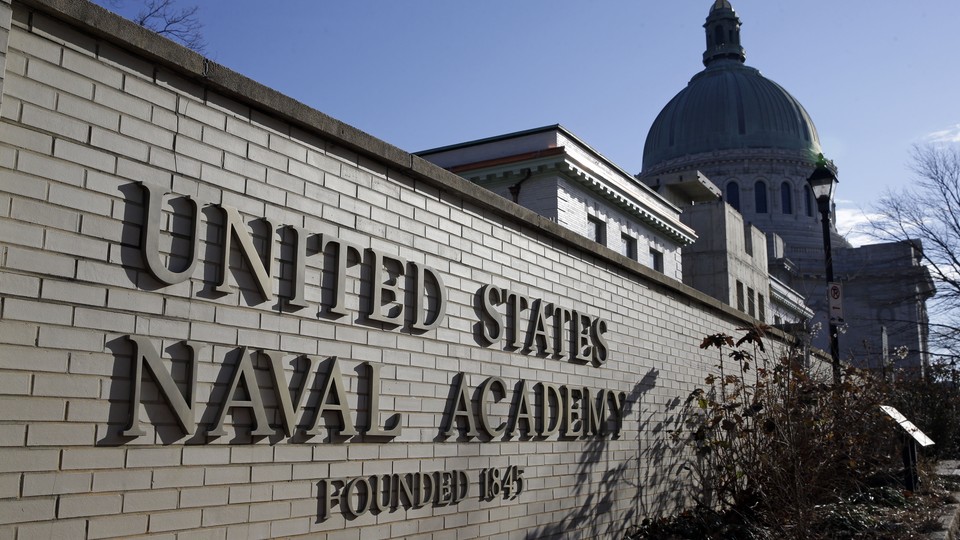 Reports of sexual assault increased last year on two out of three military college campuses in the U.S., according to data recently obtained by the Associated Press. Reported instances of sexual misconduct also spiked across all three military academies.
The two campuses that experienced a rise in reported assaults—the U.S. Naval Academy in Annapolis, Maryland, and the U.S. Military Academy in West Point, New York—also saw the largest increases in sexual misconduct. Meanwhile, the U.S. Air Force Academy in Colorado saw a slight decrease in reported assaults, from 49 in 2015 to 32 in 2016.
Overall, reported assaults across all three campuses fell from 91 in 2015—a 54 percent increase from the previous year—to 86 in 2016. (For perspective, each academy has around 4,000 to 4,500 students.)
For the last few years, Pentagon and military officials have attributed the rise in assault cases to students feeling more confident and safe reporting such instances. And yet, even when military students were surveyed anonymously, the data show an increase in unwanted sexual contact since 2015, with 12 percent of women and 2 percent of men having endured some form of sexual misconduct.
Issues of sexual assault and misconduct are nothing new for the military. According to a report commissioned by the U.S. Department of Defense, over 20,000 active members of the military were sexually assaulted in 2014. Reports of sexual assault were also significantly higher in an active-duty environment than in the military reserves.
"Bottom line is that if this were an easy problem, we would have solved it years ago," Nate Galbreath, the deputy director of the Pentagon's sexual-assault prevention office, told the AP last year. "Unfortunately, this is a very hard problem to solve." This year, Galbreath said the Pentagon has been encouraging military academies to stress the importance of proper conduct and teach students to intervene if they spot a problem.
When my colleague Emily DeRuy spoke with Lieutenant General Michelle Johnson, the superintendent of the U.S. Air Force Academy, last year, Johnson identified a similar priority. Unlike some of her predecessors, Johnson was making a concerted effort to introduce conversations about sexual assault onto the Air Force campus.
But the biggest concern among military officials isn't always a lack of dialogue. In conversation with the AP, a few officials expressed frustration with prevention messages getting lost in the quick turnover of students. "This is almost a new population of folks every four years and that makes it a little bit more difficult for the messages to build up and gather momentum," Galbraith said.
Whether or not turnover is the issue, it's clear that efforts to prevent sexual assault on military college campuses haven't had the desired effect. Perhaps this is because officials still struggle to address the main question at hand: Why are these assaults happening in the first place?