Trump's Education Budget Revealed
The administration's proposal includes cuts to federal aid programs and increased funding for school choice.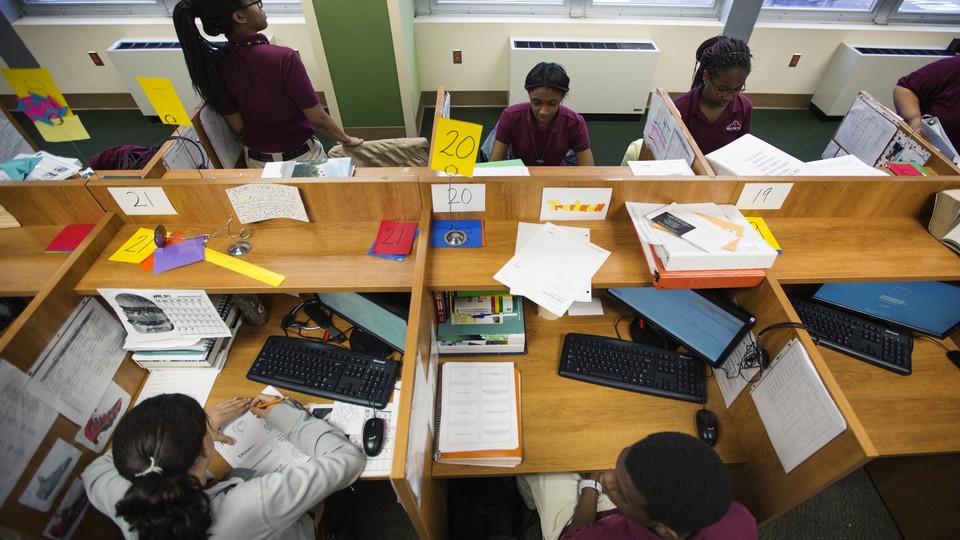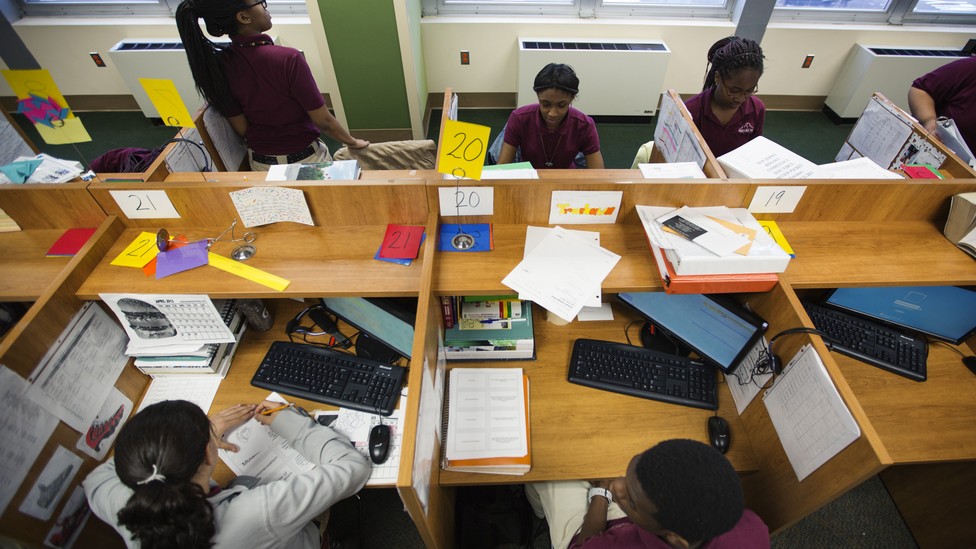 Although President Trump stayed mum on his plans for the U.S. Department of Education, one policy has been clear: Trump plans to cut nonmilitary spending. The administration's new "America First" budget, released Thursday, follows through on this promise by slashing funds for the Education Department by 13.5 percent, or $9.2 billion.
It's worth noting that the proposed budget is merely a blueprint. Congressional lawmakers will draft their own budget proposals, and the plan Congress passes will form the basis of the appropriation bills that fund the government. That, as my colleague Russell Berman pointed out, won't come until May.
To start, Trump's budget plan would remove $2.4 billion in grants for teacher training and $1.2 billion in funding for summer- and after-school programs. It also curtails or eliminates funding for around 20 departmental programs "that are not effective, that duplicate other efforts, or that do not serve national needs."
Although decreased funding for the Education Department will have repercussions for students and educators across the country, low-income students are particularly vulnerable. In addition to eliminating Supplemental Educational Opportunity Grants (SEOG), which offer need-based aid to around 1.6 million low-income undergraduates each year, the Trump administration wants to "significantly" reduce Federal Work-Study. Although work-study programs have been criticized for disproportionately aiding private institutions, they are typically successful at helping students graduate and find employment post-college.
The budget proposal also calls for around $200 million in cuts to federal TRIO programs, which benefit low-income, first-generation, and disabled students, and GEAR UP, a program that helps prepare low-income middle and high-school students for college.
Pell Grants are safe for now. They retain their $22.5 billion in discretionary funds, although the budget proposes $3.9 billion in cuts from the program's $10.6 billion surplus. Many Republicans and Democrats anticipated this surplus funding would go toward helping students attend summer school.
The new budget also ensures that students with disabilities have continued access to special education by maintaining $13 billion in funding for IDEA programs. Furthermore, the administration will offer $492 million in funding for minority institutions and historically black colleges—a similar, yet slightly smaller, sum than was previously allotted.
Overall, decreased funding will make room for one of Trump's top education priorities: school choice. Under the new budget, the Trump administration wants to spend $1.4 billion to expand vouchers in public and private schools, leading up to an eventual $20 billion a year in funding. About $250 million of these funds will go toward a private school-choice program, while $168 million will be set aside for charter schools. An additional $1 billion would go toward Title I, a program for disadvantaged students whose current structure is opposed by many lawmakers. The Trump administration wants to allow federal, state, and local funding to follow students to the public schools of their choice.
All together, the budget has many moving parts, but its message is straightforward: Under the Trump administration, federal aid is out and school choice is in. Whether this stays the case moving forward is unclear. As a recent analysis from the Washington, D.C.-based New America Foundation puts it, "This budget request is nothing more than that—a request to Congress, unlikely to be heeded and subject to the tinkering and votes of hundreds of members of Congress." Still, its authors argue, "it's an indication of the priorities of the Trump Administration."