Trump Reverses Obama-Era Protections on Student Debt
This clears the way for debt agencies to charge higher fees on overdue loans.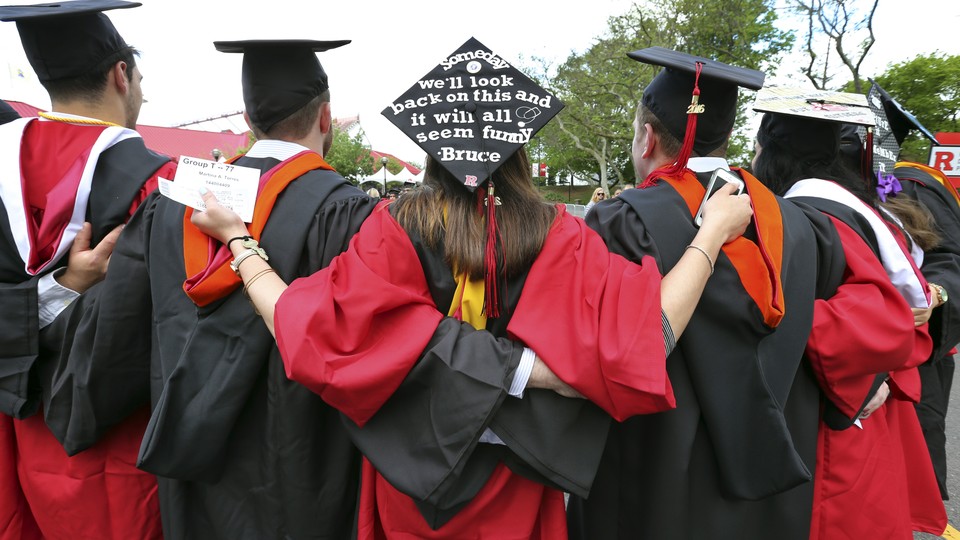 According to a Tuesday analysis from the Consumer Federation of America (CFA), millions of Americans have fallen behind on their student loans. The data, obtained from the U.S. Department of Education, reveals 42.4 million people in the U.S. owed $1.3 trillion in federal student loans by the end of 2016. Since 2013, the average amount owed per borrower increased by 17 percent.
Back in 2015, the Obama administration issued a memo that prevented debt collectors from charging high interest rates on overdue student loans. So long as the borrower entered the government's loan-rehabilitation program within 60 days of defaulting, agencies of the old, bank-based Federal Family Education Loan Program (FFELP) were forbidden from charging up to 16 percent of personal and accrued interest. Still, some lawmakers argue that debt collectors continue to impose these fees, despite the Obama regulations.
As part of an ongoing legal case, the U.S. District Court gave the Trump administration until March 16 to decide whether to uphold the Obama-era guidelines.
Senator Elizabeth Warren and Representative Suzanne Bonamici, both Democrats, penned a letter Monday asking Secretary of Education Betsy DeVos to uphold the previous memo. "We urge the [Department of Education] to stand by its previous guidance and give borrowers in default a chance to rehabilitate their loans and successfully repay their debt without being charged massive collection fees," the letter reads.
This request was short-lived. The Department of Education revoked the Obama guidelines on Thursday and instructed guarantee agencies (companies that issue government-backed student loans) to collect on defaulted debt.
As MarketWatch points out, a relatively small share of borrowers will be impacted by the new regulations. Starting in 2010, all new federal student loans were issued by the Department of Education, which doesn't charge collection fees to borrowers who quickly agree to make good on their defaults. As a result, students who have taken out federal loans in the last few years need not worry about an increase in fees.
But those who received loans from the FFELP—which discontinued new loans in 2010—have cause for concern. The Washington Post reports that nearly half of America's outstanding debt in default comes from this bank-based federal lending program, while Tuesday's CFA analysis finds that 16 million Americans are liable for bank-based federal student loans.
Rohit Chopra, a senior fellow at CFA, told The Post the new policy "will do nothing to stop the tidal wave of defaults that is sweeping across the nation." In fact, he fears that the roll back of the Obama memo "just adds insult to injury."
One of the main criticisms from the Trump administration, as stated Thursday in a "dear colleague" letter, was that the Obama memo lacked public input. Only time will tell what the public has to say about the new administration guidelines.