The University of Michigan's Plan to Increase Diversity
The administration has launched a multiyear racial and socioeconomic diversity plan, but a lot of students aren't pleased.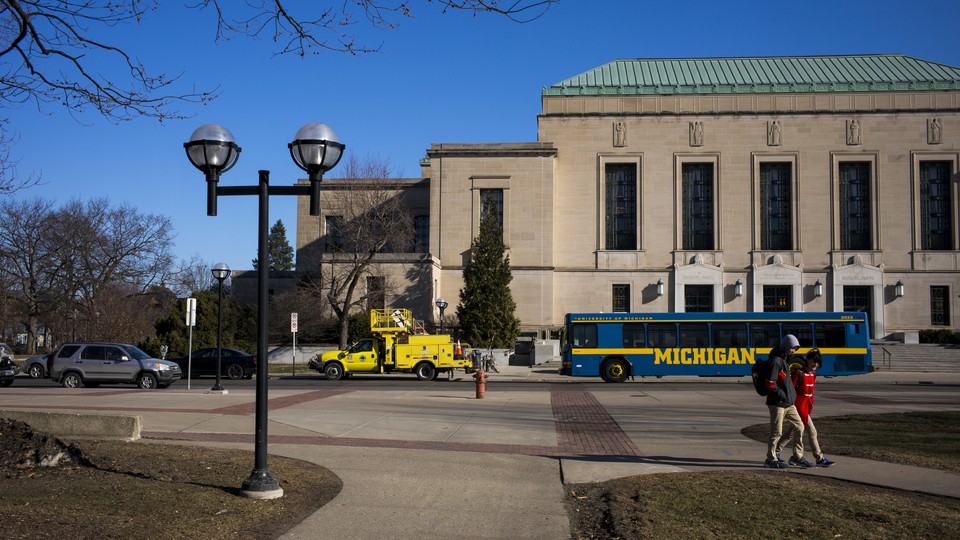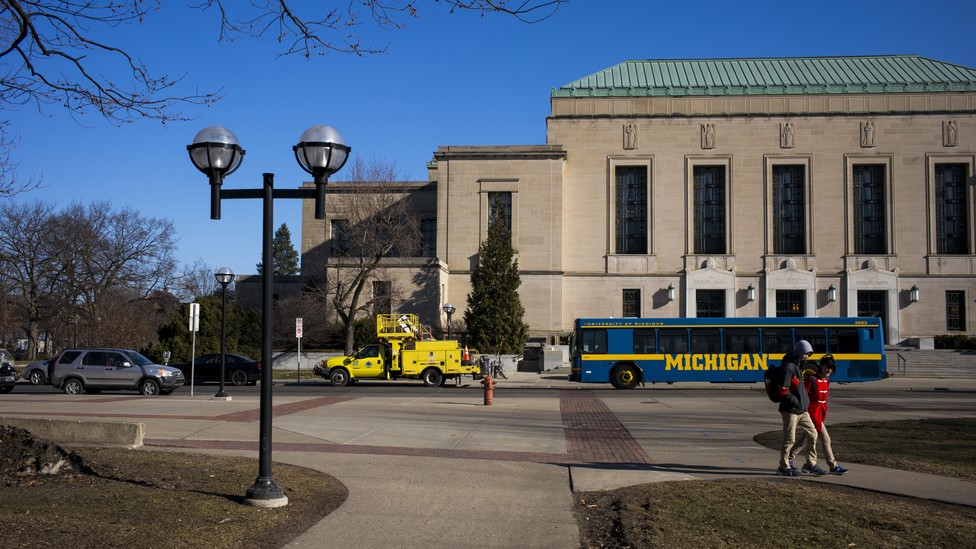 ANN ARBOR, Mich.—Jacqueline Graniel spent her whole childhood in Southern California assuming other families also lived paycheck to paycheck. Now, as she studies for both a medical degree and a Ph.D. at the University of Michigan, she has found that some of her classmates avoid the stress of renting and dealing with landlords by simply buying houses, sometimes with help from their parents. That's not an option for Graniel; she sends a portion of her stipend home to support her family.
Growing up with a single father, Graniel has been taking care of siblings since she was in elementary school, and she's happy to help support the people she loves. But to suddenly be surrounded by students who have the luxury of focusing solely on school was jarring. "If I didn't have a tight community, I would probably feel lost," she said recently during lunch downtown with some of the people who make up that community, specifically other members of the Society for Advancement of Hispanic/Chicanos and Native Americans in Science, or SACNAS.
A handful of her friends and classmates agreed. Marcos Nuñez was born in Guatemala and moved to California at age 5, where he grew up among other lower-income, Latino families who often looked out for each other. Everyone was always feeding everyone else or inviting people who needed a place to sleep to crash on an empty couch. As an undergraduate student at the University of California, Los Angeles, he was close enough to family that his parents could swing by the dorms to drop off fresh lemons and avocados—a taste of home. Now, as a graduate student at Michigan, it's hard for his family to understand why he felt the need to travel so far away for school, and he misses that safety net. At school, people keep to themselves more, and when they do invite him out, sometimes finances or other family obligations prevent him from accepting. A scholarship he earned that should have made life easier turned out to be difficult to count on because of the way the money was distributed. "It felt like I was being punished for being a smart, brown kid," Nuñez said.
There's a good reason students like Graniel and Nuñez feel like outliers at Michigan. A recent study by the Equality of Opportunity Project that was covered extensively by The New York Times found that the median family income of a student at the university is $154,000, the highest out of nearly 30 public colleges the report classified as highly selective. Fewer than 4 percent of students come from families in the bottom 20 percent income-wise. (For reference, the state's median household income is around $50,000.) Often, though not always, lower-income students are students of color or the first in their families to attend school. Less than 5 percent of undergraduates in 2015 were black, and a similar number were Hispanic. The numbers aren't much better at the graduate level. According to the university's student paper, just 17 percent of students in 2016 were eligible for Pell grants.
All of those not-great-on-paper numbers make for a day-to-day experience that isn't always pleasant for students on campus who aren't white and wealthy, said more than a dozen students during interviews here, and that's especially true for students who identify as LGBT or who feel otherwise marginalized. And while the university has acknowledged the lack of socioeconomic and racial diversity on campus and embarked on a long-term plan to improve the numbers and campus climate, students say the school isn't doing enough and that the pace of change is too slow. "Some schools, if you're poor, you might as well not go," said Victoria Johnson, a 21-year-old from a suburb just west of Detroit who is a member of a student-advocacy group called Students 4 Justice, which has clashed with the university over how the school responds to inequity and racism on campus.
"Acknowledgement doesn't make my college classes more livable," said Lakyrra Magee, who is also part of Students 4 Justice. Forcing broad change will be difficult. Last year, when she turned 19, Magee, who is African American, said she and some friends were turned away from a largely white fraternity party and directed toward a black fraternity down the street.
Robert Sellers knows these tensions well. He's the school's chief diversity officer, in charge of implementing a multiyear, $85 million plan that aims to make both the student and the faculty bodies more diverse and welcoming to people from all backgrounds. But three decades ago, he was a graduate student at Michigan protesting racism and inequity on campus and calling for more diversity. Back then, he said during an interview at his office in the school's main administration building, there was no structure in place to address the concerns of students like him. Now, he argued, the school's "diversity, equity, and inclusion" plan creates a space for those demands to at least be heard.
Broadly, that plan was developed with the idea that different spaces on campus have different needs and challenges. So each department or unit on campus has been tasked with coming up with and implementing ideas that work specifically for them. "Solutions for microclimates" is how Sellers phrased it. Some departments have incorporated diversity training into the onboarding process for faculty—but others haven't. Some student activists think that this framework lets too many people off the hook—like those who don't prioritize diversity—and allows them to avoid engaging. But Sellers argues that requiring people who aren't interested in participating—or who are openly hostile to the idea—"wouldn't be particularly effective" and might negatively affect training for everyone else. Whatever is done, he said, will be too much for some and not enough for others.
And in some ways, he argued, broadening the range of voices on campus has gotten more difficult since 2006, when Michigan voted to ban the use of race in admissions. That's also around the time that the K-12 school system in Detroit went into steep decline. In response, the university has stepped up outreach to middle- and high-school students and their families across the state, and it has created a scholarship program for high-achieving low-income students, Sellers noted. The school is also one of the co-founders of the new American Talent Initiative, which was launched late last year to increase the number of low-income students at elite universities.
Mark Schlissel, the president of the University of Michigan, hailed those efforts over coffee on an unseasonably warm morning in Washington, D.C., recently. And while he acknowledged that there has been some pushback from students about how the diversity plan is structured, he said he "strongly believes" the microclimates structure will "distribute ownership."
The challenges the university faces in increasing diversity are similar to struggles at other elite colleges. And, Schlissel said, they're tied to what he sees as a public disinvestment in a common good. "You learn more from people who bring different life experiences to the table," he said. But unless people buy into that idea, they're not going to want to fund it. That goes for international students, too. Schlissel is concerned that the Trump administration's new immigration order will signal to students abroad that they are not welcome, which he thinks could hurt not only research, but the mutual understanding and engagement that ultimately strengthen public safety. "If we give that up, other countries will embrace that to our detriment," he said.
As the university president, Schlissel is fielding pushback from all sides—from some faculty and donors who think he's moving too fast to overhaul one of the nation's top research universities; from a faculty member and former faculty member who recently filed a lawsuit alleging that they've been the victims of racial discrimination and harassment (A university spokesman said in a statement, "We will vigorously defend the university against the lawsuit."); from conservative students who thought he came across as anti-Trump at a post-election vigil (something he vehemently denied during our conversation); and from students who are members of groups like SACNAS and Students 4 Justice who want more socioeconomic and racial diversity but who have very different visions about how the school should approach the task.
Vidhya Aravind is one of the leaders of Students 4 Justice. The 29-year-old trans-woman of color completed her undergraduate degree in 2009 and returned as a graduate student. What the university frames as a balancing act between preserving freedom of speech and protecting students from all backgrounds, she sees as a failure to create safe spaces for students like her and to stop hateful speech and activity. "Everything they do is for their brand," she said. "It just feels like settling."
Graniel, with SACNAS, is frustrated, too. "The majority of boots on the ground come from the students," she said, adding that only some students and faculty seem to care. "There are people who hear the word 'diversity' and roll their eyes," she said. "It just feels like we're talking to ourselves," is how Nuñez put it. Carla Ramos, the president of the Michigan SACNAS chapter, thinks there has been more talk about diversity on campus over the last few years, but that even when the university creates resources, such as emergency funds for students who face unexpected financial challenges, they can be hard to find. And students are frustrated by what they see as slow progress toward a more diverse campus. "The question that keeps coming out is, 'What's next, what's next?'" she said.
Schlissel insists he is sympathetic, but he thinks, in the long term, working for incremental buy-in from the broader community that diversity and equity are important will result in real change. "If you force someone to do something, they'll find the least impactful way to do it," he said. Gabrielle McFarland, a 19-year-old member of Students 4 Justice, summed up the challenge this way: "Teaching empathy to people who aren't marginalized is so hard."