The Psychological Approach to Educating Kids
Increased focus on kids' psychological health may seem like the education world's flavor of the day, but it's achieving results.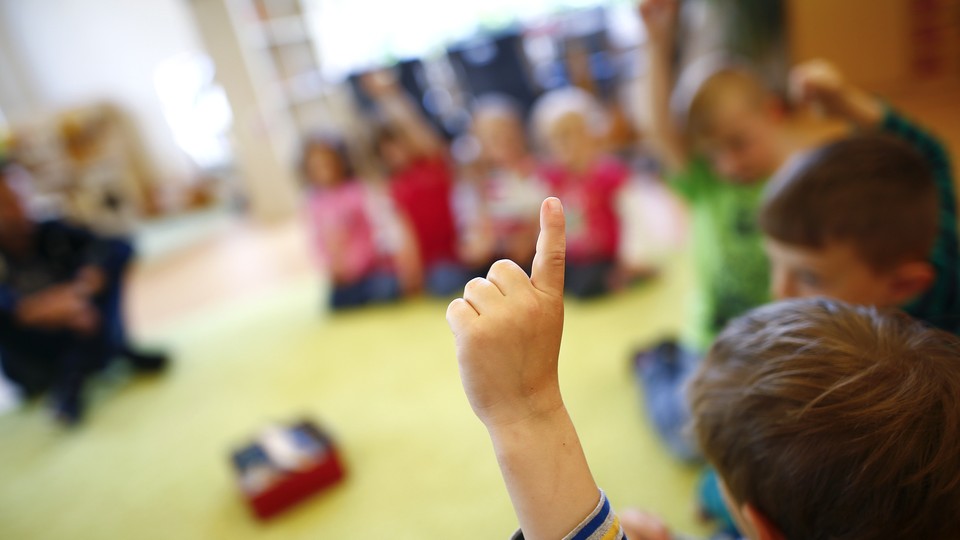 On a recent Monday morning, 25 freshmen filed into Rudolph "Keeth" Matheny's wood-paneled portable classroom on the campus of Austin High School in Austin, Texas. But not before the shake. Matheny greeted each student by name, then extended his hand.
"I won the handshake competition, and there's an art to it," one student said. "You have to do webbing to webbing, that's the trick." Shake firmly, but not too hard, look the person in the eye, smile. The student demonstrated and, indeed, his handshake was a winner.
In addition to perfecting handshakes, Matheny, an ex-college football coach, teaches Methods for Academic and Personal Success (MAPS), and he happens to be on the frontlines of a growing movement in education: social-emotional learning (SEL). SEL—also called whole-child education—is a systematic, evidence-based approach to teaching kids how to achieve goals, understand and manage emotions, build empathy, forge relationships, and make responsible decisions. In 2012, the Chicago-based nonprofit Collaborative for Academic Social and Emotional Learning (CASEL) partnered with eight districts around the country to implement SEL in their schools. Today, CASEL is working with 10 large districts—including Anchorage, Alaska;  Austin; Chicago; Cleveland; Nashville, Tennessee; and Oakland, California—and a growing number of smaller ones. These partnerships mean more than 1 million U.S. school children are enrolled in schools that have implemented or are in the process of implementing a social-emotional learning strategy.
The day I visited Austin, half of the 90-minute MAPS class was devoted to unveiling students' life maps—art projects that depict a future career goal and the steps necessary to get there. "It seems simple," Matheny said. "But kids will take these maps home and put them on their bedroom walls. Sometimes they become really important parts of their lives: They're visual reminders of what they want and how they're going to get there." The other half of the class time was devoted to defeating "victim-itis." The students read "Invictus," a poem that was significant to the imprisoned Nelson Mandela. As they exited the classroom, they high-fived Matheny at the door and recited the last two lines of the poem:
"I am the master of my fate;
I am the captain of my soul."
Much of the recent SEL interest can be linked to two seminal studies. In 2011, a meta-analysis published in the journal Child Development showed an 11 percentile gain in academic achievement for students who participated in a well-implemented SEL program versus students who didn't. And in 2015, the economist Clive Belfield and colleagues at Teachers College, Columbia University published a study in the Journal of Benefit-Cost Analysis that demonstrated a roughly $11 benefit for every $1 spent on a rigorous SEL program. Just about every way to measure student success shows SEL can work. At Austin High, discipline referral rates have been cut in half, and graduation rates are at an all-time high.
Matheny has been at this awhile, long before he even knew the term "SEL." He developed the initial version of MAPS in 2009. The class was based on a sports-psychology seminar he'd taught to college students for 13 years. That material just happened to dovetail with an interest of Meria Carstarphen, who was the school's superintendent at the time and the original force behind bringing social-emotional learning to Austin. On Carstarphen's watch, Austin became one of the first school districts to partner with CASEL. Today, Matheny is the coauthor of a high-school SEL curriculum, and Austin High has become a sort of SEL pilgrimage point. More than 300 educators over the last few years have visited to witness firsthand a model SEL class.
Austin High has two SEL-dedicated teachers, Matheny and his colleague Leslie Oduwole. SEL is delivered as the year-long MAPS course available to freshmen, it's meted out in smaller doses during "advisory"—a sort of homeroom that all students have—and it's infused in the culture and climate of the school. So even during a math or science course, students are encouraged to use SEL concepts like goal-setting or perseverance.
Research on SEL says the approach can be effective for kids in urban, suburban, or rural schools, regardless of their academic standing. Matheny said he's particularly blown away, however, by how effective it is for students who have struggled. For example, Daniel, an 18-year-old Austin High senior, who has battled obsessive-compulsive disorder and anxiety since the age of 9 said of SEL: "It took me a while to warm up to it. But once I did, I learned how to study, how to stay organized, how to have a planner." In MAPS, Daniel and the other students learned about goal setting, resilience strategies, and nifty hacks such as the Pomodoro Technique, which Daniel said helped reduce his academic stress and anxiety. Most important perhaps, the coursework included calming and focusing techniques and simple breathing and mindfulness exercises, which Daniel now uses daily. He became so enthusiastic about SEL that he started teaching it (part of Austin's program involves student-led instruction). He's now Austin High's valedictorian, and this fall he will be heading to Cambridge, Massachusetts, to run cross country for his new school: Harvard.
I met at least a dozen more SEL ambassadors like Daniel. A young lady in a striped T-shirt dress and sneakers beamed as she told me she got accepted to Texas Tech University in Lubbock.  One senior said his parents quit school in ninth grade, and he was destined to do the same. "Throughout school I was the kid who was always sent to the principal, always getting referrals." Then came Austin High, where he was introduced to SEL. Now his grades place him in the top 2 percent of his graduating class, and he's been accepted to at least a half dozen colleges. "I want to be an aeronautical engineer," he said shyly.
* * *
While the research and anecdotal evidence pile up on the side of SEL, there have been questions about its value. A 2010 study by the National Center for Education Research looked at seven SEL-based programs and couldn't find beneficial results. From the study, titled "Efficacy of Schoolwide Programs to Promote Social and Character Development and Reduce Problem Behavior in Elementary School Children": "In conclusion, the analysis of the year-by-year impacts did not yield evidence that the seven SACD programs, combined and individually, improved student social and character development." This study was criticized at the time however (even by one of the investigators) for not using the statistical measures or methods best suited to the data. When the data were analyzed using other methods, positive results were found.
There also are those who oppose social-emotional learning from a political perspective, including the Breitbart News-aligned American Principles Project and Town Hall, websites for conservative news and commentary. Jane Robbins, a senior fellow at the American Principles Project, wrote:
But CASEL & Co. believe the government should take over in case the parents and church don't do it right—perhaps teaching the wrong attitudes and mindsets.

Suppose the government decides a child will be a more acceptable student, citizen, and worker bee if he learns to acquiesce to the "consensus" of the group, regardless of his own moral standards, or if she learns to accept that all commands of the government must be obeyed. The student may fulfill the standard by developing the correct attitudes, but under whose authority does the government presume to instill attitudes that may conflict with parents' desires?
But dictating how kids should feel couldn't be further from what SEL is doing, said Joan Duffell, the executive director of Committee for Children (CFC), a global nonprofit that's been championing SEL in preschool, elementary, and middle schools for decades. Instead, SEL empowers students to become more engaged citizens. "SEL is not only fundamental to education, but it's fundamental to raising citizens who actually participate in democratic life." The formerly communist countries of Lithuania and Slovakia have partnered with CFC to bring social-emotional learning to their schools. "The parents of the current schoolchildren were raised in a generation that didn't have any power," Duffell said. Educators there recognized they had to do something to help children develop belief in their own power. "They wanted children to learn how to take responsibility as citizens. SEL teaches kids the skills they need to succeed as adults in a democracy."
The everyday work of SEL instruction, like the instruction at Austin High, is called "tier 1." "Tier 2" and "tier 3" include crisis intervention. That's the work that drove Eric Gordon, the CEO of the Cleveland school district, to change his city's schools into social-emotional learning environments. In fact, he can pinpoint the day his interest began: October 10, 2007. It was Gordon's 10th day as an employee in the district and a student, suspended from school, shot two classmates and two teachers before he ended his own life. "We made a promise on that day to never stop talking about what happened and to never allow it to happen again," Gordon said. He was the chief academic officer at the time, and the superintendent assigned him the task of figuring out how the district should proceed after the tragedy. The American Institutes for Research, a D.C. nonprofit, performed a thorough evaluation of Cleveland schools. Their recommendation: Adopt a serious social-emotional learning strategy.
Cleveland has now implemented a rigorous SEL program. "Just recently, a child didn't make it to school, and we learned he was potentially planning to harm himself," Gordon said.  The student had made a threatening call to school. "We were able to get our safety and security team to locate him with the help of Cleveland police." A rapid response team worked with the student and got him professional mental health services in a matter of hours. "These are the things that didn't exist in 2007 and that are now part of our SEL system."
Cleveland is experiencing an upturn in student enrollment for the first time in years. Math and reading scores, as well as GPAs, are also on the rise. Carstarphen, who recently took over Atlanta schools, is introducing social-emotional learning there, and it's happening even quicker than she made it happen in Austin. It took Austin Independent School District about four years to get all 129 elementary, middle and high schools converted to SEL learning environments. Even with district-level commitment, there can be hurdles to seeing positive results from SEL programs. "If you use a well-designed curriculum and your implementation is great, the kids benefit and the school gets results," said Trish Shaffer, the SEL coordinator for Washoe County School District in Nevada. "If a school doesn't implement the program very well, though, that will show." Last year, the Aspen Institute, a nonpartisan think tank, launched the National Commission on Social, Emotional and Academic Development. Educators expect the commission, which sunsets at the end of next year, will add further knowledge about how SEL is best integrated into teaching methods and schools. Even with the best implementation, though, some kids will continue to struggle. SEL is not a silver bullet for all that ails children and education.
But it helps."I'm convinced that if every student in the U.S. had a high-quality SEL program, the United States would be at the top of the education rankings," Carstarphen said. Or as Matheny sees it: "We'd live in a better world with far less hate and far better social and emotional health."