The New College Protest
What happened at Middlebury last week marks a shift in campus activism.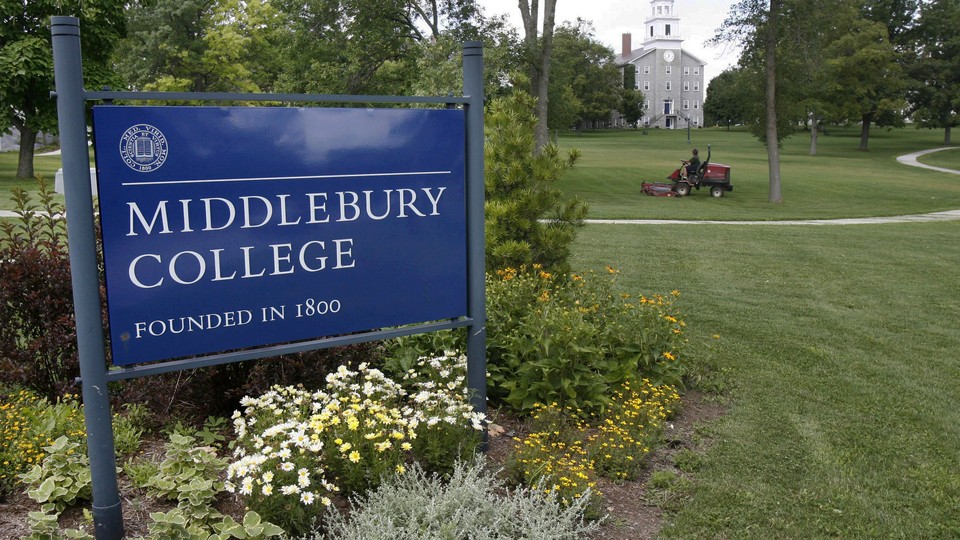 Last week, Charles Murray, a writer and scholar at the conservative American Enterprise Institute think tank, was shouted off the stage before giving a presentation at Middlebury College, a small liberal-arts college in Middlebury, Vermont. After the talk was relocated to a different location, Murray, faculty, and staff from the college were physically assaulted by protesters. Allison Stanger, a member of the political-science department who conducted the Q&A with Murray, was hospitalized for injuries and diagnosed with a concussion.
Murray, who holds a Ph.D. in political science from the Massachusetts Institute of Technology, is the author of The Bell Curve (1994), which finds correlations between intelligence and success, and Coming Apart (2012), which discusses the polarization of communities in the United States. His latest book, By the People: Rebuilding Liberty Without Permission, urges Americans to stem governmental overreach. Murray's statements about race and intelligence, in particular, have garnered extensive criticism, though Murray has repeatedly denied that his views are racist, arguing that his ideas have been wildly mischaracterized.
Americans today live in a political era that is marked by angry rhetoric and a willingness to use violence to achieve ends. This zeitgeist is clearly leaving its mark on the college campus, as evidenced by the violent kerfuffle at Middlebury College: Murray spoke at Middlebury 10 years ago without incident; now, his presence on campus spurred chants, shoves, and a concussion. Hostility and anger in society as a whole, combined with a young, inexperienced protest movement, is helping drive the intensity on college campuses.
"Things got out of control because people are feeling urgent but are not yet acting in a disciplined, defined protest role," said Julie A. Reuben, a Harvard professor who specializes in the history of American education. The violent turn of the protests at Middlebury aren't surprising, she added, because students haven't yet learned effective protest methods and got caught up in group dynamics.
* * *
Responding to an invitation by the students from the American Enterprise Institute club at Middlebury College, Murray arrived at Wilson Hall last Thursday to speak about how his ideas from the book Coming Apart relate to the recent presidential election. Most of the audience, which was largely composed of about 450 students, stood and turned their backs to Murray as he took the stage. After reading a prepared statement, they chanted cheers such as "Who is the enemy? White supremacy!" "Racist, Sexist, Anti-Gay. Charles Murray, go away!" "Your message is hatred. We will not tolerate it." "Charles Murray, Go Away. Middlebury says no way." The protest in Wilson Hall was captured by video.
After 20 minutes of continued chanting, the event was relocated to another room in the McCullough Student Center, where, despite disruptions from fire alarms, it was broadcast via a livestream to the auditorium, according to Bill Burger, the vice-president for communications at Middlebury.
Some time after the presentation, Burger, Stanger, and Murray exited McCullough Student Center from a back door where they encountered about 20 to 30 protesters, some of whom were wearing masks. It was immediately confrontational, Burger said, as protesters began pushing and shoving them. Even with the protection of two campus security officers, someone allegedly grabbed Stanger by the hair and twisted her neck. After they got into a car, Burger, who was driving the vehicle, said that people began jumping on the hood of the car and rocking it back and forth. Inching the car forward about six inches at a time, Burger gradually navigated the car out of the parking lot. Later, Stanger was treated for her injuries at Porter Hospital.
But it isn't clear whether the protesters responsible for the violence are actually enrolled at Middlebury. "I don't believe that students would have physically attacked us," Burger said, emphasizing that nonstudent activists were the first to confront them. An anonymous account on a student blog confirmed that the crowd outside McCullough Student Center included individuals from the community not enrolled at the school, but said that the attack on Stanger was accidental and that security officers overreacted to their protest. Stanger added additional commentary on her Facebook page; Murray's account is on the AEI website.
* * *
Though some paint the academic community as universally liberal and resistant to listening to opposing viewpoints, the debates at Middlebury prior to this event, which were published in departmental memos, local newspaper articles, reporting in The Atlantic, and letters in the student newspaper highlight the diversity of opinion within the campus. "There is no consensus at Middlebury," Burger said. "We are a divided community."
In the end, the college supported the event and created a contingency plan that would enable Murray to give his presentation in case of protests. "We were committed to letting him speak," Burger said. "We believe that the highest calling of higher education is to explore the free expression of ideas without intimidation."
In an interview, Murray agreed that it is a mistake to characterize the entire academic community as opposed to open discourse. He found it heartening to receive emails from many professors on the left who said they were appalled by what happened. While most academics are politically liberal, Murray said, there are many who celebrate the free exchange of ideas.
"There are a lot of people who are left-of-center who are open to intellectual diversity," Murray said. "There is not a liberal hegemony on college campuses. Not all college faculty can be lumped together with the authoritarian intellectual stance that creates problems for people like me." Indeed, many in the higher-education world, including those at Middlebury, have openly declared their support for free speech: Laurie Patton, Middlebury's president; Matthew Dickinson, a political-science professor at Middlebury; and the American Association of University Professors, to name a few. However, those faculty who appreciate the importance of open dialogue, Murray added, need to defend those values more openly.
* * *
What happened at Middlebury, according to Burger, was totally unprecedented at the school. Last year, Middlebury had some protests, like other schools, but those protests never resulted in violence. The fact that Murray spoke on the Vermont campus a decade ago "without a hint of disruption" is, Burger said, "evidence that we are in a new political time." Murray agreed that tensions have grown at colleges around the country. He said that he has given talks at colleges since the 1980s and has never encountered protests that resulted in violence before.
The violent turn of the protests at Middlebury mirror tensions at other colleges in the past couple of months. Just this past February, violence erupted at Berkeley over a planned speech by the former Brietbart writer Milo Yiannopoulos. In January, a man was shot at the University of Washington outside a presentation by Yiannopoulos.
Violence at colleges is erupting now, Murray speculated, because of the increasingly bitter rhetoric spurred on by political leaders, including Senator Bernie Sanders, Senator Elizabeth Warren, and President Donald Trump. "People who are on the other side of the fence are painted as 'bad people,'" he said. "Protests to shut down those 'bad people' are seen as the moral thing to do. These viscerally held views are stronger than in the past. They believe that a person as evil as I should not have a platform to spew my venom. These views were explicitly stated in publications, posters, and social media."
And conservatives seem as divided about these matters as liberals. After Murray asserted in an interview for The Washington Post that the rage over Trump has intensified campus politics—feelings that he sympathized with as a critic of the new president—Ann Coulter, the conservative pundit, tweeted "Does ‪@charlesmurray have even 1/2 a testicle left?" Murray responded, "I do not lose sleep over Ann Coulter's opinion of me."
Still, while the violence that resulted from protests at Middlebury and elsewhere hasn't been seen on college campuses in recent years, Reuben, the Harvard professor, cited a long history of riots at American colleges dating back to colonial times. More recently, students rioted during the 1960s and '70s over the Vietnam War and the integration of southern colleges.
Students today haven't yet been trained about effective methods of protest, Reuben said, as they were during the 1960s. Instead, they are emulating what they believe are the obstructionism methods of the right. These protesters are young, inexperienced, and untrained students who are getting swept up in group dynamics. Without a strong voice to organize students, situations like happened at Middlebury might happen again at other schools, she said.
Murray will continue to give talks on college campuses this year, though he declined to provide information about the dates and locations of these events. "One thing you can bet on is that I will do nothing to give protesters the idea that I will back down. I will not give them that satisfaction under any circumstances."
He added, "universities are all about the free exchange of ideas. They are stipulations. I think that it's appropriate to say that on a college campus, you must use evidence and logic and be civil. I would say that someone like Milo Yiannopoulos does not meet those stipulations. But any speaker that meets those stipulations should have a place on a campus. And those speakers must take questions and answer questions."
These events at Middlebury were going to lead to many "robust discussions" about political expression and the faculty's relationship with students, Burger concluded. "We have some healing to do."