The March Madness Application Bump
Schools that perform unexpectedly well in the NCAA Tournament net more prospective students the following year.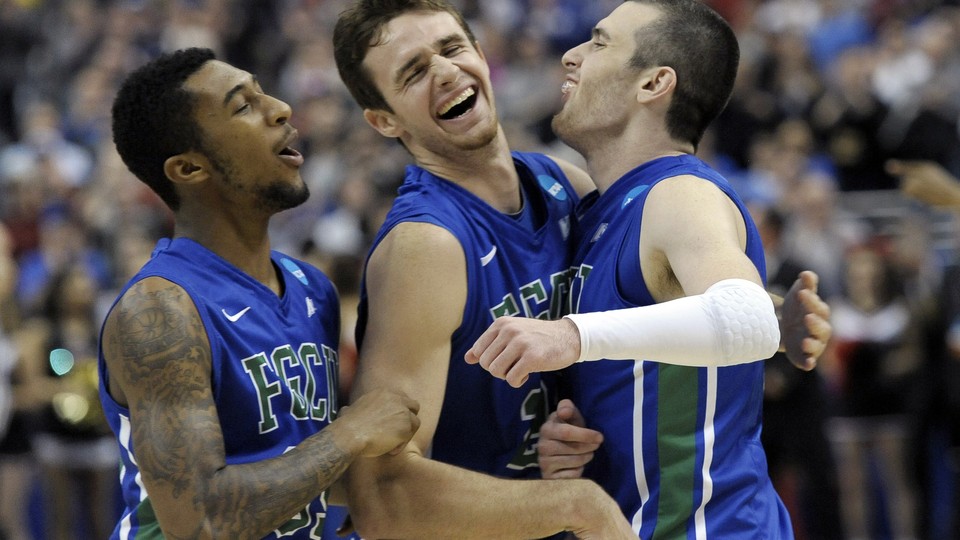 Brackets are about to be busted.
It is not a question of if, so much as one of when and by whom. Maybe Iona College will make a deep run; a plucky Winthrop University team will pick off Butler; or Florida Gulf Coast University will put together another string of upsets. As the NCAA tournament sets off at its maddening pace, lower-profile colleges will surely capture the national spotlight. And the admissions offices of the schools that play their way into Cinderella's glass slippers could have some extra work come next application season.
According to a recent analysis of federal Department of Education data by Bloomberg, schools that beat performance expectations during March Madness receive a bump not only in public awareness, but also in the number of applications they receive. For example, as Bloomberg points out, after then-15th-seeded Florida Gulf Coast's wild run through Georgetown and San Diego State to advance to the Sweet Sixteen of the 2013 tournament, applications to the Fort Myers, Florida, campus spiked 27.5 percent. A similar trend was observed at Lehigh University after it bounced perennial tournament contender and then-second-seeded Duke from the first round of the 2012 tournament. And it's not just one shocking upset that results in more applications: If a team makes it further into March than expected—such as Wichita State's surprising Final Four berth in 2013—it can also experience increased interest. Wichita State, for its part, received almost 30 percent more applications following its success on the court in 2013, Bloomberg reports.
The increased interest in these so-called Cinderella teams, however, may not be all that surprising. Certainly the magnitude of the application spikes is dramatic, but these findings from Bloomberg fall within the expectations of the so-called "Flutie effect," which draws a connection between on-field athletic success and university prominence. In 1984, Doug Flutie—then the quarterback of the Boston College Eagles—threw a miraculous Hail Mary pass to upset the University of Miami Hurricanes. After the electrifying, last-minute victory, Boston College saw a surge in applications. The game between the Eagles and the Hurricanes took place the Friday after Thanksgiving and was broadcast to a national audience, perhaps allowing Boston College's victory to pique the interest of students around the country. The NCAA Tournament's Cinderella stories can benefit from a similar national reach: March Madness games are livestreamed on NCAA.com, and the NCAA inked a $10.8 billion deal with CBS Sports and Turner Broadcasting. Schools like Georgetown, Boise State, and Texas Christian University have also seen a rise in applications after successful basketball and football campaigns.
And it's not just the quantity of applications that is affected by athletic success. According to a 2013 study published by Marketing Science, an application pool's quality also changes. Doug J. Chung, the author of the study, noted that although students with lower SAT scores are more likely to be swayed by a school's athletic prominence, the number of applications from high-achieving students also increased following on-field achievement. And these Cinderella stories may have yet another thing going for them in terms of favorability: People love underdog stories. Studies show that people have a propensity to root for and ascribe positive qualities to entities they think are less likely to prevail or inherently disadvantaged. Perhaps college applicants are attracted to the inspiring, surprising disruption Cinderella stories bring to the NCAA tournament.
What's unclear, however, is if this spike in applications results in an increase in enrollment. The ever-elusive yield rate (the percentage of admitted students who attend a specific school) for schools that surprise the country during March Madness is not clear. The schools may become more selective (Chung notes in his study that admissions rates "decline by 4.8 percent with high-level athletic success"), but that does not mean an institution skyrockets to the top of an applicant's list because its team advances in the tournament. In these cases, an increase in selectivity is only natural: Applications to an institution may increase, but the number of slots in a freshman class does not.
If Google search data is any indication, smaller schools participating in the NCAA Tournament may already be reaping the benefits of national attention. Trend data shows a spike in searches for schools including Iona and Winthrop during the month of March. Certainly much of this could be coming from sports fans trying to make the most informed bracket selections in their office pool, but prospective students may also be finding their way to these institutions' websites. And so, as more students apply to multiple colleges (36 percent of freshmen who enrolled in college for the first time in fall 2015 applied to at least seven schools), perhaps applicants will tack onto their lists a school whose basketball spark burned hot for a few triumphant days in March.