Why Sports and Elite Academics Do Not Mix
The athletic programs at highly selective institutions are out of sync with the schools' missions.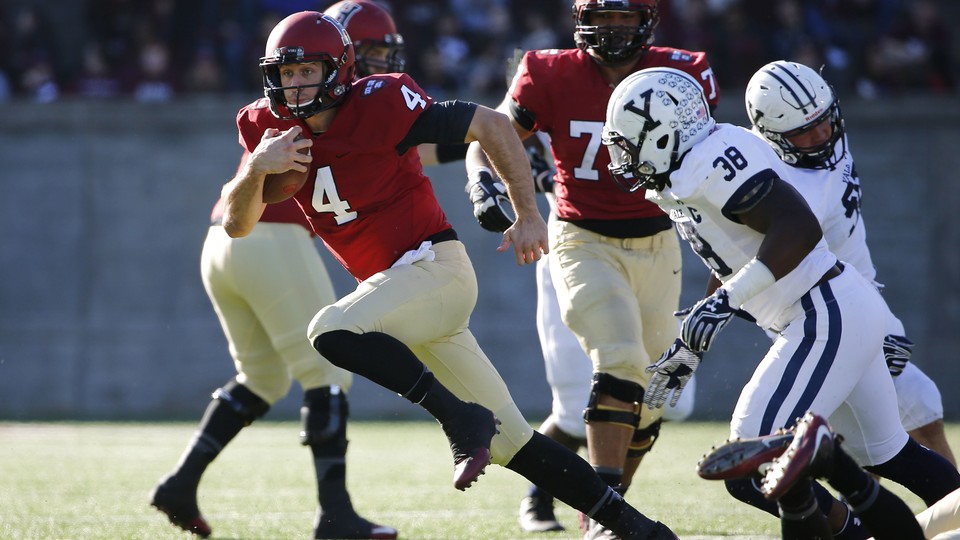 National signing day for high-school football prospects has passed. The March Madness basketball tournament looms just over the horizon. Public scandals and patterns of inappropriate behavior among college athletes made headlines in 2016. Is it time to take stock of what we in the world of higher education have created and assess whether the emphasis placed on athletics in universities is excessive, if not totally out of control? I'm asking this as someone who participated in two college sports and who even today follows sports closely.
The money that exchanges hands in the college-sports world is exorbitant. In 41 states, the highest-paid public employee is not a professor, neurosurgeon, or politician, but rather a college football or basketball coach. Jim Harbaugh, who leads the Michigan Wolverines' football program, was reportedly paid $9 million in 2016. The team performed well on the field, and two of Harbaugh's assistants were also reportedly compensated with near million-dollar salaries. And the Big House is far from the only institution cutting huge checks. In 2014, National Collegiate Athletic Association (NCAA) revenues totaled nearly $1 billion, most of which came from television-rights agreements; far less came from attendance at college-sporting events.
And yet, despite the swollen bank accounts associated with college athletics and the large crowds that flock to high-profile games, very few universities come out in the black from support of athletics by fans and boosters. True, universities are always looking for new sources of revenue, but intercollegiate athletics turn out not to be a profitable path. Derek Bok, the former president of Harvard, opined: "Only a handful of institutions have consistently earned a surplus from big-time intercollegiate athletics if the costs involved are fully accounted for."
In addition to these monetary woes, strings of scandals have plagued schools both big and small in recent years, highlighting the broken higher-education experiences many student-athletes face. In 2016, Harvard announced it was canceling its men's soccer season because of allegations that players had written sexually explicit "scouting reports," which graded recruits of the women's soccer team based on appearance. Not to be outdone, Columbia suspended its wrestling team for similar reasons. Princeton also suspended its men's swimming and diving teams for "misogynistic and racist" materials created by team members, and Amherst did the same for its men's cross-country team.
Outside the Ivy League, the University of North Carolina, Chapel Hill, is one of the most innovative universities in the nation, having created, for example, the first social-science research organization in the country. Yet it has admitted that for years it created fictional courses for student-athletes: Academic advisers and professors funneled athletes into those so-called "paper" classes. The courses didn't actually exist, and athletes were given the "high grades" required to ensure their on-field eligibility. Though the school admitted to wrongdoing, the NCAA has not meted out any penalties for these violations. The case is still pending, despite several NCAA inquiries and details chronicled and published by a Chapel Hill professor and his colleague who worked on academic counseling at UNC-Chapel Hill. Perhaps North Carolina is just too valuable a source of television and other NCAA revenues for it "to fail"—that is, for it to be severely sanctioned and disciplined for its transgression of ethics and NCAA rules.
Further diluting the mirage that student-athletes actually receive a quality education is the "one-and-done" principle that college basketball leverages during recruitment. The best young players—who are not designated as "international" by the league's standards—are eligible for the National Basketball Association during the calendar year they turn 19, provided they are at least a year out of high school.
Most large Division I universities offer athletic scholarships to most of the members of their sports teams; there are relatively few "walk on" players who were never recruited and make the teams. Most universities offer athletic scholarships only to a small percentage of those in the entering class—Arizona State University, for example, gives athletic scholarships to just over 1 percent of a given class of 12,000 first-time freshmen, according to Mike Crow, the school's president. However, ironically, many of the most selective colleges and universities in the nation, including the Ivies and the elite colleges like Amherst and Williams, have more intercollegiate teams than the Division I powerhouses and typically allocate a sizable percentage of their precious spots to recruited athletes whose SAT scores—at least in the high-profile sports of football, basketball, and hockey—are often lower than the mean of the class.
Division I intercollegiate athletic programs are "buying out" the base expenses of professional sports leagues. So, youngsters playing one to four years of college basketball, football, or baseball, require less player development by professional leagues (particularly the NBA, Major League Baseball, the NFL, and the NHL). This is one reason the number of minor-league teams has shrunk over the decades. While the professional leagues benefit from this system, the universities become temporary training grounds for potential professional athletes.
Intercollegiate athletics is an important part of university life. It can produce social cohesion on campuses that otherwise can't bind students together because of other campus conflicts. And on the grounds that humans can have multiple intelligences, many athletes embody a form of "bodily-kinesthetic" intelligence that is rare in the population. Michael Jordan was as intelligent at basketball as Drew Faust is as president of Harvard.
But in today's athletics arms race, have America's universities created too much of a good thing? Has the concept of the student-athlete simply disappeared? Universities today are commercializing athletics to the point where they are essentially running professional teams. And, they are exploiting hundreds of athletes—using their images for profit—by making their scholarships dependent on participation. These athletes often come from disadvantaged groups who receive little attention from their universities after they have failed to graduate or to make it as pro-athletes. In effect, higher education has perverted some of its core values—to rigorously teach academic subject matter, prepare better citizens, and improve their independent thinking and their critical reasoning skills.
The problem that the country faces with intercollegiate athletics today is in fact not a single one for all colleges and universities. Those that are large and have developed nationally ranked, highly visible programs face the problem of over-professionalization and commercialization. Those that are lodged in the "highly selective" category are admitting too many athletes and potentially denying admissions to extraordinarily able foreign and minority students, as well as future artists and writers and political scientists and economists and engineers. This choice deprives these universities of the greatest possible diversity of students and talents that could increase still further vitality and differences in points of view both inside and outside the classroom.
Change can happen. For the highly selective colleges and universities, the leaders ought to roll back the percentage of recruited athletes. If selective colleges wish to maintain a few high-profile sports, they should adopt the Stanford model for financial aid. At Stanford, for example, recruited athletes receive scholarships, but if they decide not to play, they enter the regular financial-aid pool. As I wrote in my book Toward a More Perfect University, they are then treated like any other student: Their financial aid is based entirely on their need.
The highly selective colleges ought to withdraw from the NCAA and form their own league since they are not trying to build national championship programs. They should not actively recruit athletes. The Ivies and similar colleges and universities would eliminate some sports from their portfolios—these schools support far more sports than, say, the University of Alabama, whose athletics website lists 15 sports. (Harvard's, by comparison, lists 40.) The idea is to recreate a competitive athletic landscape of true student-athletes, whether the athlete is enrolled in a state or private university.
The NCAA needs a complete rethinking and overhaul. More time and effort ought to be spent, for example, in showing off the fantastic women's basketball, volleyball, softball, and swimming teams. In the 1950s its bylaws stated: "Student participation in intercollegiate athletics is an avocation, and student-athletes should be protected from exploitation by professional and commercial enterprises." This noble idea is now seen more in the breach than in conformity to its principles.
Finally, university leaders should consider forming special institutions located in different geographic areas that are devoted almost entirely to athletics and bodily-kinesthetic intelligence. These students would be prospective professional athletes who would be paid for their work as athletes, or students who wish to work in various parts of the sports industry. This would eliminate the pretense that many of these young athletes are truly interested in other parts of the curriculum. Of course, I can point to many athletes from elite schools who did go on to successful careers outside of athletics and some few have even made it in the professional leagues, but in many of the scholarship schools, they are there principally for athletics and they are quickly forgotten by those at the university once they leave.
It's time for universities to take a close look at their athletic programs and assess what they would like those programs to be within the context of the larger goals of a college and university.