Sesame Street Diversifies and Basketball Gentrifies: This Week's Top 7 Education Stories
The best recent writing about school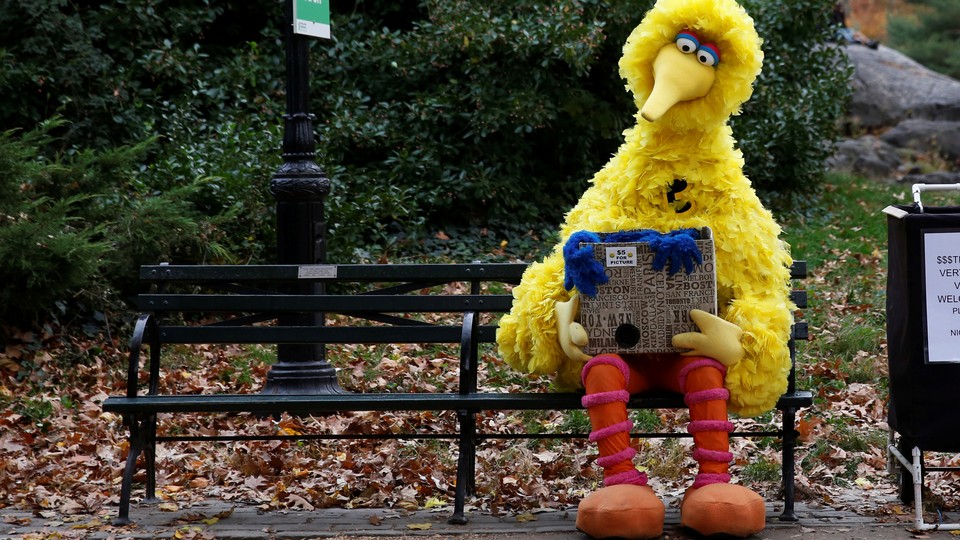 The Gentrification of College Hoops
Tom Farrey | The Undefeated
Players like [Allen] Iverson and [Tremont] Waters—the first members of their families to go to college—are increasingly rare in college sports, even in the big-money, high-stakes sports of basketball and football. Indeed, most athletic scholarships are going to middle-class kids with college-educated parents, not to kids from poor families who need a scholarship to get anywhere close to a university campus.
Simply put, NCAA sports have been gentrified.
* * *
Lesley Stahl | 60 Minutes
There are not many shows on television that deserve to be called true American institutions—but one of them is surely Sesame Street. ...  When Sesame Street began in 1969, it was considered an experiment. The question: Could television be used to educate young children?
Well, research proved the answer to be yes, and the nonprofit children's-television workshop—now called Sesame Workshop—that created the show, has been refining and expanding that mission ever since, everything from ABC's and 123's, to race, and even death. In a few weeks, Sesame Street—which now airs on HBO as well as its longtime home on PBS—will take on its latest challenge: introducing a new kid on the street. A Muppet named Julia, who has autism.
* * *
How Boston Public Schools Changed Its Students' Worldview
Joanna Walters | The Guardian
When Boston public schools introduced a new standard map of the world this week, some young students' felt their jaws drop. In an instant, their view of the world had changed.
The U.S. was small. Europe, too, had suddenly shrunk. Africa and South America appeared narrower but also much larger than usual. And what had happened to Alaska?
In an age of "fake news" and "alternative facts," city authorities are confident their new map offers something closer to the geographical truth than that of traditional school maps, and hope it can serve an example to schools across the nation and even the world.
* * *
The Mounting Voucher Tensions in a State that Flipped for Trump
Erin Richards | Milwaukee Journal Sentinel
Four years after the GOP-led legislature approved a statewide voucher program, the number of private schools registered to receive taxpayer-funded tuition subsidies has sharply increased. Together with the longstanding Milwaukee voucher program and the more recent Racine voucher program, close to 300 private, predominantly religious schools from Lake Superior to the Illinois border are poised to receive taxpayer funding for an estimated 33,750 students this fall, according to Gov. Scott Walker's proposed budget.
For the first time, the Chilton School District could face either an enrollment drop because children will use a voucher to attend the local Catholic school they couldn't otherwise afford, or more likely, the district will have to raise taxes to fund vouchers for children who already attend the private school
* * *
Why Students Turn Down Their Top-Choice Schools
Rick Seltzer | Inside Higher Ed
Every year, prospective students receive offers to attend their college or university of choice. And every year, some of them turn down those offers.
Common wisdom holds that cost is a major factor in those students' decisions. And new data from a private company provide insight into how much of a role costs play in turning students away from their top choice for college.
* * *
Do Healthy Lunches Improve Student Test Scores?
Melinda Anderson | The Atlantic
As detailed in a recent paper, economists set out to determine whether healthier school lunches affect student achievement as measured by test scores. The intense policy interest in improving the nutritional content of public-school meals—in addition to vendors' efforts to market their school meals as good for the body and the mind—sparked the researchers' curiosity and led to an unexpected discovery: Students at schools that contract with a healthier school-lunch vendor perform somewhat better on state tests—and this option appears highly cost-effective compared to policy interventions that typically are more expensive, like class-size reduction.
* * *
What's at Stake for Graduate-Student-Union Members?
Natalie Kahn | Daily Pennsylvanian
Every Sunday night, a group of Penn graduate students meets for a potluck dinner at an office on Locust Street. The students come from all 12 of Penn's graduate schools and for many, it is their first time meeting other attendees. Their spouses and children are invited too.
This event is open to any of the 1,100 members of Graduate Employees Together—University of Pennsylvania, better known as GET-UP. Danielle Hanley, a graduate student member of GET-UP, often attends these dinners to discuss GET-UP's goal—forming a graduate student labor union at Penn. … On Aug. 23, 2016, graduate students at private universities were designated by the National Labor Relations Board as "employees." With that came the legal right to form a labor union.