Religious Conviction and Prison Convictions: This Week's Top 7 Education Stories
The best recent writing about school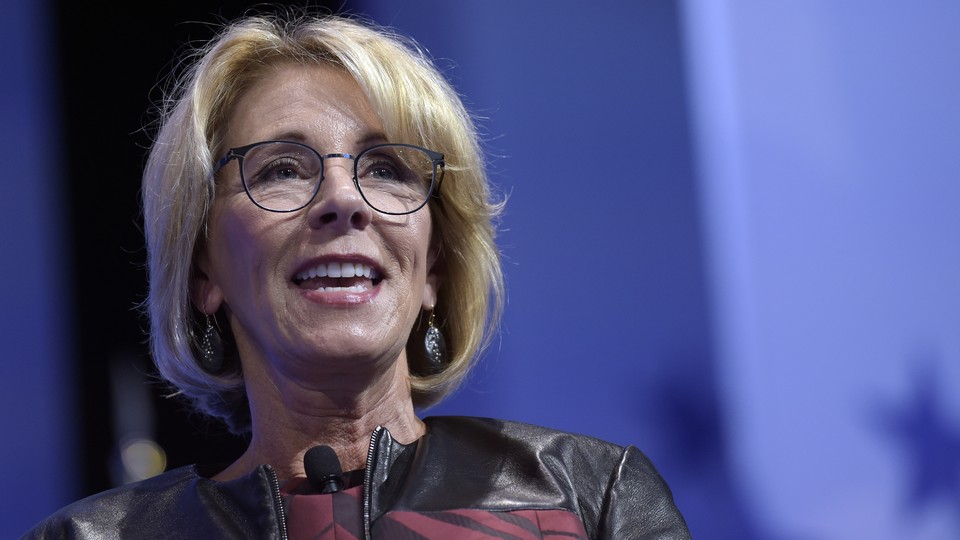 The DeVoses' Holy Republican Empire
Janet Reitman | Rolling Stone
The DeVos family—which includes 91-year-old patriarch and Amway co-founder Richard "Rich" DeVos Sr., his wife, Helen, their four children, and their spouses—has been one of the driving forces behind a stealth campaign powered by a small group of Republican billionaires to chip away at America's secular institutions: the pig bones, so to speak, of our society. According to a recent analysis by the Center for Responsive Politics, the family, whose net worth is estimated at $5.6 billion, gave $10 million to national GOP candidates and committees during the 2016 cycle alone. But this amount pales to the gargantuan sums they have channeled into state and local races, evangelical and free-market think tanks, advocacy groups, foundations, PACs, Super PACs, and other dark-money organs that have effectively created a shadow political party within the GOP.
* * *
California's New Nonresident Student Cap
Nanette Asimov | SF Gate
The University of California regents are expected to limit enrollment of out-of-state students for the first time, amid pressure from state lawmakers dismayed that the university doubled the number of high-paying nonresidents in the past five years.
Six UC campuses would cap enrollment of nonresident undergraduates at 20 percent, guaranteeing that at least 80 percent of campus undergrads would be from California.
* * *
How Boston Achieved Its Record High-School Graduation Rate
Josh Kenworthy | Christian Science Monitor
Ten years ago, Boston high-school students like [Dante] Omorogbe were far less likely to get their diploma. In 2006, the city's graduation rate was languishing at 59 percent. Last year, the number of Boston students who graduated in four years hit a record high of 72.4 percent. Statewide, the graduation rate inched up to a record 87.5 percent from 87.3 percent last year, according to state figures released Tuesday. The number of young people graduating has shot up thanks to a host of "equity"-focused reforms, such as re-engagement programs, the turnaround of chronically struggling districts, and strong regulation of traditional public and charter schools, wrought under a landmark Massachusetts Education Act.
* * *
The For-Profit Education Company Pushing Disciplinary Boundaries
Sarah Carr, Francesca Berardi, Zoë Kirsch, Stephen Smiley | Slate
Teenagers at Paramount Academy sometimes came home with mysterious injuries. … Camelot Education, the for-profit company that ran Paramount under a contract with the Reading School District, maintained a set of strict protocols: no jewelry, book bags, or using the water fountain or bathroom without permission. ...
Thirteen Camelot students have alleged in interviews or documents that they were shoved, beaten, or thrown—assaults almost always referred to as "slamming"—by Camelot staff members, usually for the sin of talking back, in separate incidents that span 10 years and three states. (Six of the students were interviewed in 2009 in New Orleans.) Two additional students, and five Camelot staff members, say they have personally witnessed beatings or physical aggression by staff.
* * *
Is There Ever a Reason to Suspend a Kindergartener?
Jason Gonzales | USA Today
More than 1,300 Tennessee kindergarten students were suspended last school year.
The number represents barely a percent of the state's 83,000 kindergarten students, according to Tennessee Department of Education data.
But for one Memphis lawmaker, the number begs the questions: Why are 5-year-old kids getting suspended from school in the first place, and what is causing many of them to get on the discipline track so early?
* * *
Emily DeRuy | The Atlantic
GRAND RAPIDS, Mich.—Residents of this western Michigan town are having trouble reconciling the Betsy DeVos they know with the Betsy DeVos who serves as President Donald Trump's controversial education secretary.
The former is widely seen as pragmatic and generous, even by those who dislike her political leanings and devotion to charter schools. The latter? "Unprepared," "tone deaf," and "insulated" were phrases that came up more than once during interviews with people who either know DeVos or her family or are familiar with her dealings in this part of the state.
* * *
Rebuilding a Life After 25 Wrongful Years in Prison
Taylor Telford | Indiana Daily Student
The world got colder while he was locked away. He can't stand to watch the news. It doesn't show any of the good, he says. Just the dark. When he goes to the grocery store, he notices people aren't as kind. They don't look each other in the eye. They walk the aisles staring at their phones and everyone seems short-tempered.
"Just look at how people drive on the highway," he says.
Darryl Pinkins tries not to be bitter about the stolen years. But at 64, starting over is hard.
For a quarter century, the world lurched forward, and he stayed stuck.