Measuring College (Un)affordability
As many as 95 percent of schools are out of reach for low-income students.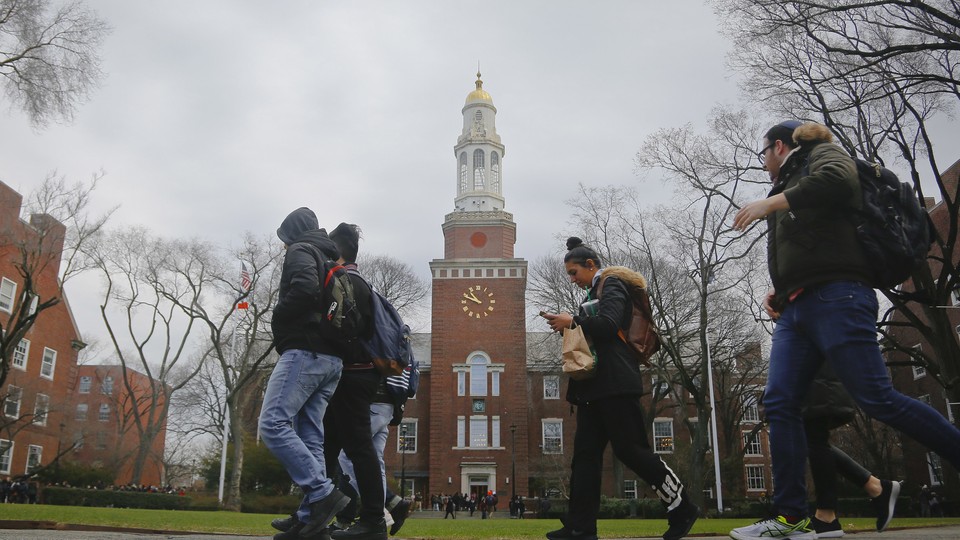 College is unaffordable for a lot of families. That's widely acknowledged across party lines. But a new report shows that as many as 95 percent of colleges are completely unaffordable—and thus unavailable—for huge swaths of Americans. For many would-be college students, their choices are delimited by their socioeconomic status before they have even taken the SAT.
In a new report, the nonprofit Institute for Higher Education Policy (IHEP) tackles those issues—and the numbers aren't good: While students from the highest income quintile (earning around $160,000 or more) can afford about 90 percent of the more than 2,000 colleges studied, low- and moderate-income students (bringing in around $69,000 or less) can only afford 1 to 5 percent of those colleges.
Unfortunately, it has always been difficult to pin down exactly which schools are or are not within reach for individual families in specific situations. Plenty of schools may claim to be affordable, but what exactly makes a school too expensive for a family or an independent student? It has long been an open question, and the ambiguity around the word "affordable" is one of the key reasons. Many students simply have no idea what they or their families will ultimately pay for a degree. (Partly, that's because pricey schools of questionable value often benefit from the nebulousness—unsurprisingly, they also lobby to maintain it.)
So IHEP created 10 theoretical "students" based on aggregate, national data, and it used the Lumina Foundation's affordability benchmark to figure out what each of those students or their families could reasonably afford to pay for college. The benchmark says that a student (or her family, if she's a dependent) should be able to save 10 percent of her discretionary income the 10 years before college and work 10 hours a week at minimum wage as a full-time student. Using Lumina's definition, the savings and earnings should cover the whole cost of a four-year degree. (Next America receives funding from Lumina.)
After it came up with what each of those 10 students could afford to pay, IHEP worked with College Abacus to analyze the net price of more than 2,000 colleges. Then it compared the two findings. Net price is the cost of attendance minus the grant aid a student can expect. Colleges have to post a net-price calculator on their websites, but there hasn't been a good way to compare affordability for individual students. Just looking at tuition isn't enough. Books, housing, food, and other university fees factor into the cost of college, too. But adding all that up and looking only at the sticker price isn't a good estimate, either, because two-thirds of first-year, full-time undergraduates get some form of grant aid (money that doesn't need to be paid back) to offset that number.
Of the more than 2,000 colleges analyzed, IHEP found that almost half were affordable only for students from families making more than $160,000. That means that in addition to being able to afford 90 percent of colleges, half of those colleges are also essentially exclusively reserved for them. For-profit colleges were the least affordable schools, and public colleges were the most affordable. But even then, four-year public colleges that didn't meet the students' affordability thresholds were off by an average of $9,000.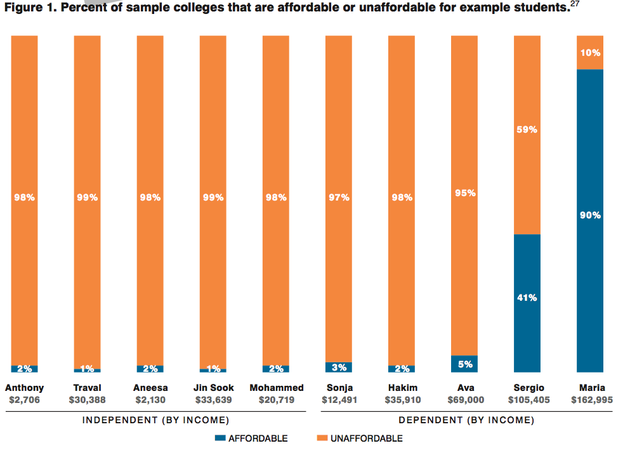 All of this means that low-income students are less likely than their wealthier peers to actually earn a degree, even if they have the same academic profiles. "This shows just how few options low-income students have on the table for them," said Mamie Voight, IHEP's vice president of policy research and one of the authors of the report.
The report offers several recommendations, including increasing the Pell grant and urging states to spend more on higher education. Pell grants are specifically for low-income students, but the cost of college has risen faster than the grants have increased, meaning that even with grant aid, low-income students still struggle the most to pay for college. And the report points out that even when the option to take out federal student loans is factored in, most students still struggle to find an affordable college.
For instance, without loans, the poorest dependent student IHEP considered could only reasonably afford 3 percent of the colleges the report analyzed. Factoring in loans, the situation is better, but the student would still only be able to afford about 20 percent of the colleges.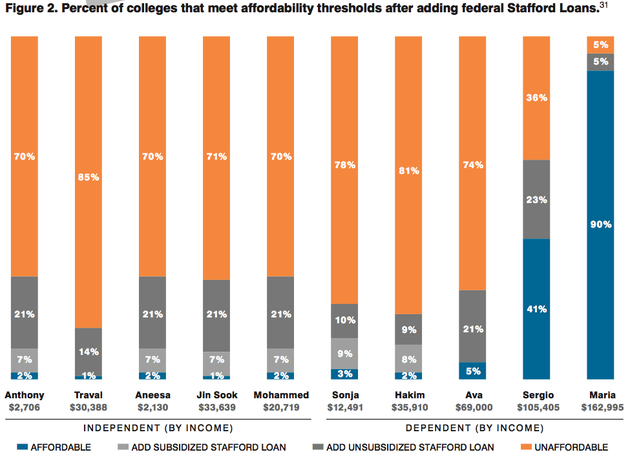 IHEP rejects the idea that students should be expected to work more than 15 hours per week, arguing that doing so might hurt their ability to succeed. A student who has to work every night, for instance, would have to skip evening study sessions or miss group work. The organization also pushes back at "free college" plans that take a last-dollar approach, meaning plans that only pay the difference between what federal aid will cover and the total cost. That model benefits high-income students, IHEP argues, and disadvantages lower-income students, who could be left with less money to spend on things like rent or unforeseen emergencies.
It remains unclear how big a priority college affordability will be for the Trump administration. But as Michelle Asha Cooper, the president of IHEP, said during a phone interview, if Trump wants to keep his promise to "make America great again," "we are reinforcing inequities in our higher-education system that will impede our ability to do just that." And as Voight pointed out, Education Secretary Betsy DeVos has said she wants to give families choices when it comes to education, but right now, "low-income students don't have much in the way of choice because college is so unaffordable."
The report does include at least one recommendation the Trump administration would likely support: Colleges with large endowments should be required to spend a set portion of those funds on making college accessible for low-income students. That's something Donald Trump talked about on the campaign trail. But without a nudge from Congress, there's little incentive for schools to go that route. "We would hope they would recognize that this is part of their public mission," Voight said, "to serve the public good."
F. King Alexander, the president of Louisiana State University, who was not involved with the IHEP report but who has been a vocal proponent of increasing funding for public higher education, offered another argument for robust state investment during a recent interview. Without it, students often end up taking out federal loans, which, he argued, is "de facto federalizing higher education," something Republicans are loath to do.
Ultimately, if states invested more in higher education and colleges invested more in expanding access to students who have not traditionally had it, everyone would benefit. As IHEP notes, when education levels go up, so do employment rates and tax revenue. Health-care costs decline, as do incarceration rates and reliance on welfare. Broadly, when people are educated, they are better able to participate in democracy and contribute financially to their communities. For politicians grappling with these issues, that kind of upside is what Voight called "a built-in incentive."