How Betsy DeVos Could End the School-Integration Comeback
Federal attention to classroom diversity made a resurgence in the final months of the Obama administration. Will the established programs peter out?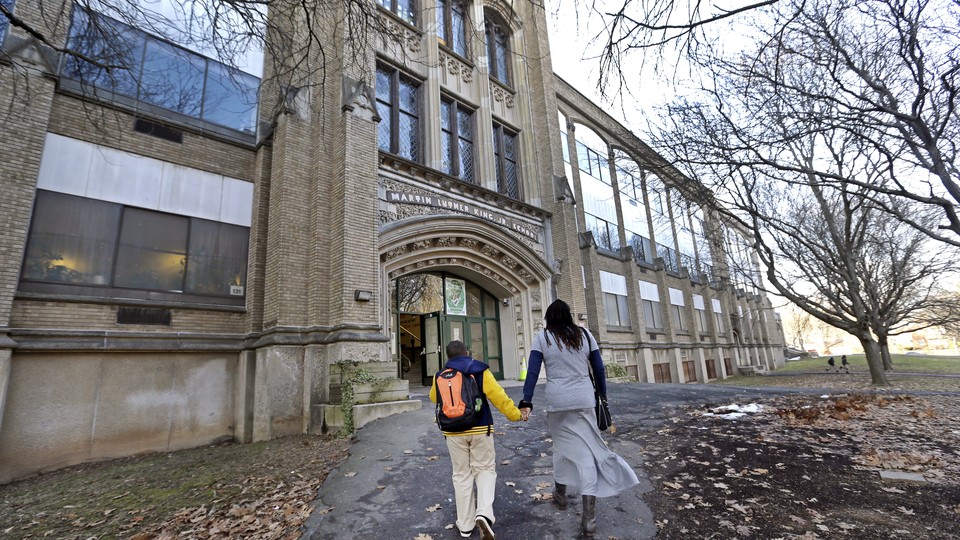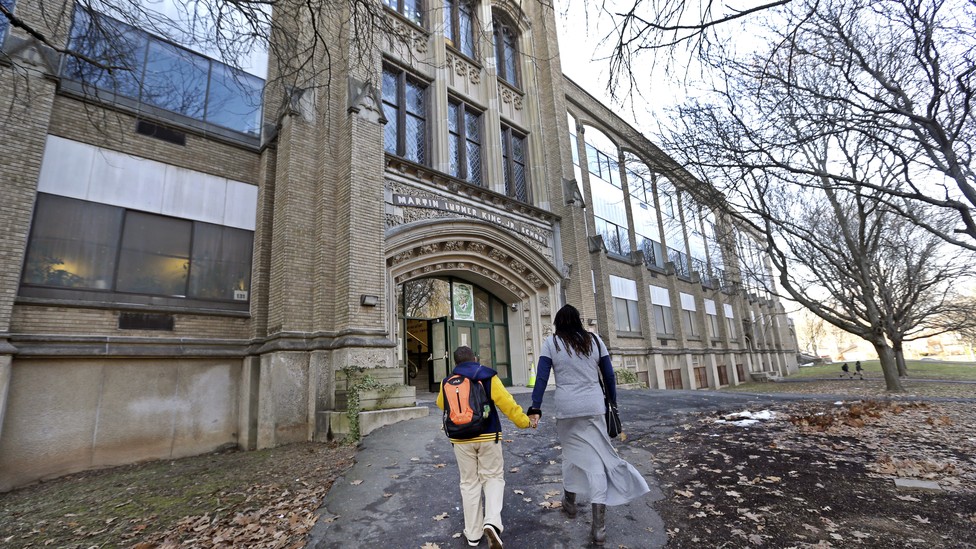 Under President Trump, the federal role in education is set to be drastically curtailed. Last Thursday, Trump proposed slashing federal spending on schools by $9 billion. His education secretary, Betsy DeVos, has vowed to shrink her agency and return power to local officials, which could mean scaling back civil-rights enforcement. All of these signals may also foreshadow a retreat on school integration.
Integration made a brief return to the national stage last year when President Barack Obama, who had mostly avoided the issue before then, proposed a $120 million grant program in his final budget that would fund local socioeconomic school-integration plans. After that proposal died in Congress, Obama's education secretary, John King, launched a much smaller version last December. He also used his brief tenure to trumpet the benefits of diversity. "He talked about school diversity in a way that federal officials had not in years and years and years," said Richard Kahlenberg, a senior fellow at The Century Foundation, a think tank that promotes socioeconomic school integration.
Now, even that smidgen of progress has stalled. Trump and DeVos appear to be single-mindedly focused on expanding access to school choice—particularly private-school tuition vouchers and charter schools, which are often highly segregated. Meanwhile, advocates fear that DeVos might abolish the few incentives created by the Obama administration to spur local integration efforts. Either way, any new attempts to curb segregation in the Trump era likely will come from the ground up, with local officials who choose to pursue integration having to make do without much federal support.
"Unlike the prior administration, where there was an appetite for this work at the federal level, I think states are really going to have to be in the driver's seat," said Anne Hyslop, a former policy advisor in Obama's education department, who is now a senior associate at Chiefs for Change, an education-reform advocacy group. "It's going to take a tremendous amount of state and district leadership to execute on it."
In her new role, DeVos has spoken about the importance of school diversity. "I think experiencing and being a part of a diverse environment is really critical to the development of any young person," she said last month at a meeting of magnet schools, which she praised for their historical role as a desegregation tool. But while the principle of student diversity in schools tends to enjoy bipartisan support, many conservatives view government efforts to promote integration as social engineering that restricts parents' choices of schools. In a speech to school superintendents last Monday, DeVos vowed not to infringe on families' options: "No parent should feel like the Department of Education thinks it knows better than they what is best for their child," she said, according to her prepared remarks.
As a longtime philanthropist without prior government experience, DeVos doesn't have a documented track record on integration policy. For that reason, advocates are paying close attention to what she does with King's $12 million integration-grant program, known as "Opening Doors, Expanding Opportunities." It's meant to help districts improve low-performing schools by adding academic programs that would draw more advantaged students to them, a goal based on extensive research showing that students perform worse in high-poverty schools. The grants are small—ranging from $350,000 to $1.5 million to fund planning work—but 26 districts expressed interest in submitting applications, which were due last month. Because the awards have not yet been made, advocates worry that DeVos could axe the program—a small cost-saving measure, but also one that would signal to districts interested in integration that they're on their own.
"That's going to be a real test of her commitment to school integration," said Philip Tegeler, the executive director of the Poverty and Race Research Action Council.
Recently, Tegeler's group and other members of the National Coalition on School Diversity sent DeVos a letter urging her to award the grants. An education department spokesman said in an email Friday: "The Department has no comment at this time."
The Obama administration also tried to encourage integration efforts by taking into account whether applicants for other grants—including charter-school funding—had plans to make their schools more diverse. DeVos could preserve those grant competitions but scrap the integration incentives in future rounds, experts said.
Trump's budget plan represents a clear statement of his priorities. It calls for a new $250 million private-school-choice program and a $168 million increase in charter-school funding. It doesn't include a request for more magnet-school funding—the type of school choice most commonly used for integration—even though those schools actually enroll more students than charters. In a statement last Thursday, the membership group Magnet Schools of America noted that magnets were "[n]oticeably and regrettably absent" from Trump's school-choice spending plan.
Some critics say that pouring more money into vouchers and charters will lead to more segregation. While charter schools and traditional public schools are both often highly segregated, white and black students tend to be even more racially isolated when they attend charters. The research on vouchers and segregation is mixed: Though students often use them to leave segregated public schools, many end up at private schools where their classmates are disproportionately the same race as them—as was the case with Louisiana's voucher program.
Mike Petrilli, the president of the pro-charter Fordham Institute, said many charter schools are racially isolated because they are predominantly located in segregated city neighborhoods. He said he expected DeVos to prioritize unrestricted choice over school diversity. "Everything we know about Betsy DeVos is about empowering parents to decide where to send their kids," he said. "That's the top priority by a long shot."
Even if DeVos doesn't urge districts to pursue integration, they can still decide to do so on their own. That's not new: After a decades-long dismantling of desegregation plans and a federal focus on accountability over integration, most new integration efforts happen voluntarily at the local level. A Century Foundation study last year found that 91 districts and charter-school networks have established admission policies or school boundaries meant to foster socioeconomic integration—that's a fraction of all districts, but still twice as many as a decade ago. (Of course, those policies can always be reversed: Republican lawmakers in Kentucky recently targeted Louisville's longtime busing and magnet program.) Under the new federal education law, known as the Every Student Succeeds Act, states and districts have even more policymaking authority than they did under the No Child Left Behind version of the law. For instance, they now can include boosting diversity as an option for ways that low-performing schools can make improvements—an idea that New York State policymakers are currently considering, according to local advocates.
Matt Gonzales, the school-diversity project director at New York Appleseed, has been helping organize monthly meetings of New York City educators, parents, and advocates concerned about the city's severe school segregation. He said he's worried the coalition could lose some of its momentum as progressives fight what they consider a Trump-DeVos plan to privatize public education. Still, he added, many advocates believe the push for integration is now more important than ever. "If we double down on this work," he said, "it's a political slap on the face to this administration."