Helping the Homeless and Resisting Preschool: This Week's Top 7 Education Stories
The best recent writing about school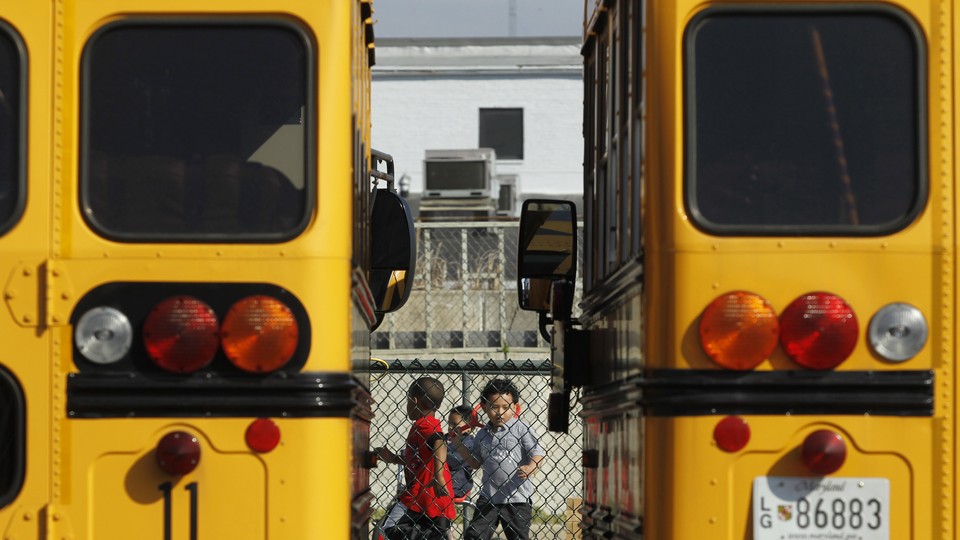 Is Florida Underreporting Dropouts?
Heather Vogell | ProPublica
Florida's Department of Education is expanding an inquiry into how schools classify students who leave without graduating, in response to a ProPublica report that the state may have thousands more dropouts than it acknowledges.
Also in reaction to the ProPublica article, the school-board chairman in Orlando is asking the district superintendent for a formal report regarding concerns that low-achieving students have been pressured to transfer from traditional to alternative high schools.
* * *
Will This State Initiative to Curb Student Homelessness Succeed?
Grace Swanson | Kitsap Daily News
Nearly every student experiences struggles at school, but almost 40,000 students in Washington face even stiffer challenges when the school day ends.
These students are homeless.
James Hill, a Vancouver, Washington, resident, spent nights with his 16-year-old daughter and her toddler moving between the homes of friends and sleeping in a vehicle. He worried about keeping his daughter and granddaughter safe and warm at night so his daughter could have a restful sleep and be prepared for school the next day.
One of his main goals was to ensure that his daughter went to school.
* * *
South Carolina Pushes Back on Poor Education Ranking
Paul Hyde | The Greenville News
Molly Spearman, the South Carolina state superintendent of education, on Monday blasted a recent U.S. News and World Report ranking that pegged South Carolina as last in the nation in public education.
The report focused too much on the ACT, a college readiness exam, and failed to emphasize what the state is doing to prepare students to actually succeed in today's economy, Spearman said.
"They didn't even look at our apprenticeship programs, they didn't look at career programs," Spearman said at TransformSC, a conference in Greenville aimed at promoting innovation in education.
* * *
Military Academies' Culture of Sexual Assault
Lolita Baldor | The Associated Press
Reports of sexual assaults increased at two of the three military academies last year and an anonymous survey suggests sexual misconduct rose across the board at the schools, The Associated Press has learned.
The new data underscore the challenge in stemming bad behavior by young people at the military college campuses, despite a slew of programs designed to prevent assaults, help victims, and encourage them to come forward. The difficulties in some ways mirror those the larger military is struggling with amid revelations about Marines and other service members sharing nude photos on websites.
* * *
Lillian Mongeau | The Hechinger Report
Idaho is one of just six states—the others are New Hampshire, South Dakota, Utah, Wyoming and Montana—that do not offer any funding for preschool. A significant body of research shows that high-quality preschools produce long-term academic and social benefits for children. Nevertheless, resistance to spending on preschool runs deep in Idaho and the other hold-out states, not least because they are home to voters and politicians who strongly believe in family autonomy and minimal government intervention.
* * *
The Office for Civil Rights's Volatile Power
James Murphy | The Atlantic
While much of the controversy over the new secretary has focused on school choice and the privatization of public education, the reality is that DeVos will have little power to enact major changes on those fronts because control lies with the state. When it comes to civil rights, however, DeVos and the Department of Education's Office for Civil Rights (OCR) still possess immense power and responsibility. …
Because the OCR has long been subject to pendulum swings between Republican and Democratic administrations, history provides the best guide to what is likely to happen to the office in the next four years.
* * *
How One Gymnast Overcame a Rare Disease to Compete
Winston Bribach | The Daily Bruin
Next time Macy Toronjo, a redshirt freshman, steps onto the blue mat for her floor routine, look past her posing and her affectations. That's all part of the performance, part of the character she pretends to be. Underneath the graceful exterior lies a warrior who has been battle-tested ever since she stepped foot on the UCLA campus.
"Macy looks like a little Southern belle, but has this spitfire attitude and energy about her," said coach Valorie Kondos Field. "She's a conundrum. What you see is not really what's inside, and what's inside—that grit and that determination—has made her such a great athlete."
She needed every ounce of that grit and determination.