HBCU Success and Networking Excess: This Week's Top 7 Education Stories
The best recent writing about school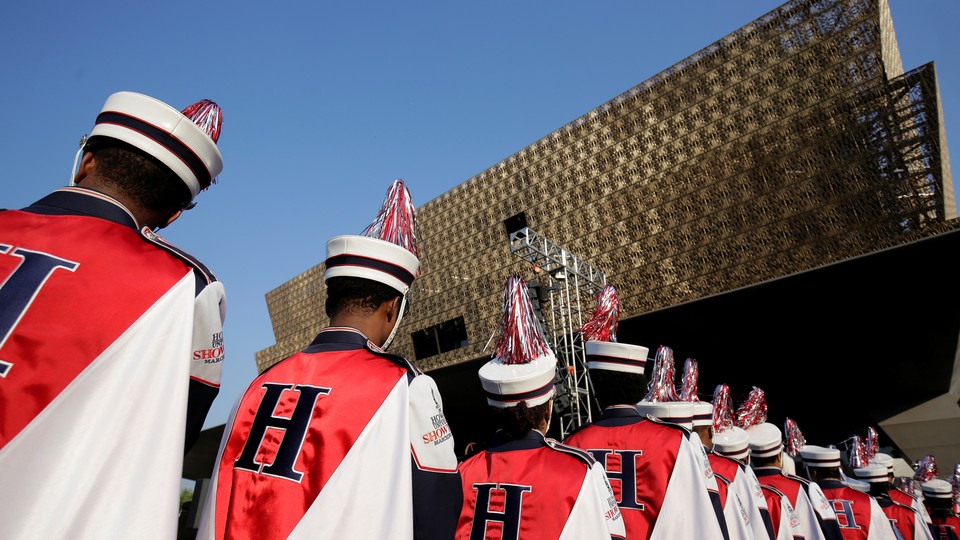 How Athletes Charged With Serious Crimes Stay on the Field
Melissa Korn | The Wall Street Journal
At least 108 college athletes who faced serious charges—including armed robbery and rape—were accepted by another school's sports program, often on scholarship, from 2011 through June 2016, according to a Wall Street Journal review of team disciplinary actions and criminal charges against football and men's basketball players at Division I schools.
The tally includes charges that resulted in plea deals or convictions for assault and battery, narcotics trafficking, violent sexual crimes and weapons possession.
* * *
Where Poor, Black Students Are More Likely to Succeed
Nick Chiles | NPR Code Switch
The White House acclaim for HBCUs comes in the same week as a study by The Education Trust, a Washington, D.C.-based nonprofit, revealed that the nation's HBCUs are doing a much better job than predominantly white schools in graduating low-income black students.
The study, entitled "A Look at Black Student Success," concluded that at most of the nation's four-year public and private colleges and universities, a significant gap exists between the graduation rates of black students and white students. At the 676 public and private nonprofit institutions included in The Education Trust survey (not including HBCUs), the six-year graduation rate for black students was 45.4 percent—19.3 points lower than the 64.7 percent graduation rate for white students.
* * *
The Education Company That Networked Its Way to $50 Million
Sarah Karp | WBEZ
This is a story about how a savvy company came to Chicago and raked in more than $50 million in contracts from the school system in just four years, becoming one of the district's biggest vendors.
Camelot Education runs six small schools that re-enroll high-school dropouts or students who have been expelled. It's a service the city needs, the school district insists, and by most accounts Camelot runs solid programs that are making a difference for some troubled teens.
But Camelot is also a for-profit company willing to play ball to get contracts, school buildings and students. The Austin, Texas-based company's growth in Chicago is a textbook example of how private companies are working the system in Chicago—using and being used by city and community leaders for political and financial gain. Call it the new Chicago Way.
* * *
The Humanity of the College Lecture
Miya Tokumitsu | Jacobin
[William] Hogarth's satirical prints repeat a common belief about lectures: Those who claim the lectern are dullards or charlatans who do so only to gratify and enrich themselves. … This distrust has now spread to the lecturer's natural habitat, the university. Administrators and instructors alike have declared lecturing a stale teaching method and begun advocating new so-called content delivery techniques. ... While these new methods work well, we should not completely abandon the lecture. It remains a powerful tool for teaching, communicating, and community building.
* * *
Why a University Is Suing Its Student Newspaper
Linda Blackford | Lexington Herald Leader
Western Kentucky University has sued its campus newspaper and the University of Kentucky campus newspaper to block access to investigative records of sexual-misconduct allegations against university employees.
The suit was filed in Warren Circuit Court after the UK newspaper, the Kentucky Kernel, lost the first round in a separate lawsuit filed by UK to block the release of investigative documents in a sexual harassment case involving a former UK professor.
The Kernel is appealing the decision.
* * *
Betsy DeVos's Misunderstood Alma Mater
Emily DeRuy | The Atlantic
[Betsy] DeVos is now Calvin [College]'s most famous alum, and in recent weeks, the school has been painted in some circles both online and in conversation as a conservative, insular institution that helped spawn a controversial presidential-cabinet member intent on using public dollars to further religious education. But that is a grossly simplified narrative, and one that obscures the nuances and very real tensions at the school.
In more than a dozen interviews, professors, students, and alumni of all political stripes painted a picture of a college where intellectual diversity and thought-provoking debate are the norm, and where the belief that followers of the Christian Reformed Church, with which the school is affiliated, have an obligation to engage with the world around them compels both instructors and students to question what they think they know.
* * *
Why Students Push Pause on Their Harvard Educations
Annie Schugart and Emma Scornavacchi | The Harvard Crimson
According to numbers released by the Administrative Board, a body of administrators responsible for enforcing policies outlined in the Handbook for Students, 242 students took voluntary leaves of absence in the 2014-15 academic year, the last year for which those numbers were released. Fifty-four others were required to take a temporary leave for academic or disciplinary reasons. This amounts to about one in 20 students leaving Harvard every year.
But no two stories are the same. Some students leave to take time to reflect. Some leave to pursue internships, performance careers, work at start-ups. Some leave to relieve financial burdens. Some leave to recover from depression, anxiety, or eating disorders.