Examining Poor School Performance in the U.S.
International students are critical of American education. Brookings explains why.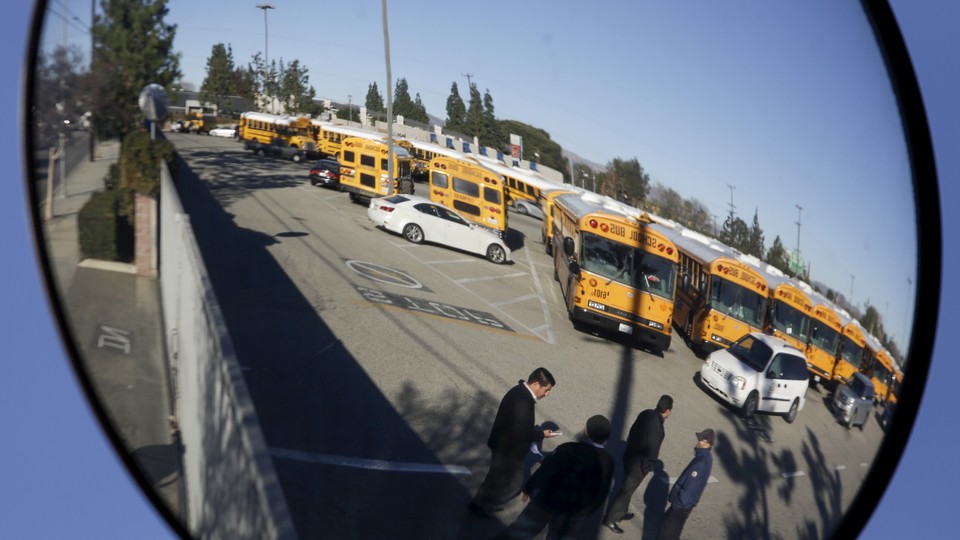 American teens spend far more time on sports than they do on their studies. At least that's how international students see it, according to a report out Wednesday from the Brown Center on Education Policy at the Brookings Institution. In an effort to "shed light on what is peculiarly American about American high schools," the report surveyed hundreds of foreign-exchange students for a "fresh perspective" on the U.S. educational system.
And valuing sports over knowledge is distinctly American, according to these foreign students. Nearly two-thirds of foreign-exchange students in the United States view American teenagers as placing a much higher value on athletic success than teens in their home countries do. By comparison, only 5 percent of international students say American teens place a much higher value on success in mathematics than teenagers abroad. Around 65 percent of foreign-exchange students also feel that American teens spend less time on homework than their international peers.
Of course, these impressions don't necessarily correspond to reality. Around 40 percent of foreign-exchange students in the United States told Brookings that American teens spent just three or more hours on homework each week. But a 2012 report from the Organization for Economic Co-operation and Development found that American 15-year-olds spent an average of six hours per week on homework, placing the United States ahead of the global average and on par with countries like China and Australia.
Things don't get much better in the classroom: Foreign-exchange students find U.S. classes less challenging than those abroad. A related Brookings survey from 2001 revealed that nearly 60 percent of international students found their U.S. classes "much easier" than classes in their home country. This number rose to 66.4 percent in Wednesday's report.
Tom Loveless, the report's author, concludes that international students think U.S. schools "do not fully embrace inculcating knowledge as the high school's primary institutional mission." But how true is this perception? Are U.S. schools any less rigorous or knowledge-focused than their international competitors? Well, the foreign-exchange students might be onto something.
To determine how the United States compares with other educational systems, Loveless turned to two reliable international assessments: the Program for International Students Assessment (PISA) and the Trends in International Math and Science Study (TIMSS). Although the two tests are highly correlated, they don't necessarily test the same knowledge or skills. And while the PISA studies 15-year-old students every three years, the TIMSS studies fourth- and eighth-graders every four years. Both programs conducted tests in 2015 and released their findings the following year. Compared with other economically developed countries in Europe and Asia, the United States was not a top performer on either test.
In fact, Loveless finds America's PISA scores to be "mediocre." From 2012 to 2015, the nation saw little change in its performance in science and reading, ranking just ahead of the international average for both subjects. By contrast, math scores in the United States took a significant dip in 2015, declining by 11 points since the last PISA in 2012.
The nation's scores on the TIMSS are slightly better. The report finds that eighth-grade American students saw a significant improvement in their math and science scores in 2015, with math scores rising by 26 points and science scores by 17 points over the last two decades. While Loveless describes this as a "rosier picture," the data becomes more sobering when he considers the results for Singapore, the highest-scoring nation in both math and science. In 2015, the United States trailed Singapore by 66 points in eighth-grade science and by 103 points in eighth-grade math. At this rate, Loveless estimates, it could take more than 140 years for the nation to close the gap in its math scores.
Still, U.S. schools need not panic about its overall performance. Out of around 70 educational systems tested by the PISA, the United States scored equal to or better than 51 nations in science and equal to or better than 55 nations in reading. Similarly, out of 42 educational systems that tested eighth-graders using the TIMSS, the United States scored equal to or better than 35 nations in both math and science.

Ultimately, Loveless finds that "comparing the U.S. with other countries must be done with caution." New Zealand, for instance, is often heralded for its strong academic performance, despite seeing a steady drop in its TIMSS scores. In these instances, when data offers a limited understanding, it becomes increasingly important to consider what students have to say. That means, if the reactions of international students are any indication, the United States has a long way to go before competing with the world's top-performing educational systems.