Do Private-School Vouchers Promote Segregation?
A new report from the Century Foundation evaluates the claim.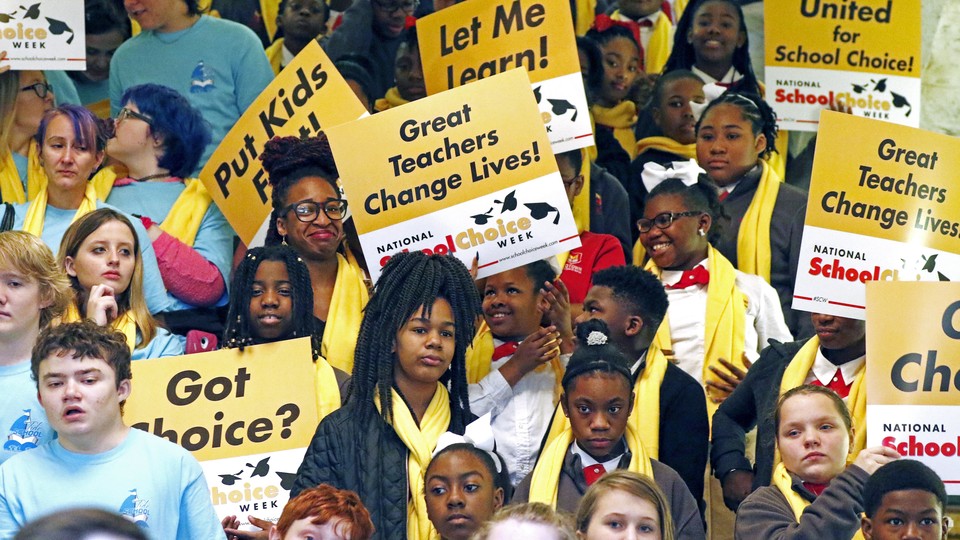 With school-choice booster Betsy DeVos at the helm of the Department of Education, private-school vouchers are getting new life and plenty of renewed attention. Last Thursday, the Trump administration cemented vouchers' official return by releasing its "America First" budget, which allocates $20 billion in annual funds, or about a third of the new education budget, to school-choice programs, including private-school vouchers.
DeVos has championed vouchers throughout her career, and she indicated they will remain her priority as education secretary. "Vouchers in the K-12 arena sometimes fall short but still provide meaningful support to enable students to attend the institution of their choice," she said at her confirmation hearing.
One of the areas in which vouchers often fall short, of course, is in their ability to integrate private schools along racial, religious, and socioeconomic lines. But DeVos argues that integration and voucher programs go hand in hand. At her hearing, she told Senator Patty Murray: "I do not support programs that would lead to increased segregation. Empirical evidence finds school-choice programs lead to more integrated schools than their public-school counterparts."
A new report from the Century Foundation's Halley Potter tackles this claim, examining the empirical effects of private-school vouchers on different forms of segregation. According to Potter, "The academic results of private-school voucher programs thus far have been disappointing." In all likelihood, vouchers will lead to more racial, religious, and socioeconomic segregation in schools. Potter's report finds that many voucher programs fail to deliberately target low-income students, which can increase the concentration of wealthier students in private schools. In addition, religious students on vouchers often transfer to private parochial schools, contributing to religious homogeneity at these institutions and limiting opportunities for religious diversity at others.
A larger focus of the report is the impact of voucher programs on racial integration. In particular, Potter examines two U.S. studies, one in Louisiana and the other in Milwaukee, which each tracked students who moved from public to private schools. The first study, published in 2016, looked at the Louisiana Scholarship Program, a statewide voucher program that targets low-income students at low-performing public schools. The study originally reported that while public-school segregation decreased significantly, private-school segregation was somewhat higher. Potter found these results misleading for two reasons: First, the loss of a few students from overrepresented groups at public schools had a small effect on overall demographics. Second, the study reported the effects of voucher transfers on public and private schools separately. After crunching the numbers herself, using metropolitan demographics as a benchmark for integration, Potter's results were quite different: Two-thirds of the school transfers had negative or mixed effects, resulting in overall increased segregation.
The second study, conducted in 2010, examined the transfer of students using the oldest school-voucher program in the country, the Milwaukee Parental Choice Program. As of the 2008-2009 school year, around 80 percent of students using these vouchers were black. According to Potter's analysis, nearly 90 percent of the program's students transferred from a public school where they were in the majority to a private school where they were still in the majority. This meant that although schools did not become more segregated, they also did not become significantly integrated.
Together, these studies indicate that private-school vouchers do not promote racial integration. In fact, contrary to DeVos, Potter finds that school diversity and voucher programs are often incompatible, primarily because students are moving in a one-way direction from public to private schools. "If you're taking a commitment to school integration seriously, then private-school vouchers are not an effective way to achieve that goal," Potter says.
Of course, there are exceptions. Research shows that vouchers could promote integration by facilitating the movement of black, Latino, or American Indian students from public schools where they make up the majority to more diverse private schools. But the larger pattern, Potter finds, is one of segregation and white flight—that is, when white families use vouchers to move their children to predominantly white private schools. Many programs with broader eligibility criteria, like Indiana's Choice Scholarship Program, tend to divert a majority of white students to private schools.
Still, she argues, there are ways to expand school choice while also providing opportunities for diversity. The main solution, as outlined in the report, is to expand magnet and charter schools that are designed for integration.
In cases where private-school voucher programs already exist, Potter says, students could benefit from safeguards that prevent segregation. "Many conversations around private-school vouchers open with the premise of expanding choice for the most disadvantaged families, especially low-income families and families of color," she says. But the reality doesn't always match the premise. "We need to look at the ways in which students using vouchers do not always fit that profile."
This means restricting vouchers to schools that meet a minimum threshold of diversity, or eliminating vouchers in private schools with discriminatory admissions policies—a situation Potter finds is all too common. (The education-news website The 74, an Atlantic partner, has chronicled a handful of voucher programs with policies that discriminate against students on the basis of faith, sexual orientation, or special needs.) In districts that insist on using voucher programs, Potter also suggests moving away from universal programs toward those that specifically target low-income students in low-performing public schools. While she estimates this could make programs "less likely to exacerbate segregation," the programs remain an unlikely method of integration.
Because only 400,000 students in the United States are currently enrolled in voucher programs, the impacts of these policy changes are difficult to predict. "The research is definitely limited, in part, by the fact that voucher programs are currently limited," Potter says. But she also finds that programs in other nations "offer a window" into how an expanded voucher program might look in America. In places like Chile or Sweden, for instance, large-scale voucher programs are often tied to increased segregation. It's not a big leap then to predict that additional programs in the United States would do the same.