Do After-School Programs Positively Change Children?
Proponents of President Trump's budget say no. Their evidence may be faulty.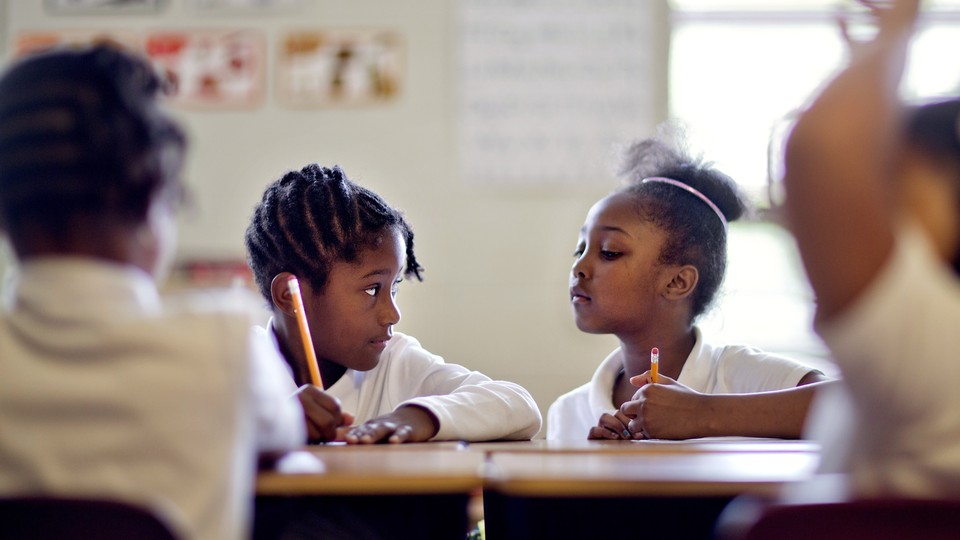 After-school programs are on the chopping block in the Trump administration's proposed budget, an issue a reporter drew attention to at a recent press conference with the director of the Office of Management and Budget, Mick Mulvaney. In response to a question about the future of these programs, Mulvaney said, "They're supposed to be educational programs, right? And that's what they're supposed to do … There's no demonstrable evidence they're helping results, helping kids do better in school."
Though the exchange with the reporter generated some confusion—a separate conversation about Meals On Wheels, the program that helps feed homebound seniors, became muddled into the after-school-program conversation—the GOP's budget is clear when it comes to its plans for after-school programs. It proposes cutting 21st Century Learning Centers, which fund comprehensive after-school enrichment for 1.6 million children throughout the country. Nearly three-quarters of participants are low income.
While there are studies that back up Mulvaney's assertion that these programs don't help kids improve academically, the evidence is dated, and proponents of the programs argue that they fail to account for some very real benefits.
Toward the end of the administration of former President Bill Clinton, Mark Dynarski, the founder of Pemberton Research and a nonresident senior fellow at the Brookings Institution, began working with the U.S. Department of Education to assess what kinds of results 21st Century Learning centers achieved. They released three different reports between 2003 and 2005. The results were not encouraging. "The program didn't affect student outcomes," Dynarski explained in a Brookings article in 2015. "Except for student behavior, which got worse."
David Muhlhausen, a research fellow in empirical policy analysis at the Heritage Foundation, also questions the environment of those centers, the academic results, and whether the child-care aspect is valuable. He pointed to performance reports that show that the program isn't meeting its goals, and Dynarski's research on 21st Century Learning Centers as evidence, during an interview. "It's a place to have their kids while the parents are at work," Muhlhausen said. "That's the real key to these programs and why they're popular—not that they provide any benefits to the students. It's basically a babysitting program for parents who aren't home."
To further complicate things, since that 2005 report, the nation's federal education law has transformed: Dynarski's study began during the Clinton era and finished during No Child Left Behind, while the current program exists under the Every Student Succeeds Act. And while he acknowledges that new data on the program has been released since his 2005 evaluation, none of it has been comprehensive enough to develop conclusions about the success of the current iteration of the program. "You just end up stuck because you have evidence that an old program was not effective," Dynarski said in an interview. "You have no new evidence, so you don't know what to say about the current [program]. So, you're trying to build a view of what might have changed, and you're trying to infer from these vague indicators what's gotten better."
But a lack of conclusive evidence doesn't mean that no participants see academic improvements. The department continues to monitor centers throughout the country, and the 2013-14 evaluation notes some positive trends. Nearly a third of regular attendees reported improvement in English and math grades (though that trend didn't hold in terms of state assessments), and nearly half of all participants improved in class participation and completion.
Those evaluations are bolstered by multiple reports from other sources—often examining particular programs, states or cities—that have shown these learning centers help children. In addition to studies surrounding after-school programs as a whole, statewide evaluations specifically examining 21st Century Learning Centers from Washington, Wisconsin, Texas, and Rhode Island, for example, saw improvements in a variety of indicators, from test scores to behavior. "We think the evidence that [the OMB is] looking at is research that was done on a program that does not exist today," explains Jen Rinehart, the senior vice president for policy and research at the Afterschool Alliance, an organization that advocates for access to after-school programs. "There's so much other research that has been conducted in this space that is counter to what that previous research indicated."
Bridget Laird, the CEO of an organization funded through 21st Century Learning Centers, commissioned an evaluation for her own program. WINGS for Kids provides after-school enrichment that fosters social and emotional health in 11 different centers located in Atlanta; Charleston, South Carolina; Charlotte, North Carolina; and rural South Carolina. "We have always focused on evaluations within WINGS, and most recently we finished up a four-year randomized control trial, which is kind of the gold standard of evaluations, and we have found that WINGS kids attend school more often, do better academically, and do better in schools than non-WINGS kids," Laird says.
The goal of 21st Century Learning Centers is primarily academic. Their purpose, according to the newest version of the Elementary and Secondary Education Act, is to "provide opportunities for academic enrichment, including providing tutorial services to help students, particularly students who attend low-performing schools." The definition of the law, however, includes more than just tutoring—it can include activities related to arts, music, and counseling.
For about three hours every day after school, WINGS provides after-school enrichment that emphasizes social and emotional learning to students in kindergarten through fifth grade, all attending schools in which 90 percent or more of the student body relies on free- and reduced-priced meals. If the proposed budget cuts are approved—which would remove $1.6 million and the biggest source of WINGS funding—Laird will have to cut several of those 11 programs and scale back those that remain, she says.
Laird also says her centers offer benefits that are harder to measure, such as providing parents the comfort of knowing they have someplace safe for their kids to go while they work or attend their own classes. "Having that ripped away is just a whole second tier of problems," Laird explains. "You have the kids not getting the benefits, then you have the parents who have to, again, either leave their children unsupervised or quit their jobs."
The problem Mulvaney runs into with his assertion that "there's no demonstrable evidence" that the 21st Century Learning Centers help students is that there are, in fact, reports that demonstrate positive outcomes for participants in these programs. At the same time, there have been reports that find minimal—or even negative—outcomes as well. But because the most damning reports were published over a decade ago, it's hard to make a definitive case that these centers aren't helping kids "do better"—and therefore hard to make the case that no harm will be done in removing all funding.