Conflicting Views on the Middlebury Controversy
Statements in support of free speech garner thousands of signatures, but also some dissent, among educators.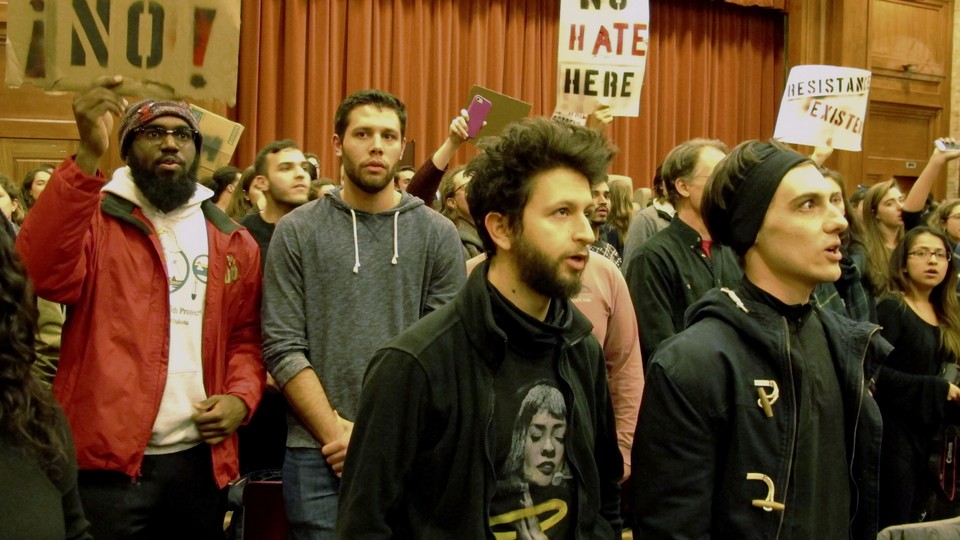 When Charles Murray, the conservative author who sparked national attention for his statements on class and race, was invited to give a talk on the Middlebury College campus earlier this March, it was because a group of students—the American Enterprise Institute Club—was curious to hear what he had to say. But those opposed to Murray's views questioned his right to be on campus, as well as the right of others to hear him speak.
"This is not an issue of freedom of speech," said a letter from more than 450 Middlebury alumni, released prior to Murray's talk. "In this case we find the principle does not apply, due to not only the nature, but also the quality, of Dr. Murray's scholarship."
Opposition to Murray eventually led to students loudly chanting sayings like "Shut it down" and "Charles Murray go away, Middlebury says no way" while the author stood on stage. Eventually, Murray was chased off campus—and even out of town—by a mob of protesters.
But the debate wasn't over. Since the incident, a number of professors have come forward to share their ideological take on the controversy. On March 6, more than a hundred professors at Middlebury released a statement declaring "only through the contest of clashing viewpoints do we have any hope of replacing mere opinion with knowledge."
Another visible reaction came from Robert George, a conservative professor from Princeton, and Cornel West, the liberal professor at Harvard, who issued a joint statement championing free speech. The statement, which received thousands of signatures from fellow educators, reads as a direct response to the Middlebury incident. "All of us should seek respectfully to engage with people who challenge our views," the authors write. "And we should oppose efforts to silence those with whom we disagree—especially on college and university campuses."
A day earlier, Allison Stanger—the Middlebury professor who was asked to debate Murray, and wound with a concussion after being attacked by a protester—published an op-ed in The New York Times that recognized students' concerns, while supporting the free exchange of ideas. Her words are worth a read:
Political life and discourse in the United States is at a boiling point, and nowhere is the reaction to that more heightened than on college campuses. Throughout an ugly campaign and into his presidency, President Trump has demonized Muslims as terrorists and dehumanized many groups of marginalized people. … College students have seen this, and have taken note: Speech can become action.

…

But there was a direct line between the fighting words on campus, the suppression of speech, and the angry mob that gave me a concussion. All violence is a breakdown of communication.
It seemed the academic community had spoken: Students were right to protest on behalf of their beliefs, but wrong to violate the principles of free speech that promote tolerance and effective communication. That is, until a string of op-eds surfaced from professors and college faculty who weren't so convinced.
"I believe in free inquiry. But not exactly in these terms," wrote Barbara Fister, an academic librarian at Gustavus Adolphus College in Minnesota, in an essay for Inside Higher Ed. "Not all wisdom is gained through reasoning. Conflict doesn't make all ideas stronger."
This sentiment was echoed in an essay, published Friday, by Linus Owens, an associate professor of sociology at Middlebury College, and two former students. "This situation is more complex than just being an issue of free speech or diversity of ideas," they write. "To suggest that [minority and working-class students] needed a visit from Murray to expose them to 'controversial' ideas is laughable and offensive."
What once seemed like a divide among students has now created a fault line in the academic community, in what is perhaps a fitting example of the constructive dialogue that should have occurred on the Middlebury campus. Even so, it raises the question: How can students strike the appropriate balance between protest and tolerance when their educators disagree on which is most important?