British Schools Hope to Improve Performance With Chinese Textbooks
The United Kingdom remains increasingly concerned about low math scores among students.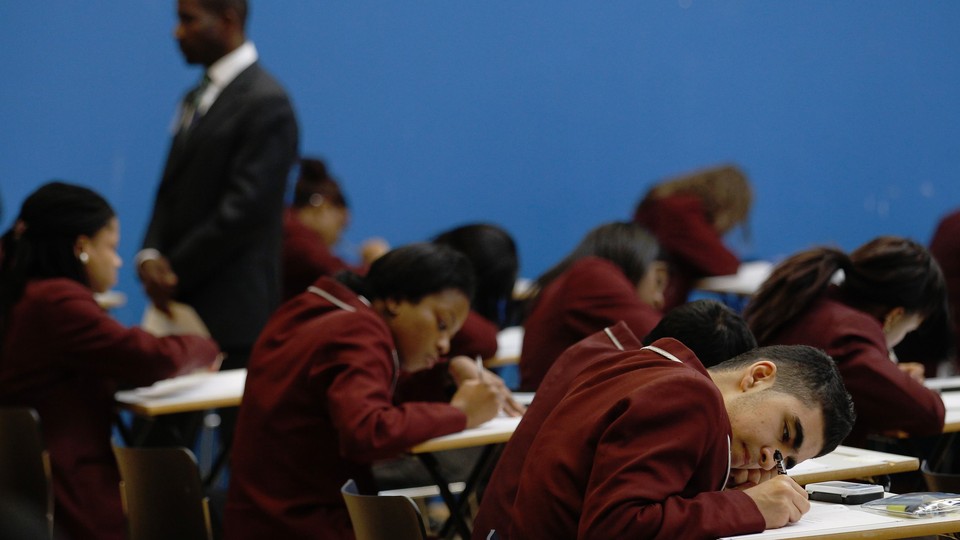 In the latest report from the Organization for Economic Co-operation and Development, the Chinese mainland (consisting of the Beijing, Shanghai, Jiangsu, and Guangdong provinces) ranked fifth among nations with the world's highest math scores. According to the report, around one in four students in Singapore, Hong Kong, Taiwan, and mainland China are considered top-performing in mathematics. The United Kingdom, by contrast, was ranked 27th among nations, despite performing much better in reading and science.
These low math scores have generated concern among British educators, who hope to see their rankings improve to match those of China. In 2014, the UK's National Centre for Excellence in the Teaching of Mathematics (NCETM) partnered with Shanghai academics to implement Asian styles of teaching in a small group of British schools and academy trusts. By 2016, the UK Department for Education had allocated $50.3 million in funding to unleash this "master" mathematics program across 8,000 primary schools.
A press release from the Department for Education says the new program will focus on "children being taught as a whole class, building depth of understanding of the structure of maths." According to this approach, each lesson focuses on a single mathematical concept, which the class will continue to cover until every student has a firm understanding. As a result, much of the funding for this educational overhaul will go toward training educators to adopt this new pedagogy.
Another key component of a "master" mathematics education is the use of high-quality textbooks. Until now, the NCETM has relied on Chinese textbooks to train British teachers, but a recent deal between HarperCollins and the Shanghai Century Publishing Group aims to make these textbooks available to British students as well.
"To my knowledge this has never happened in history before—that textbooks created for students in China will be translated exactly as they have been developed and sold for use in British schools," said Colin Hughes, the managing director of Collins Learning (a UK division of HarperCollins), in a statement to China Daily.
The idea of integrating Chinese textbooks into British schools has gained popularity in the UK over the last few years. The nation's School Reform Minister, Nick Gibb, has been particularly vocal about his belief that international textbooks are key to improving education standards.
"In this country, textbooks simply do not match up to the best in the world, resulting in poorly designed resources, damaging and undermining good teaching," Gibb said at a 2014 Publishers Association conference. At the same conference, Gibb also cited research from the UK education expert Tim Oates, who argues that textbooks, not teachers, are responsible for England's declining education standards.
Other experts have expressed reservations about requiring UK schools to adopt Chinese textbooks, arguing that it could undermine the many positive aspects of a British education. "A one-size-fits-all approach is unlikely to improve children's learning," wrote Ruth Merttens, a professor at the University of St. Mark and St. John, in an essay for The Guardian. "Worse still, it undermines more important features of our culture and heritage, where we punch above our weight in creativity."
Still others fear that the British educational system is ill-equipped to handle the rigor of a Chinese curriculum. In Shanghai, for instance, many students endure 10- to 12-hour school days, in addition to attending private tutoring sessions and school on Saturdays. While the average student around the world spends about five hours on homework each week, Shanghai students spend nearly 14 hours a week on their assignments. Much of this preparation is geared toward passing the university entrance examination, or "gaokao."
By contrast, a UK education is far less time-consuming and devotes more attention to individual learning. British educators also tend to move quickly from one subject to the next and cover a wide range of subjects, rather than specializing in a single area like mathematics. Interestingly enough, the Chinese Ministry of Education has recently turned to the UK for guidance on how encourage creativity in primary schools.
With Chinese and British schools excelling in different areas, it remains to be seen whether the UK will benefit significantly from China's "master" mathematics program (or whether China will benefit from the UK's creativity initiatives). Nevertheless, in a nation where only 10 percent of math teachers rely on textbooks, perhaps British educators could use some international help.