Banning Toys and Financing Religion: This Week's Top 7 Education Stories
The best recent writing about school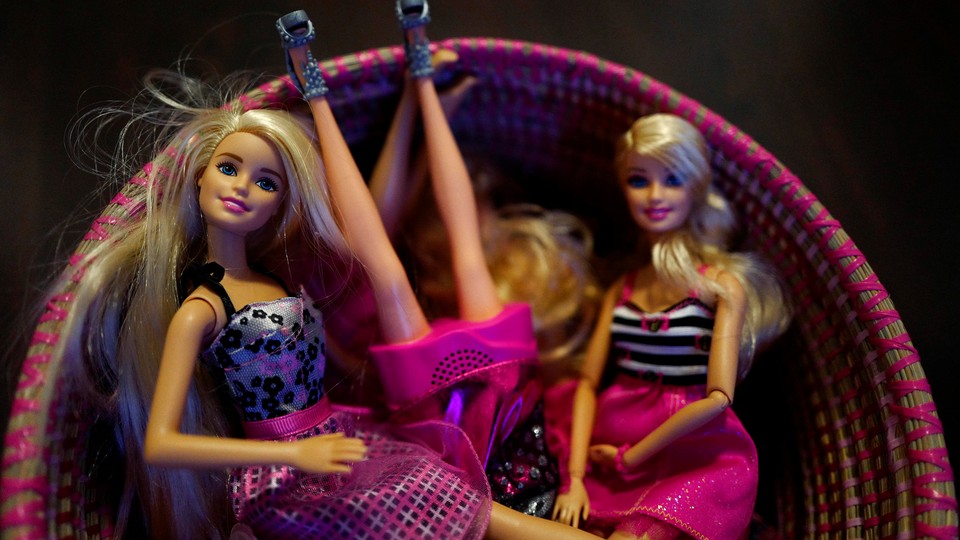 Education After Escaping Abduction
Brenna Daldorph | PRI
Much has been written about the Chibok girls, the 276 schoolgirls from the village of Chibok in northern Nigeria who were kidnapped by Boko Haram in April 2014. … However, there's another group of those Chibok girls we've heard less about—those who managed to escape the night of the abduction.
Mary, Glory, and Ladi are three such girls. Even though militants had threatened to shoot any girls who tried to escape, these three decided to risk it. … Then, something unexpected happened. Margee Ensign, the president of a private school, the American University of Nigeria, heard the escaped girls' story. And she was so moved she decided to offer them full scholarships.
* * *
What Happens When Students Age Out of Foster Care?
Jacqueline Rabe Thomas | The Connecticut Mirror
Ashley Foster loved school—until she entered foster care.
While she was living in a group home, she had no choice but to attend an alternative school where her schedule included courses called "healthy relationships" and "independent study" rather than chemistry. …
Foster is one of about 300 adolescents who will age out of the state's foster-care system this year without ever having been adopted.
* * *
How Taxpayers Finance Religious Education
Chelsea Schneider and Stephanie Wang | Indy Star
At Colonial Christian, an Indianapolis school on the northeast side that receives public funds through Indiana's private-school voucher program, students are warned they can be kicked out of school for "promoting a homosexual lifestyle or alternative gender identity."
At even more voucher-accepting schools, families are required to sign statements of faith as a condition of enrollment, affirming that they hold the same religious beliefs and values as the school.
* * *
What's Next For Childcare in Nebraska?
Margaret Reist | Lincoln Journal Star
While most Nebraskans agree the state should make a greater investment in early-childhood education, rural residents are more worried than their urban counterparts about finding quality daycare, while city dwellers are more concerned about cost.
Still, urban and rural Nebraskans share many of the same opinions about early-childhood education, according to a report released Friday by the Buffett Early Childhood Institute.
* * *
The School Nurses' Antidote to Overdose
Elizabeth Harris | The New York Times
At every school in New Rochelle, just north of the Bronx, in Westchester, there is a locked medicine cabinet in the nurse's office, stocked with things like EpiPens for allergic reactions, inhalers for asthma, Tylenol for aches and pains.
Now, those cabinets also include naloxone, an antidote for people who are overdosing on opioids like heroin. Given as an injection or a nasal spray, naloxone can quickly revive someone who is not breathing. The city keeps it in every nurse's office, including in its elementary schools.
* * *
Germany is Taking Away Kindergarteners' Toys to Curb Future Addiction
Sara Zaske | The Atlantic
The toy-free kindergarten is not a new idea in Germany. It grew out of an addiction study group in the Bavarian district of Weilheim-Schongau that started meeting in the 1980s. The group included people who had worked directly with adult addicts and determined that, for many, habit-forming behavior had roots in childhood. To prevent these potential seeds of addiction from ever being planted, the researchers ultimately decided to create a project for kitas and kindergartens, which in Germany typically serve children ages 3 to 6, and remove the things children sometimes use to distract themselves from their negative feelings: toys.
* * *
Will Cornell Graduate Students Vote to Unionize?
Anna Delwiche and Josh Girsky | The Cornell Daily Sun
After two and a half hours of counting ballots and over an hour of discussions and deliberations, officials from the American Arbitration Association declined to announce a result in this week's union-recognition election. …
After three years of organizing, protests, rallies, demonstrations, and even at-home solicitations, graduate students headed to the polls on Monday and Tuesday to vote on whether they wanted to recognize Cornell Graduate Students United, with affiliates American Federation of Teachers and New York State United Teachers, as their official graduate-student union.