Betsy DeVos's Misunderstood Alma Mater
Calvin College is no fundamentalist Christian school.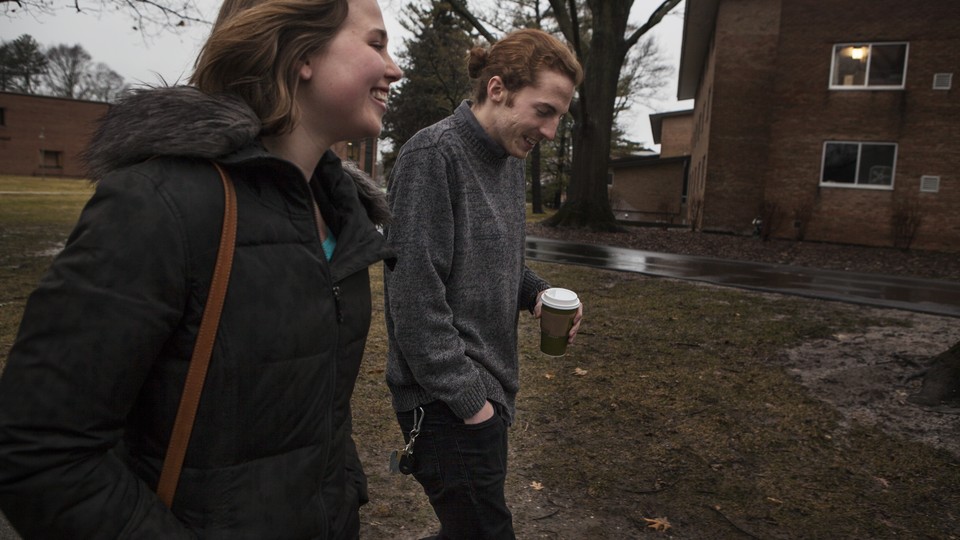 GRAND RAPIDS, Mich.—It would be easy enough to drive past Calvin College without giving Betsy DeVos's alma mater a second thought. Six miles southeast of downtown, the school is a sprawling cluster of nondescript buildings and winding pathways in a quiet suburb. But to bypass Calvin would be to ignore an institution whose approach to education offers clues about how the recently appointed U.S. education secretary might pursue her new job, and about the tug religious institutions feel between maintaining tradition and remaining relevant in a rapidly diversifying world.
DeVos is now Calvin's most famous alum, and in recent weeks, the school has been painted in some circles both online and in conversation as a conservative, insular institution that helped spawn a controversial presidential-cabinet member intent on using public dollars to further religious education. But that is a grossly simplified narrative, and one that obscures the nuances and very real tensions at the school.
In more than a dozen interviews, professors, students, and alumni of all political stripes painted a picture of a college where intellectual diversity and thought-provoking debate are the norm, and where the belief that followers of the Christian Reformed Church, with which the school is affiliated, have an obligation to engage with the world around them compels both instructors and students to question what they think they know.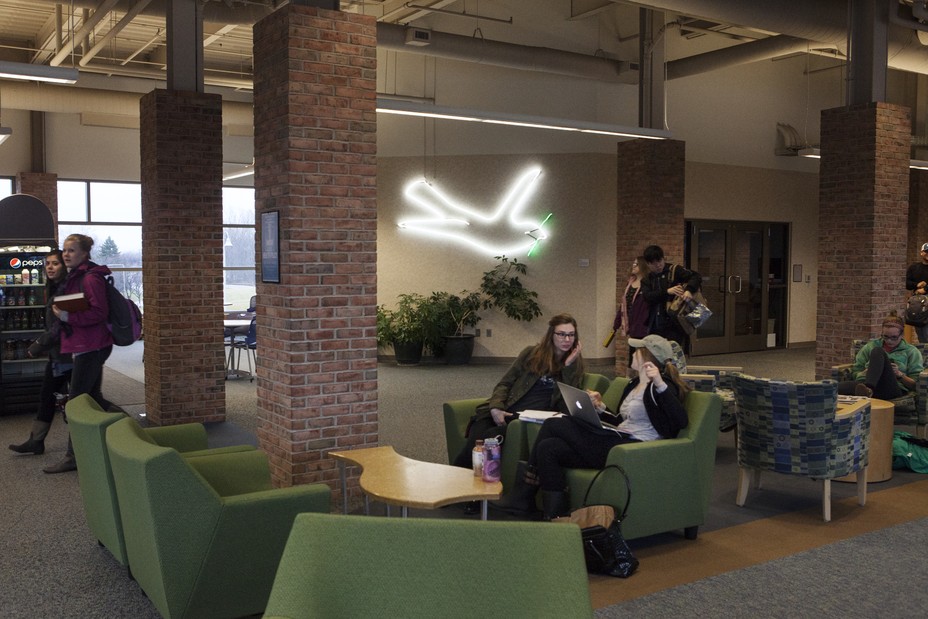 "Our faith commits us to engaging the world all around us," said Kevin den Dulk, a political-science professor who graduated from Calvin in the 1990s, during an interview in the DeVos Communication Center, which sits across from the Prince Conference Center bearing the secretary's maiden name. (Her mother, Elsa, is also an alum.)
Den Dulk's words aren't just PR fluff; it's a concept borne out by the school's 141-year history and the Dutch-influenced part of western Michigan it calls home. The Christian Reformed Church is a Protestant tradition that has its roots in the Netherlands and has been deeply influenced by the theologian Abraham Kuyper, a believer in intellectualism—specifically the idea that groups with different beliefs can operate in the same space according to their convictions while respecting and understanding others. "Fundamentalism is really anti-intellectual and Calvin is the exact opposite," said Alan Wolfe, the author of a 2000 Atlantic piece about efforts to revitalize evangelical Christian colleges.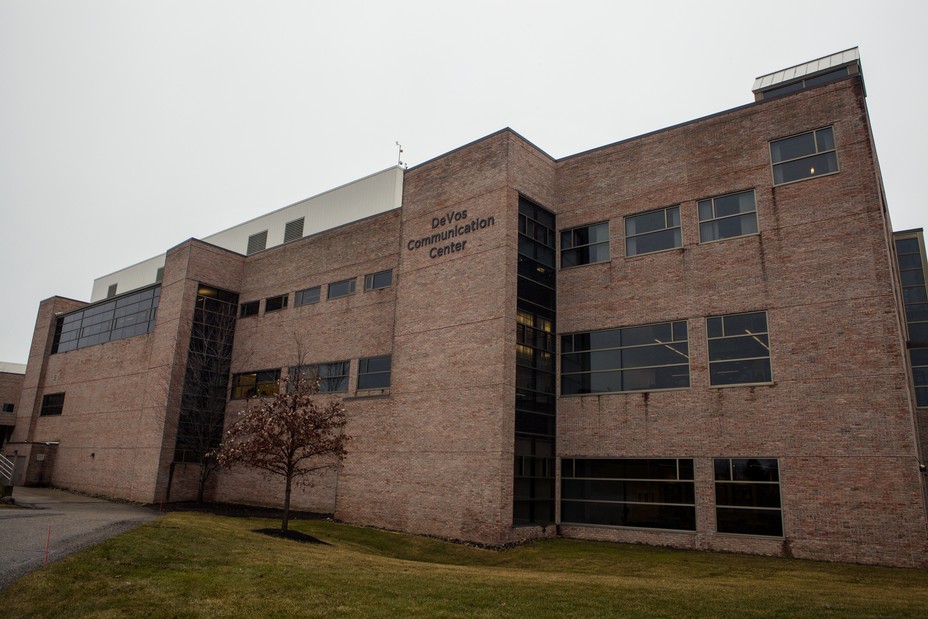 As Wolfe noted, Christian colleges are no monolith. Where evangelical colleges like Calvin, Pepperdine University, and Baylor University are "part of a determined effort by evangelical-Christian institutions to create a life of the mind," fundamentalist schools like Bob Jones University have often taught that the bible should be taken literally and resisted intellectual debate. As Wolfe noted, quoting the historian Mark Noll, fundamentalists had "a weakness for treating the verses of the Bible as pieces in a jigsaw puzzle that needed only to be sorted and then fit together to possess a finished picture of divine truth." Professors and students at Calvin said they feel that distinction is often blurred when people talk about religious colleges, as is the fact that students at Calvin have long grappled with social and political issues that some fundamentalist Bible colleges have studiously avoided.
* * *
Buried in the dusty stacks of Calvin's library are clues about the topics that gripped the campus when DeVos—then called Betsy Prince—enrolled at the school in 1975. A November article that year in the Calvin Chimes student newspaper, now part of the library's collection, bears the headline "Black Community Discusses Problems With Law Enforcement Officials, Sets Goals." A piece the following year entitled "Cultural Poverty" reports on a "racial-awareness conference" where students "spoke of the need for history courses on minority groups." The story pointed out that most of the scholars and writings students studied were Caucasian, and urged readers to push past the notion that western culture is "most influential" and question "why this civilization is most influential." Later the piece asserts that the reason has to do with the "arrogance" of western people.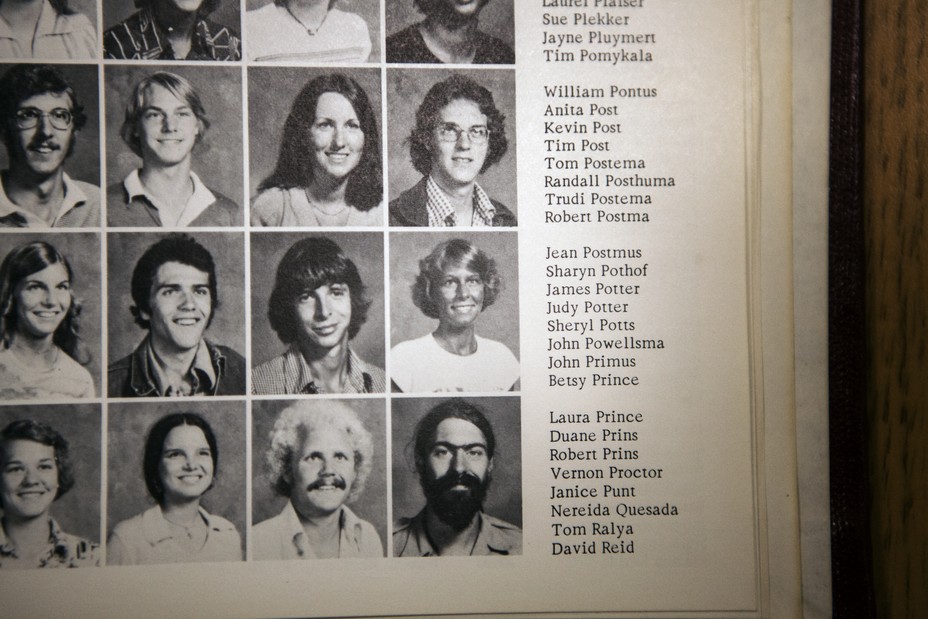 The fall after DeVos graduated with a degree in business economics in the spring of 1979, the school's magazine, Spark, published an article called "Calvin Probes Shortcomings," about how minority students were not always served well at Christian schools and Calvin, specifically. "It was apparent from the discussion that there were differences of opinion regarding the extent of the problem and what actions should be taken to redress the situation," the article said. One black alum, the piece continued, "noted that, although he was deeply grateful for his Calvin education, he had reluctantly concluded that he could not always recommend a college education at Calvin to black friends and members of his congregation."
At Calvin today, the Black Lives Matter movement, racial diversity on campus, and minority outreach are still contested topics. Aside from a few dated terms and turns of phrase, the pieces in Calvin Chimes and Spark could easily appear in any number of modern campus papers, religiously affiliated or otherwise. That's both a depressing sign that progress on such issues is slow, and an indicator that Calvin has historically not shied from such debates, even when DeVos was a student some 40 years ago.
In 1985, the college adopted a "Comprehensive Plan for Integrating North American Ethnic Minority Persons and Their Interests Into Every Facet of Calvin's Institutional Life." In a 2010 update, the school acknowledged that the work is broader now and even somewhat more elusive. In outlining steps to recruit, retain, and promote more people of color both as students and faculty, Calvin acknowledged that it was behind on goals to enroll more racial minorities and that some of the students who did enroll were burdened by feelings of being "unusual."
But these debates are arguably even more pressing today. As young people in the United States become increasingly racially diverse and as the percentage of students on campus who identify as members of the Christian Reformed Church dwindles, Calvin has been forced to spend more time recruiting in places like Detroit and enticing international students to western Michigan, with mixed results. Enrollment has declined slightly over the last several years and skewed slightly more female. Racial diversity is up, but minority students still represent less than 15 percent of the student body. The number of students whose parents attended Calvin has also declined over time, meaning the school cannot simply rely on the same families to replenish the supply of students.
"The change is dramatic," den Dulk said. When he was enrolled in the '80s, somewhere around three-quarters of the students were affiliated with the Christian Reformed Church. Now, it's closer to a third. Where there used to be "a slight bit of tribalism," now classrooms are full of students from different backgrounds with varied beliefs and "some of the faith assumptions have to be talked about," he said.
"A college in transition" is how Jonathan Eigege, a 24-year-old Nigerian student who graduated from Calvin and served as student-body president his senior year, described the institution. Over coffee in Washington, D.C., Eigege said he appreciated that, at 4,000 students, the school was small enough that people with different mindsets and ideologies were forced to interact. As a current graduate student at Johns Hopkins, his classmates seem uniformly liberal and he feels as if he's missing out on something valuable. But he doesn't miss the lack of diversity at Calvin, where—even in 2015—he was sometimes the only black person in a room.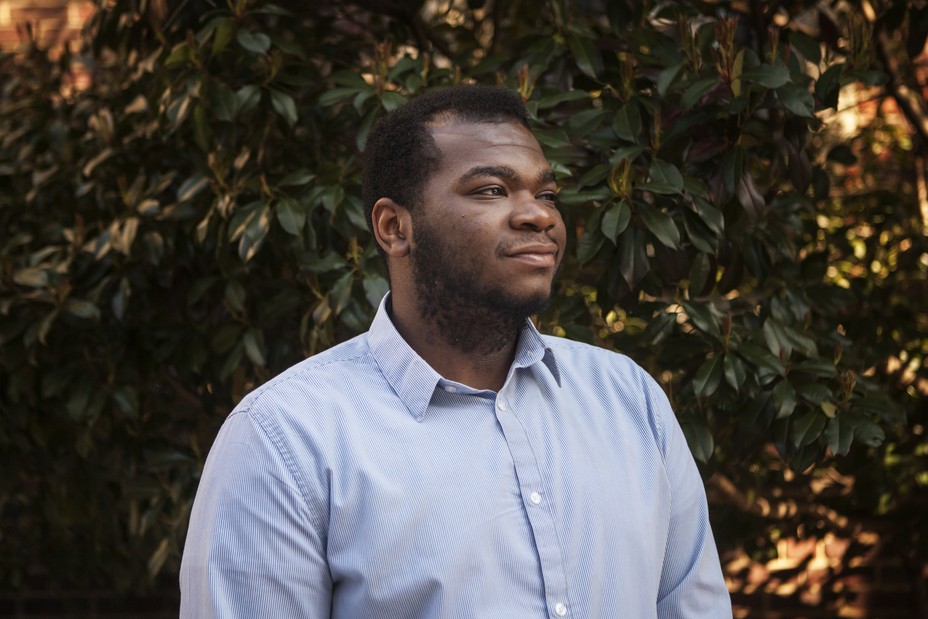 Kelsey Waterman, an African American senior from Detroit studying education and Spanish, knows how that feels. She still has drafts of applications to other colleges saved on her computer from her freshman and sophomore years. "The first few years were difficult trying to find my place," she said.
In recent years, the school has ramped up efforts to increase racial diversity by recruiting more students of color, and there are more student organizations and resources on campus geared toward supporting them once they're enrolled. A decade ago or so, the school started hosting Rangeela, an annual international student cultural showcase. As the school casts a wider net, it is only reasonable that racial, religious, sexual, and ethnic diversity will expand, too. There's a popular discussion series on sexuality where den Dulk and multiple students insist no subject is off limits. After the Orlando nightclub shooting, campus sidewalks were covered in rainbow art.  "There isn't an ideological litmus test for us to be here," he said.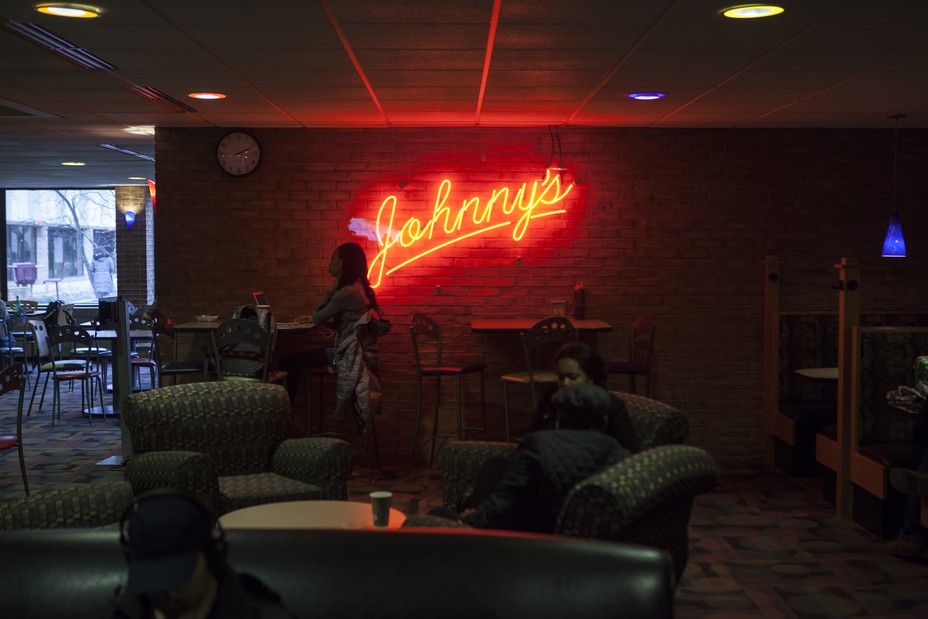 But there are limitations, thanks to the school's continued affiliation with the Christian Reformed Church, that breed tension and fuel misperceptions. Jane Zwart, a professor of English who studied at Calvin in the late '90s, put it this way in an email:
"[W]hen you hear a phrase like 'the kingdom of God' around here, the point is that the world belongs to God—which is not the same thing as the world belonging to those of us who believe in God, to those of us who are Christians. Calvin College is not preparing students to be the heirs to the kingdom of God. It's preparing them to be servants in the kingdom of God. And the kingdom of God does not thrive on exclusion; it chokes on exclusion. It thrives when we recognize that God created every human being in God's image and live up to what that truth requires of us, which is a great deal when, to give you one example, it comes to human rights. It thrives when we remember that Jesus wanted to make every last one of us a sibling and that, in consequence, we need to treat every person as a sister or a brother."
The church has conservative views (and hiring practices) when it comes to LGBT rights, and faculty are still technically required to attend an affiliated church and to send their children to Christian schools, although exceptions are sometimes granted. (Den Dulk's own children have at various times attended public schools.)
The library has long been closed on Sundays because of the sabbath, and students are only allowed to visit the dorm rooms of members of the opposite sex four days a week during specific windows. Protestations recently that the rule forced the breakup of a perfectly innocuous Super Bowl watch party proved ineffective at granting an exception. A 2010 concert by The New Pornographers was scrapped because the school was nervous about appearing to endorse pornography. That's not to say that the school is some Footloose-style pietistic bubble where drinking and dancing aren't allowed; students spend plenty of time and money at the many breweries in Grand Rapids, including one in a converted funeral chapel. And, as Eigege put it, "It's college kids … so, yeah, stuff happens."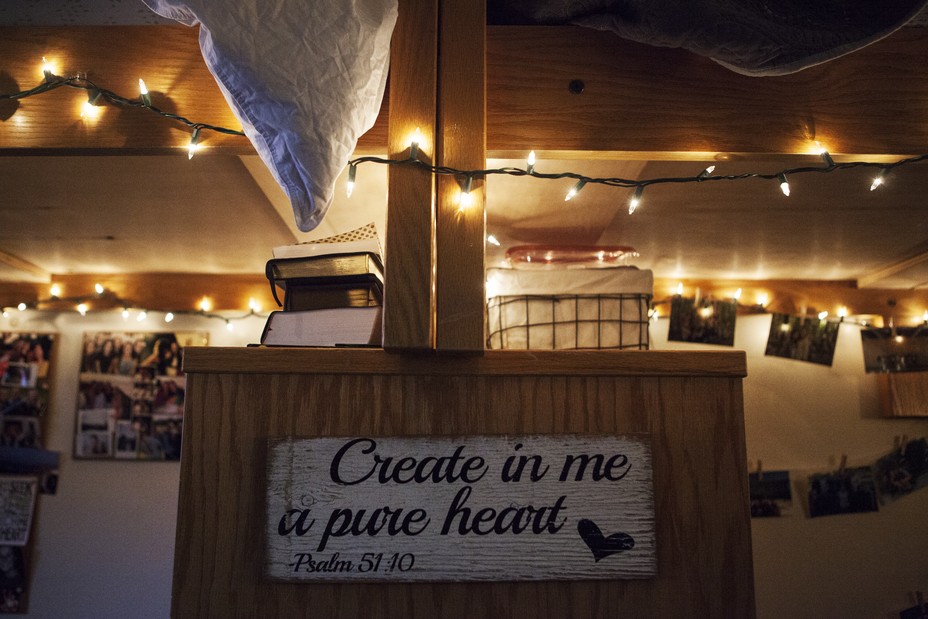 But there is tension inherent in the fact that the school sees tradition as a place from which to build, and that that tradition is grounded in ethnic theology. Real problems emerge, den Dulk said, where ethnicity is tied to theology because then it can become exclusionary, which becomes untenable as the United States becomes more ethnically diverse. At least as late as the '90s, it wasn't uncommon to hear "If you ain't Dutch, you ain't much" jokes on campus.
Why not abandon ties to the Christian Reformed Church or even Christianity altogether? After all, elite universities like Harvard haven't been harmed by their pivot toward secularism. There are certainly conversations about the idea, but the notion of becoming a more generic evangelical college or a secular institution worries donors—who are generally older and affiliated with the Christian Reformed Church—and even students, who are still mostly (though not all) Christian of some variety and see religious education as a foundational part of a commitment to engaging the world around them.
The school's president, Michael Le Roy, has remained largely quiet, at least publicly, in the aftermath of DeVos's confirmation, but he delivered the following remarks, which the Atlantic obtained, to the faculty senate on Valentine's Day:
"We are in the midst of a season of tremendous uncertainty and considerable political polarization. The temptation for any Christian institution is to mimic the secular order of things. At Calvin we possess a unique opportunity in our teaching, scholarship and service to model civic and public discourse that meets arrogance with humility, hatred with love, bluster with wisdom, falsehood with truth, injustice with justice, ignorance with learning."
"It's a very hard dance [and] it's definitely a very critical point," Eigege said. Ultimately, he said, attending a religious institution gave him "sure footing in terms of my worldview." Jamin Short, a 21-year-old student from Ontario, Canada, put it another way: "Calvin has helped me see that my faith is practical."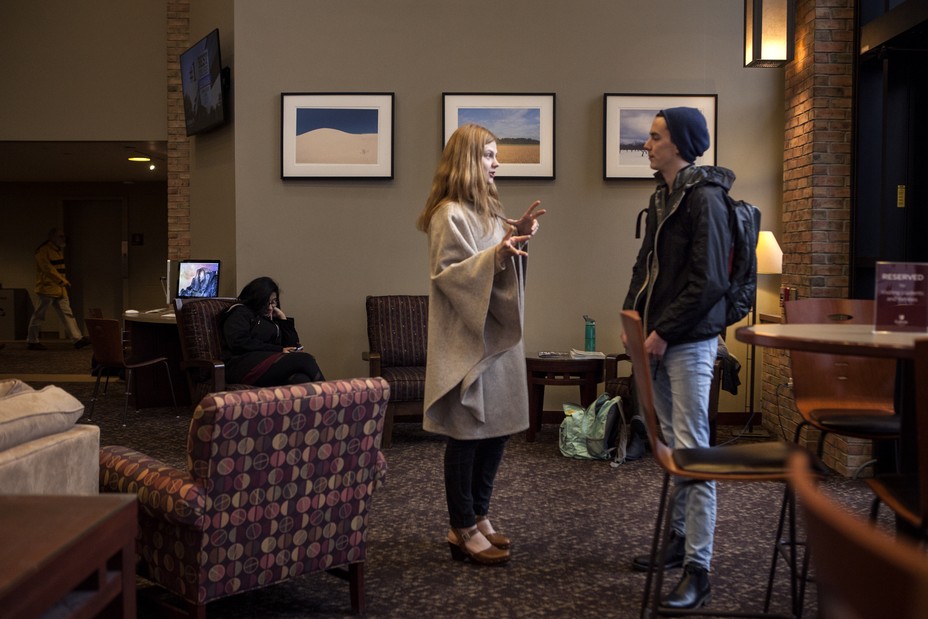 Short's revelation isn't entirely novel. Around the time DeVos graduated, the president of the student senate penned this reflection in Spark:
"It is not easy to separate the root of Calvin's problems from the root of her strength: she comes from a group of tightly knit people who send their children to their own schools, kindergarten through high school through college, a group who saw the larger American system as not altogether desirable, a group that believed that the heritage and faith of their fathers were worth keeping. That is fine, we must hang on tightly to our faith, and we should not forget our heritage, but we cannot think that our own heritage is more rich or more worthy than someone else's."
This ecosystem, ever in flux, has given rise to an institution that defies stereotypes and to an array of reactions to DeVos's selection as education secretary from students, faculty, and alumni. DeVos has been an ardent supporter of not only charter schools, but also the use of vouchers (public money to support private education, and religious education in particular), and generally opposes state and federal regulation. While many in the Calvin orbit are proud of her selection, others are appalled at both her views and her lack of experience (she has never taught public school).
Sara Moslener, who graduated from the school in 1996, falls in the latter group, having penned a letter in January signed by thousands of alumni opposing her nomination. And while she's not a fan of DeVos, she's not as surprised by the diversity of opinion about her selection as people unfamiliar with Calvin might be.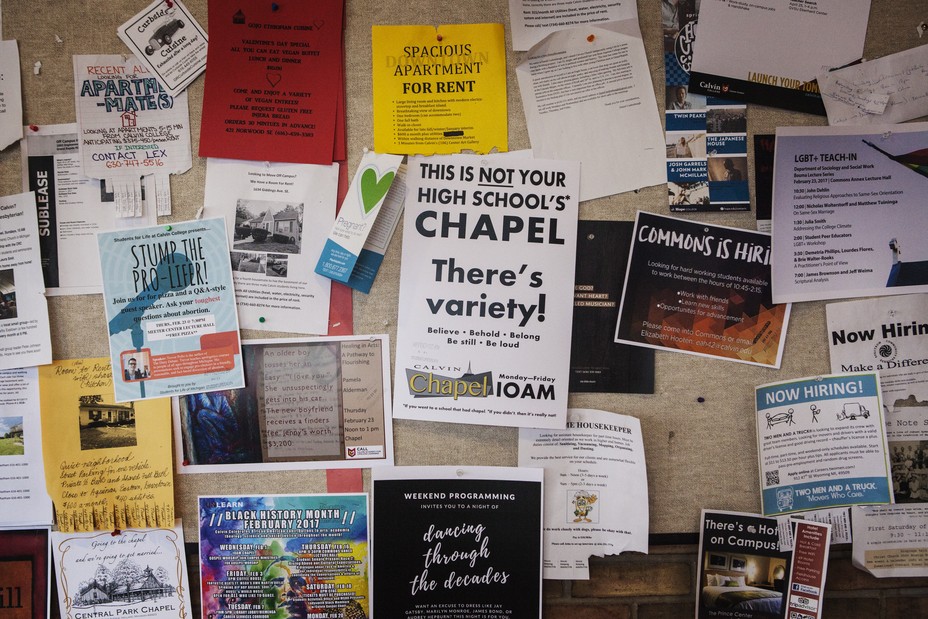 "It's a very lively place," she said during a phone interview. When Moslener first arrived on campus, she said, she was surprised to see a Clinton bumper sticker on a professor's car. "I was shocked because I could not believe that a Christian would vote for a Democrat," she recalled. And she said she owes part of her own worldview and identity as a Democrat to the lessons in critical thinking she received at Calvin, lessons DeVos presumably gleaned to vastly different ends.
In 2005, alumni circulated a letter and took out a newspaper ad opposing George W. Bush as commencement speaker. "I know this about Calvin. I know this about Calvin alums. This is what we do," Moslener said. "This [Betsy DeVos debate] feels like the same kind of thing." After all, Calvin is a school that has produced both DeVos and Paul Schrader, the writer behind both Taxi Driver and The Last Temptation of Christ, which was roundly criticized by religious institutions as morally offensive. In other words, the school doesn't spit out cookie-cutter graduates.
Today, that's a fact that leaves some students struggling to reconcile their personal interpretations of Christianity with those of both DeVos, and even more acutely, President Donald Trump and his supporters. Few people from this part of Michigan operate under the assumption that DeVos is an ardent Trump fan. Instead, they are grappling with her decision to serve in the cabinet of a man whose version of Christianity is so vastly different from their own. "I feel so distant from them," said Emily Cole, a 22-year-old student who said it's been hard to see people who identify as Christians but don't seem to care about racism. Anneke Kapteyn, another student who grew up the daughter of missionaries in Cameroon and Brazil, agrees. The willingness of the administration to ignore the plight of refugees has astounded her. And yet, she continued, Calvin has been a place where she's learned not what to think, but "how to think." That's one reason she found DeVos's recent comments at a conservative conference, which seemed to imply that colleges don't promote free thinking, so astonishing.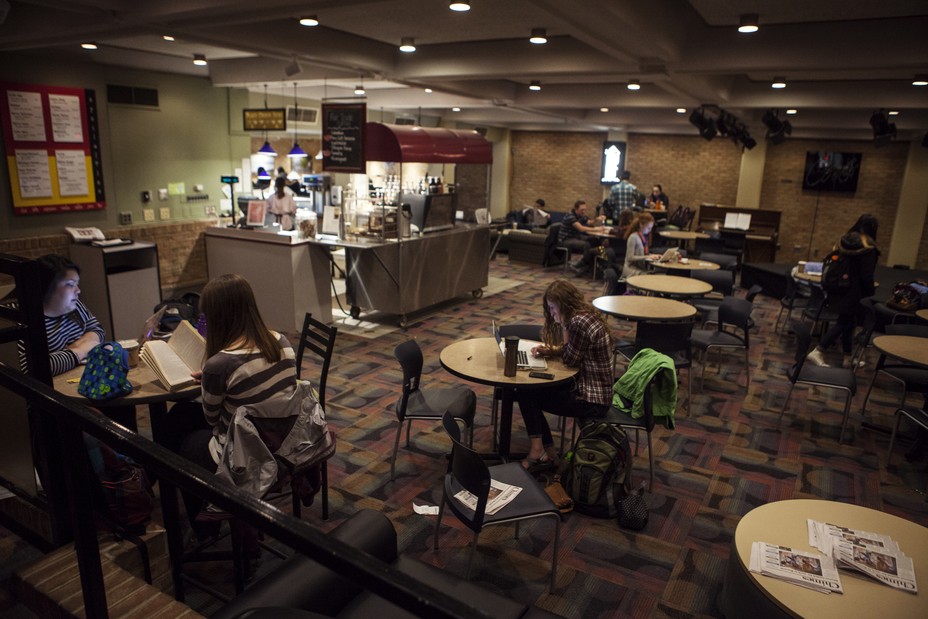 It's impossible to know just how deeply Calvin influenced DeVos's thinking. She grew up in a wealthy, politically active family and married into another wealthy and politically active family, attending religious schools throughout her entire childhood and managing a range of religious, commercial, and political affiliations as an adult. But it's probable that DeVos, who served on the school's senate as a student, also gained an education in "how to think" on a campus that, as Le Roy put it, is "the ideal place to debate theological and political points of view." The increasingly pressing challenge, of course, is to make sure that truly different points of view are represented and respected on campus.

Emily Jan and Alia Wong contributed reporting. Nshira Turkson contributed research.