A Pause in International Students?
A new survey says U.S. colleges are worried about future enrollment.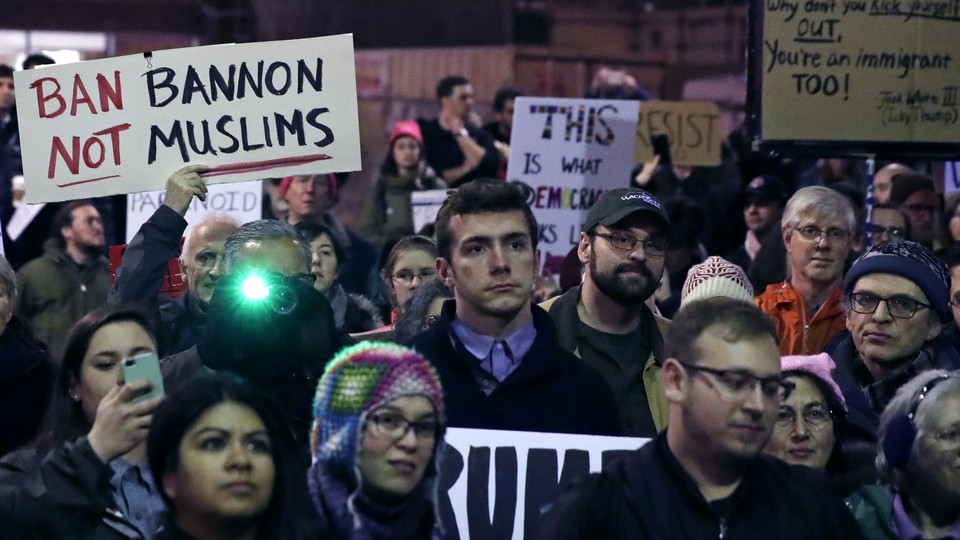 A new survey reveals that four in 10 U.S. colleges have experienced a decline in international applicants for the Fall 2017 term. The survey of around 250 colleges and universities—which will be released in its entirety later this month—was conducted in February by six higher-education groups, including the Institute of International Education.* More than three-quarters of institutions surveyed expressed concern about future enrollment.
According to a news release, the survey was initiated in response to fears "that the political discourse surrounding foreign nationals in the U.S. ... could be damaging to international student-recruitment efforts." Indeed, the most significant decline in applicants came from the Middle East, with universities reporting a 39 percent decrease in Middle Eastern undergraduate applications and a 31 percent decrease in graduate applications from the region.
Last year alone, the six nations listed among President Trump's revised travel ban sent around 15,000 students to the U.S. Whether this ban influenced the recent decline in applications from the Middle East remains unclear, though many college administrators say they have noticed a correlation.
"The rhetoric and actual executive orders are definitely having a chilling effect on decisions by current applicants/admitted students, and by extension are likely to affect future applicants as well," Portland State's President Wim Wiewel wrote to Inside Higher Ed.
Walter Caffey, the vice president for enrollment management at the University of New Haven, said he finds himself fielding more questions from international applicants about safety on campus. "There's a larger concern about feeling welcome studying here in the states," he says, adding some international students are starting to consider universities in Australia and the U.K., while others are inclined to wait a year before accepting an admissions offer in the U.S.
According to the survey, many students and families across the Middle East, Asia, and Latin America fear that Trump's travel ban could soon extend to additional countries or eventually lead to visa denials at U.S. embassies and consulates in China, India, and Nepal. China and India are the top two sources for international students in the U.S.
This isn't the first time foreign students have been affected by U.S. travel orders. In 1980, Jimmy Carter invalidated the visas of Iranian citizens, resulting in the deportation of over 400 students. In the aftermath of 9/11, George W. Bush also instituted a crackdown on student visas that drew criticism for isolating higher education in the U.S.
Despite this history, many international students are eager to reap the benefits of an American education. After speaking with a number of prospective students in India, Wiewel told Inside Higher Ed that he was "struck by how much U.S. higher education is still considered the holy grail." While 39 percent of the universities surveyed saw a drop in international applicants, another 35 percent reported an increase, while 26 percent saw no change. It's worth noting that many international students submitted their applications before the Trump administration first declared a travel ban.
The full effect of the United States' proposed international restrictions will become clearer as college acceptances begin to arrive this spring. But according to research from Harvard and the World Bank, the U.S. has been losing its share of educated immigrants to Britain, Canada, Australia, Norway, and Mexico for decades. This shifting distribution of foreign talent is good news for universities outside the U.S., but bad news for American innovation. Economists say there is a correlation between immigrants and a rise in both patents and technology in the U.S. As of February 2016, over half the nation's billion-dollar startup companies were co-founded by immigrants.
Foreign students are especially drawn to university STEM programs, making up nearly a fifth of STEM workers with a bachelor's degree in the U.S., 40 percent of those with a master's, and more than half (54.5 percent) of those with a Ph.D. Across universities, the decline in foreign applicants has been felt most acutely in engineering programs.
A major concern for the U.S. could be the loss of talent from China and India, which provide nearly half of the nation's international students. According to the survey, a quarter of universities saw a drop in undergraduate applications from China, while 32 percent saw declines in Chinese graduate applications. Meanwhile, 26 percent of universities reported a decline in undergraduate applications from India, in addition to a 15 percent decline in India's graduate applications.
While China and India are not directly influenced by the proposed travel ban, their students remain conscious of a shift in the U.S. attitude toward immigrants. Many surveyed universities found that international students now view the U.S. as less welcoming to individuals from other nations.
Neither universities nor the U.S. government can afford to ignore these concerns. In the last year alone, Chinese students contributed $11 billion to the U.S. economy, while Indian students contributed another $5 billion. International students typically pay full price for tuition, thereby helping to subsidize the cost of tuition for American students.
For Caffey at the University of New Haven, the concerns are more than financial. While he says a decline in international students "certainly could have a financial impact on institutions like ours," he also worries about a college environment without a diverse group of international students. "What international students bring to our domestic students in the classroom is invaluable," he says. "Anything that may impact that is a concern on many levels."
Although the current decline of foreign talent to the U.S. is unlikely to shake the nation right away, the economic and cultural losses could become stark over the next few years. February's survey offers yet another warning sign that America's higher-education system could face a difficult road ahead.
---
* This article originally cited the College Board as one of the organizations behind the survey, which it is not. We regret the error.