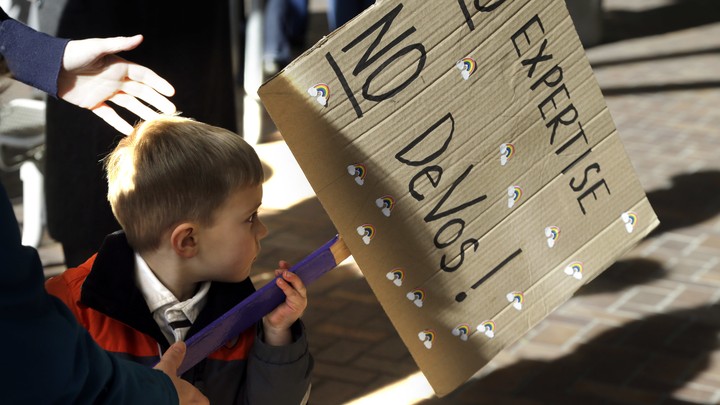 A 40-second scene on Saturday Night Live this past weekend featuring Kate McKinnon as the beleaguered Betsy DeVos, now the nation's education secretary, blew up almost instantly on social media. The scene could've easily been just a blip, buried within the remarkable skit that had the affable Melissa McCarthy playing the role of Sean Spicer, the White House's pugnacious press secretary. But McKinnon's cameo as DeVos made its own headlines.
Perhaps it was because the SNL comedian so flawlessly, and efficiently, embodied the most glaring criticisms of the Michigan billionaire-turned-Cabinet member. McKinnon's DeVos failed to answer a reporter's question about growth versus proficiency, as DeVos did during her confirmation hearing; McKinnon responded that she doesn't "know anything about school." She alluded to her desire to funnel public-education money into private schools, namely Christian ones. And she finished off with DeVos's now-infamous comment about the need for guns on campus to protect students from grizzly bears.
But perhaps another reason the skit was so noteworthy was because it highlighted issues—and, indeed, a Cabinet position—that typically only garner the interest of those deeply embedded in the education world.
"All us education nerds were on Twitter saying, 'Whoa, there was an education secretary being spoofed on SNL!' That says it all, right?" said Joshua Starr, the CEO of PDK International, a professional educators' association, and the former superintendent of Montgomery County Schools in Maryland.
SNL, with its February 4 sketch, may have actually been late to the game; DeVos has been a national sensation for weeks, starting with the day she took questions from the Senate Health, Education, Labor, and Pensions Committee. Since then, DeVos has attracted input from celebrities including the author Stephen King, the comedian Jimmy Kimmel, and the former Star Trek actor George Takei. Her name has bombarded Facebook feeds and trended on Twitter. She's even been analogized to a villainous contender on this season of The Bachelor.
Of course, the Democratic campaign to block DeVos's confirmation didn't work. Thanks to a vote from Mike Pence, who in an unprecedented move used his power as vice president to break the Senate's 50-50 tie, DeVos ultimately made it through the drawn-out process to become President Trump's education secretary. Her critics are devastated. But in an odd twist, DeVos's confirmation as secretary could prove itself an unexpected boon for advocates, teachers, and parents exasperated with the state of school reform in the country—bringing education policy further into the mainstream than any SNL sketch could ever do.
* * *
Why has America been so fixated on DeVos? Taken in isolation, the factors that her detractors highlight aren't so extraordinary compared to Trump's other picks. Critics have often cited her lack of experience. But DeVos—who served as a former chairwoman of both the American Federation for Children, a school-choice advocacy group, and the Michigan Republican Party—is as new to government leadership as Secretary of State Rex Tillerson or housing-and-urban-development nominee Ben Carson. Similar parallels can be drawn with regard to questions about DeVos's substantial financial investments and potential conflicts of interest; when it comes to U.S. presidential Cabinets, the degree of affluence among Trump's picks is unprecedented.
Observers speculate it was likely DeVos's meme-generating confirmation hearing that solidified her legacy as one of Trump's most controversial Cabinet nominees and fueled the surge in activism. "When she was nominated, she was going in as the poster child of every negative aspect of what people feel [education] reformers are: white, entitled, wealthy, send their kids to private school," said Maria Ferguson, the executive director of the Center on Education Policy, a public-school advocacy group based at George Washington University in Washington, D.C. "And when she finally took the stand and had the opportunity to tell the world who she was, she did a very bad job of it. I understand how hard public speaking is, but she could not have blown it more."
News that Republican Senators Susan Collins of Maine and Lisa Murkowski of Alaska would be opposing DeVos's nomination—making DeVos, in turn, Trump's most contested Cabinet pick in the Senate so far—only kicked tensions up a notch. Congressional offices were, according to Politico, inundated with tens of thousands of phone calls and more than 1 million emails. On Thursday, the day before the Senate in a procedural vote agreed to advance DeVos's nomination, Democratic Senator Brian Schatz of Hawaii tweeted that the previous three days had been the busiest in Capitol-switchboard history.
To get an idea of how interest in DeVos stacks up against that in previous education secretaries, just look at how frequently people have googled her in the past few weeks compared with how often they googled Obama's school chiefs, Arne Duncan and John B. King, Jr., when they were in her same position:
Supporters of DeVos have largely blamed teachers' unions for the groundswell in opposition. Her "confirmation has generated so much interest on both sides of the aisle because she really represents a challenge to the status quo, and that frightens the education establishment," said Jeremy Adler, the communications director for the policy arm of a GOP opposition-research firm that's challenged attacks on her nomination, in an email. "On top of that, left-wing unions like [the American Federation of Teachers] and [the National Education Association] that are desperate to protect the status quo have bought the loyalty of Democrat senators by pouring money into their campaign accounts, which explains why they are marching along in lockstep to oppose her."
But various news outlets have made it clear that the DeVos opposition extends far beyond the unions and their followers. Indeed, protests calling on Republican senators to vote no on DeVos have sprung up across the country —from Omaha, Nebraska, to Fort Collins, Colorado, to Charleston, West Virginia.
"The very amount of outcry that there's been and the amazing reaction that's occurred shows just how ... many thousands of Americans connect into this issue in a very passionate way," said Chris Loss, a historian and education-policy professor at Vanderbilt University in Nashville, Tennessee. "To me, it's evidence of just how mainstream education has become—unlike more arcane policy issues like housing and energy, issues that seem kind of abstract to the average voter. Education is pretty immediate, it's pretty visceral."
Both PDK International's Starr and Ferguson also spoke of the passion DeVos's confirmation process has aroused—ironically attributing some of the anger directed toward her to pent-up frustration over the education policies advanced during the Obama administration. DeVos represents a distancing from those approaches—primarily test-based accountability and federal overreach—and has consistently insisted education should be left to state and local governments. But the outrage that people feel may in many ways be symptomatic of an earlier era. As Ferguson put it: "Sensitivity to [education issues] was fairly high anyway. Teachers and education leaders on the ground have really felt under the gun for the last decade, and in their view have been kicked around a lot by the media and by others and blamed for all the problems."
When it comes to DeVos, that frustration, Starr said, was exacerbated by the almost sentimental attachment Americans have to their local public schools—and the threat to that attachment that she might represent. "The response, while it may be emotional … is consistent with the vitriol she has spewed toward public education and public educators," he said. Most parents are satisfied with their local public schools. Two-thirds of public-school parents give their child's school an A or B grade, according to last year's PDK survey—far better than Americans overall grade their local public schools or the schools nationally.
If, as secretary, DeVos underwhelms those who opposed her nomination, attention will remain on education issues. "If she continues to show her lack of knowledge about public education and make gaffes about grizzly bears and things like that," Starr said, "she'll continue to be an easy target."
Ferguson agreed, noting that "powerful folks"—DeVos critics from the teachers' unions to high-profile Democrats and advocates—"will not let this go." "They'll keep the issue out there and have her around to be … their whipping post," she said. "It will only help them because they can constantly point to her as the symbol of everything that's wrong. … People who care about public education have a real opportunity here to say, 'Okay, we've all been talking about this a lot. Let's really think about what our public-education system needs to sustain itself robustly for the next century, so people like Betsy DeVos don't want to keep tearing it down."
King, the former education secretary, said he hopes the activism that DeVos has inspired continues and that his successor proves her critics wrong, "leading the department in a way that strengthens public education and protects students of all backgrounds."
Still, there's a possibility the controversy around DeVos won't last for too long—or at least not at the fever pitch it's been so far. Ultimately, DeVos's authority would likely be much more symbolic than much of the protests are making it out to be. The Every Student Succeeds Act, which replaced No Child Left Behind, leaves the U.S. education secretary with far less power than it bestows on states with regard to designing and implementing education policy. And federal dollars account for just a small percentage of overall education funding.
"The challenge for any policy area like education is that it matters to the American people, but it kind of comes and goes, ebbs and flows within an administration," Loss said, noting that he thinks that other topics will quickly overshadow education in the country's zeitgeist. "My guess is we'll just go back to the status quo, and we'll keep lumbering on."
We want to hear what you think about this article. Submit a letter to the editor or write to letters@theatlantic.com.
Alia Wong
is a former staff writer at
The Atlantic,
where she covers education and families.