The School for Refugees
A public school in Indianapolis is more than just open to students new to America—it was made for them.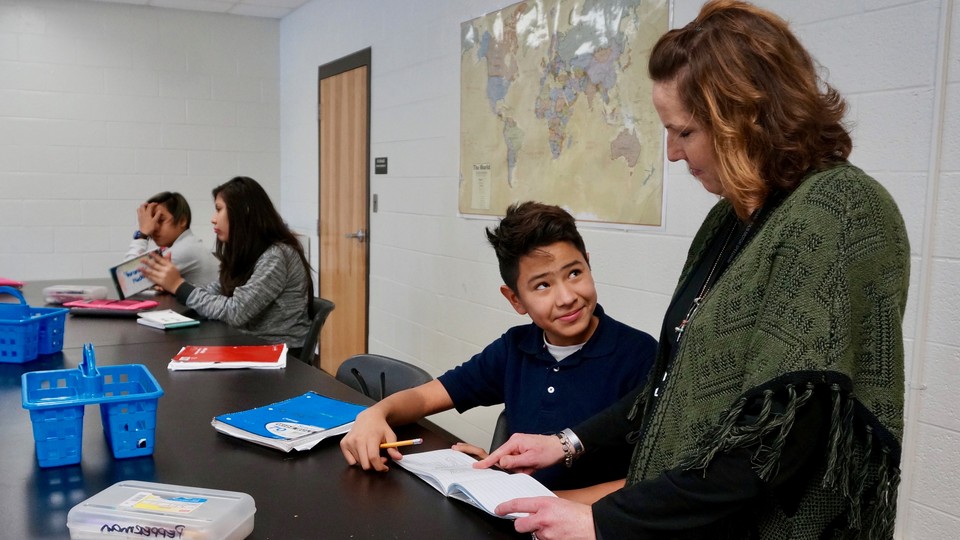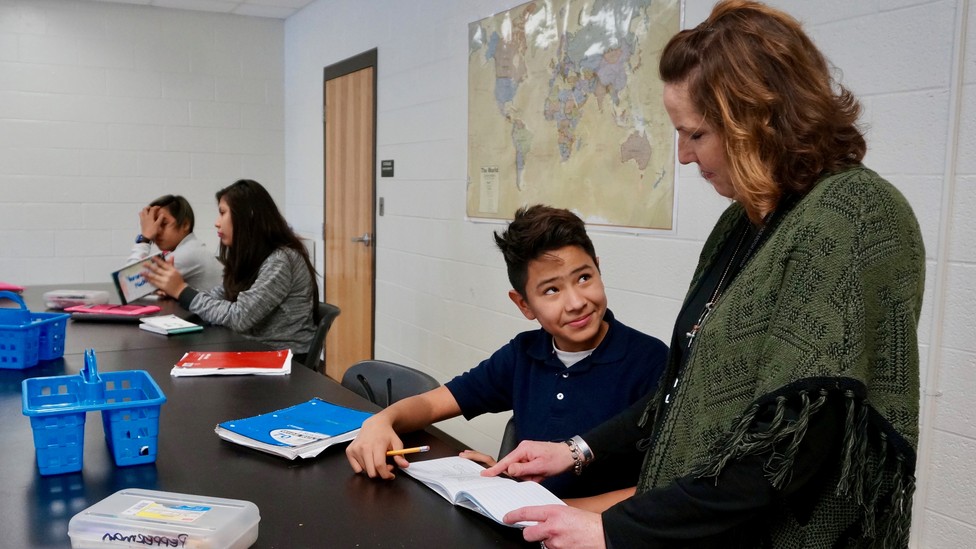 It's first period on a Wednesday, and Alejandra is chewing gum, bouncing her foot, and goofing off with friends in a reading class for students learning English. The teacher—a substitute for the morning—writes vocabulary words on the whiteboard: "improves," "silence," "activists." When she gets to "dangerous," Alejandra springs to life. "Not safe!" she bursts out.
Danger is familiar for Alejandra, who declined to use her real name because she was involved with gangs in her home country of Honduras and is afraid for her safety even now—months after moving to Indianapolis and enrolling in the city's first dedicated program for immigrant students.
In Honduras, Alejandra was involved with the gangs that have made that country perilous for young people. She lived with her father's family after her mother fled the country when she was 2 years old, and her father was murdered by a gang before she was 10. After leaving school as a child, Alejandra worked taking fares on a bus before starting to sell drugs.
Now, she takes the bus to school, walks with her boyfriend between classes, and practices graphing equations.
It's exactly the experience that Indianapolis Public Schools (IPS) officials wanted immigrant students to have when they launched the newcomer program this school year. They expected about 80 children to enroll, but so far there are 200 students in grades 7-9, with more teens arriving nearly every day. All are in their first year in the United States.
At a time when President Donald Trump's administration is attempting to close the door to many immigrants, the school is a place of welcome for teenagers who are refugees, asylum-seekers, and other recent immigrants. The aim is to give students who speak little English—and often had little formal education in their home countries—the skills to graduate from high school and thrive in the U.S.
For some students, Trump's recent executive orders barring refugees and pushing for a wall at the Mexican border have inspired fear, said Jessica Feeser, who oversees IPS programs for English-language learners. They are afraid they will be sent back to countries riven by violence—afraid they will be killed.
"It is very, very emotional," Feeser said. "Honestly, how do you teach when you know that children are fearful (for) their lives?"
Educators talk with students about their fears, she said. They tell them the school is a safe place and teachers and others at the school will do everything they can to help them achieve their dreams.
Like many students at the newcomer school, Alejandra came to the U.S. as an unaccompanied minor, traveling north from Honduras by bus and on foot with a friend. When she reached the U.S. border, Alejandra was detained by immigration officials and sent to Indianapolis to reunite with her mother, she said.
It was a relief for her mother, Paula, who also declined to use her real name, when Alejandra finally made it to the U.S. For years, Paula had thought about bringing her daughter from Honduras but had feared her former husband's family, who wanted Alejandra to stay, she said. It was only when she learned her daughter was involved with gangs that she changed her mind.
Now, Alejandra lives with her mother, stepfather, and 10-year-old brother in Indianapolis. Her mom still cries thinking about what they went through, she said. But Paula also has started to dream for her daughter's future.
As Alejandra tells the story of her life in Honduras, she ducks her head and lets her long bangs slide in front of her eyes. But occasionally, when the story is funny, her face lights up and she bursts into laughter.
At the same time, she said through a translator, it's hard being a student here in the U.S. She had power in Honduras, and when she had conflicts, she would fight with other people. Now, she has to control herself when people upset her.
"If somebody is screaming or using bad words with me, I just keep control," she said, "because if I want to be the best person, I need to have control."
When Alejandra started the school year, she was at Northwest High School, a traditional public school in Indianapolis. But she said she struggled to pay attention, often falling asleep or playing on her cell phone during class. At the newcomer school, she seems in her element. She is friendly and vivacious, chatting with other students in Spanish and greeting teachers in the hall. When two new students are brought into history class, she volunteers to help them.
And she jokes about taking as long as she can to learn English so she can stay at the newcomer school.
But that won't be possible. Students can only stay in the newcomer program during their first year in the country, so soon, Alejandra will need to choose a school for next year.
Alejandra's story is stunning, but she's not the only student at the newcomer school who saw a relative murdered before fleeing her home country, according to staff. She's not the only student who was involved with gangs before fleeing Central America. She's not the only student who didn't finish her elementary education.
These are the everyday challenges that students and staff at the newcomer school must grapple with: Many students have been through unimaginable trauma, are far behind academically, and are just beginning to learn English.
The newcomer school offers many typical middle- and high-school subjects, from algebra to earth science. But every class is also an English class: In math the walls are lined with Spanish translations for math terms. In science, students start the class by practicing adjectives and adverbs. And in history, they are learning not only the concept of appeasement during World War II but also the names of European countries.
Amanda Clayton, who runs the newcomer school, was expecting those challenges when she started the year. But still, she was stunned to see the amount of trauma that some of the students had suffered.
"Every day we have more kids who have seen their fathers shot," she said. "Then they walk for three weeks, and then they just arrive at our doors."
---
This article appears courtesy of Chalkbeat Indiana.