When Does the Racial Achievement Gap First Appear?
According to a new study, Latino kindergarteners are about three months behind their white peers in math.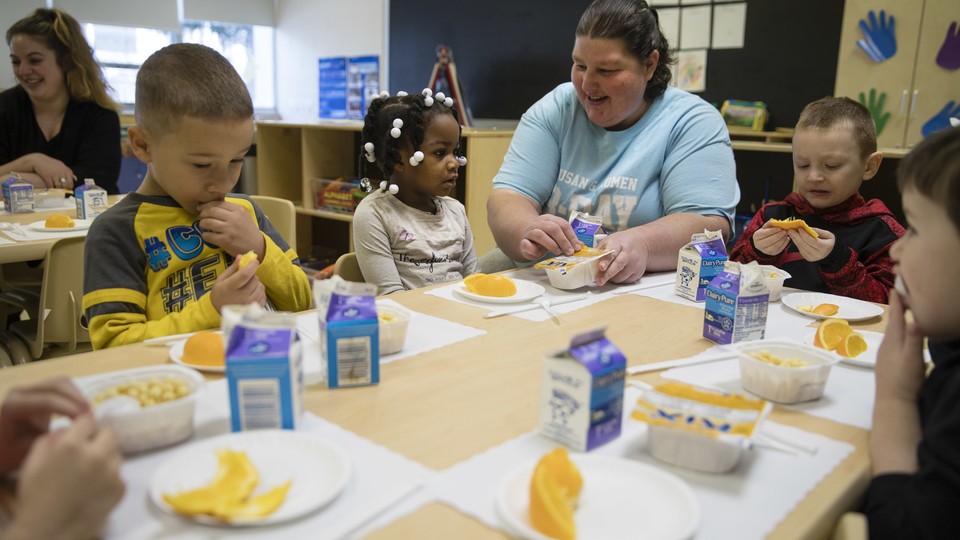 Latino students in kindergarten trail their white peers in math by approximately three months' worth of learning, a new study by Child Trends Hispanic Institute has found.
Researchers drew a nationally representative sample of students from the Early Childhood Longitudinal Study, Kindergarten Class of 2010-2011 who were followed through the end of their fifth-grade year. Sixty-two percent of the 2,199 Latino students studied had at least one foreign-born parent, and 45 percent spoke only Spanish or predominantly Spanish at home. Nearly half lived in poverty.
The study, titled "Making Math Count More for Young Latino Children," found that while Latino and white kindergartners showed similar gains throughout the year, Latino students remain behind in the spring because of where they started upon entering school in the fall. What that three-month gap looks like in actuality is difficult to measure, David Murphey, a co-author of the report, said in an email; what children learn in math in preschool or kindergarten varies widely across the country.
And while students' family incomes, parent education levels, primary languages, and quantity of books in the home all accounted for differences in math skills among Latino students, the achievement gap between Latino and white students is still evident after accounting for these background differences.
"We don't have all the answers for this one," Murphey said. "However, it is likely that prejudice, both interpersonal and systemic, plays a role. We know that when teachers, parents, communities, and the culture at large hold negative stereotypes (including low academic expectations) of minority-group members, and don't positively affirm cultural diversity, their performance suffers. This sort of bias has a long historical legacy and will not be quickly undone."
Child Trends researchers offer recommendations to policymakers, education organizations, parents, and fellow researchers for narrowing the math achievement gap, arguing that failure to address it will threaten the nation's future position as a global economic leader in an ever-increasing technology-based society, because one in four kindergartners in the U.S. is Latino.
"For that reason alone, notwithstanding concerns about equity, their math skills deserve a special focus," the researchers write.
---
This article appears courtesy of the Education Writers Association.