The Nonwhite Student Behind the White Picket Fence
Racial diversity is rising in America's suburban public schools, and many institutions are struggling to provide necessary resources.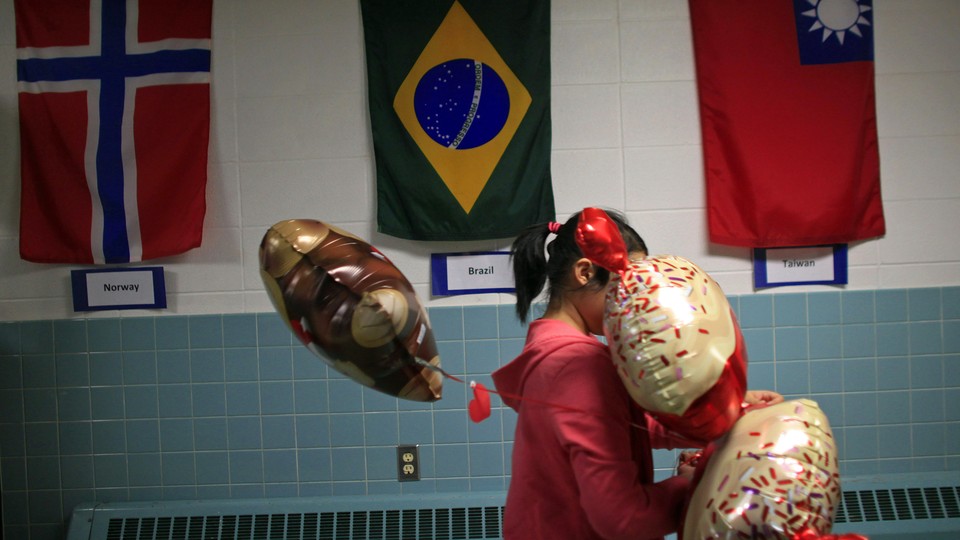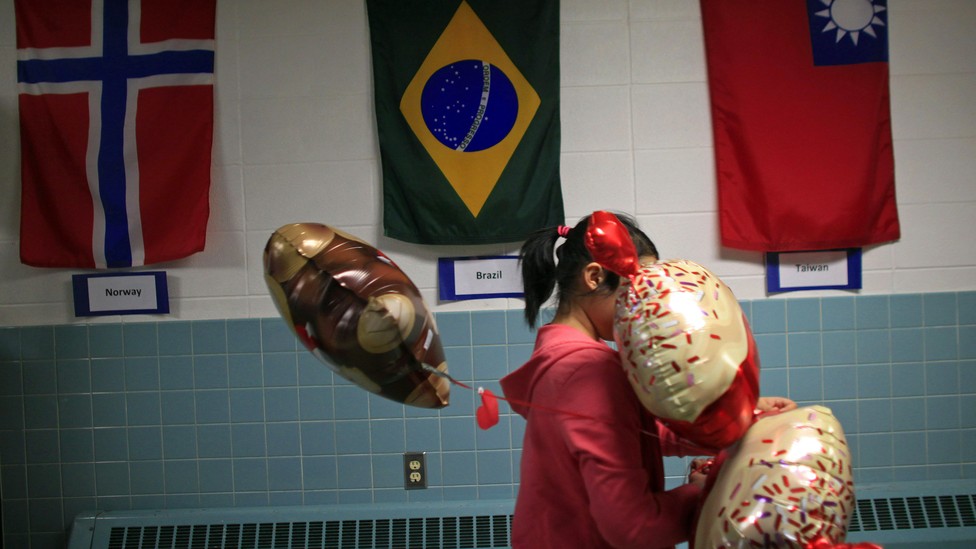 Updated on March 7, 2017
As the nation's capital continued to clean up from a historic blizzard last winter, five immigrant students—unaccompanied minors who had recently arrived from Central America—reportedly walked through almost two feet of snow to Montgomery Blair High School in Montgomery County, Maryland, a close-in Washington, D.C., suburb. Montgomery County Public Schools had canceled classes for students during the weather emergency. But the teens didn't speak English and, coming from a tropical climate, didn't know the meaning of a "snow day." They allegedly arrived at the high school shivering and covered in snow from walking in the frigid cold without hats, gloves, or boots. School employees on duty gave them hot drinks, found leftover sweatshirts and hoodies to warm them up, and did their best to stave off hypothermia.
The episode still upsets Maria Portela, an advocate for immigrant students and families and the co-founder of Los Padres, the high school's Hispanic outreach group. For five years Portela has served as a bridge between Blair's Spanish-speaking families and school staff. The alleged snow-day incident, she explained, is symbolic of a larger and deeper problem in the county's schools—namely, the skyrocketing growth of non-English speaking youth in suburban school districts ill-equipped to meet the rapid pace of change.
Across the country, suburbs like Montgomery County are going through a metamorphosis, shedding the cocoon of highly educated affluence for a new identity that is browner, poorer, and far more ethnically diverse: "It's a whole new scenario," Portela said, "with the same rules and procedures we had from 30 years ago when the county was mostly white." An influx of English-language learners and refugee students is altering the look and feel of suburban schools—as school districts respond to the dramatic shift with mixed results, and against the backdrop of a rising anti-immigrant climate.
William H. Frey, a demographer at the Brookings Institution, a D.C.-based think tank, wrote in New Republic in 2014 that the Hispanic population grew in all the suburbs of the nation's 100 largest metropolitan areas between 2000 and 2010. Over a 20-year span (1990-2010), data from the U.S. Census shows the white suburban population dropped from 81 percent to 65 percent, as the Hispanic suburban population more than doubled—from 8 percent to 17 percent. The white population declined and the Hispanic population rose in cities as well, but the change seen in the suburbs was sharper.
The number of people living in poverty in the suburbs also exceeds that in urban areas. In testimony earlier this month before a House of Representatives Ways and Means subcommittee, Elizabeth Kneebone, the co-author of Confronting Suburban Poverty in America, offered a stark look at the figures: In 2015, for the first time on record, suburbs surpassed cities in the number of residents living in poverty—16 million in the suburbs, outpacing cities by more than 3 million people.
For youth and families, economic hardship and a lack of English proficiency can make navigating the school bureaucracy especially daunting, hindering parent engagement and students' education. At Blair High School, one of the largest in Montgomery County with nearly 3,000 students, Hispanics are the single largest racial or ethnic group (32 percent); Spanish is the most frequently spoken language at home; and more than half of students (55 percent) are eligible for free-and-reduced meals, a common indicator of poverty.
According to Portela, the parent advocate, the challenges range from a mismatch of skills—out of some 12 counselors at Blair, only one is Spanish-speaking and devoted to English-language learners with no previous schooling—to cultural misunderstandings—teachers mislabeling students as shy, uninterested, or aggressive because those educators lack knowledge of and insight into Latino culture.* "Being bilingual is good, but you also need to understand the ethnic [uniqueness]," she said. "A girl from rural Central America … they are taught not to talk back. We have a lot of teachers complaining that the girls don't participate, they don't get involved in class. At the same time, we have kids that are very outspoken, because in their culture, male is the voice of authority. So unless [teachers] understand all these little details, it's very difficult to engage a student."
What's undeniable is that the complexion of Montgomery County schools is changing. A September 2014 report found culturally and linguistically diverse students, including English-language learners, accounted for two-thirds of the district's student enrollment. A 2016 briefing before the county council reported that the district educates students from 158 countries who speak 127 different languages. And since 2009, MCPS has seen more than a 32 percent increase in enrollment in English classes designated for speakers of other languages, known as ESOL.
Derek Turner, a spokesman for the school district, said in a written statement that the district's schools have "made significant investments to ensure [immigrant and refugee] students receive the resources they need to succeed." That includes hiring about 36 new ESOL educators for the current school year, with an additional 29 ESOL hires proposed in the 2017-18 budget. Turner, who later refuted Portela's allegations about the snow-day fiasco, also highlighted targeted programs for English-language learners with no previous schooling, and Spanish-speaking ESOL students ages 18 and older with significant schooling gaps.
Yet Portela pointed to certain initiatives as evidence that the school district needs to rethink and evolve, such as Montgomery County's push to create bilingual websites and translate booklets, forms, and take-home materials into many languages—a misfire with parents whose literacy skills in Spanish and other languages are very limited or non-existent. "The structure of our [school] system is go online, complete the form, fill out the forms, and submit your request. And that doesn't work with many of our parents," she said. The disconnect is more profound for undocumented minors from Central America, who are coping with the emotional and psychological stress of the violence they left behind, traveling alone to the U.S., and reuniting with family members. "I know the schools are doing a lot … I see the good intentions," she said, "[but] these kids have traumatic backgrounds. And we want them to perform in school like any other kid … that's way too much to ask."
Research confirms that this situation is not exclusive to schools in the D.C. region. Rather, suburban districts nationally are struggling to adjust to the new realities in schools. A recent report from the Center on Reinventing Public Education (CRPE), "Suburban Schools: The Unrecognized Frontier in Public Education," concludes that large numbers of English-language learners, student refugees, and students whose families struggle with poverty require suburban school districts to adapt and shift resources. "Suburbs essentially need to … become more nimble and responsive in the face of the new lives that are living there," said Jordan Posamentier, the report's co-author and the deputy policy director at CRPE, an education research group affiliated with the University of Washington. "The educational infrastructure in suburbs is playing catch-up in a lot of parts of the country."
After examining suburban school districts that ring major cities, such as Atlanta, Seattle, and Houston, Posamentier said retooling the teacher workforce and identifying "transformative leaders who help set a tone for the culture in the building" top the list of ways to get at the challenges posed by new student populations. Training and retraining teachers to respond more effectively to a host of language-minority learners is key, he said, and offered Lawrence, Massachusetts—a Boston suburb where Latino immigrants account for most of the population and a large share of residents live below the poverty line—as a prime example. He also urged school leaders to think creatively and carve out solutions most beneficial for that locale: "You don't want a leader who's merely compliance-minded. They need to actually look into the community and appreciate what the needs are, and then make changes."
In suburban San Diego, the Cajon Valley Union School District is modeling these principles and practices. El Cajon has been home to Middle Eastern refugees for many years, and as a resettlement destination its schools are now supporting a burgeoning population of Syrian refugees. Eyal Bergman, the district's family- and community-engagement officer, said Cajon Valley has invested heavily in a hands-on approach to welcoming newcomer students and families, meeting with them within two to three weeks of their arrival. The orientation involves an academic interview, an introduction to school staff, and an extended Q&A done in some of their families' native languages: Arabic, Farsi, Pashto, Swahili, or Spanish. The district also provides trauma-informed care and training for students and teachers, and is delivering staff development on home visits to improve communication breakdowns between home and school.
Meanwhile, all of this is occurring in a new political environment for immigrants and refugees—and suburban schools are not immune. David Miyashiro, El Cajon's superintendent, credits the city's singular focus on serving "liberals and conservatives, people of all religions, and established residents and newcomers alike" in sidestepping the thorny politics of immigration. Still, Luma Mufleh, the founder and CEO of Fugees Academy—a private school for refugee youth in the Atlanta suburb of Clarkston, Georgia—says she's never seen anything like what's happening now in her 12 years of working with refugee children. Mufleh said it's been a tough year that's deeply affecting her middle- and high-school students, who feel scared, unwanted, and re-traumatized.
"The anti-refugee sentiment is escalating," Mufleh said. "We had a student see his mom's hijab pulled off [and] students told to go back where they came from. Our students' grades are slipping because they feel unwelcome in a country that once embraced them. I never thought that working with the most vulnerable children would be political."
---
* This article has been updated to clarify that the school only has one Spanish-speaking counselor dedicated to the English-language learners who've had limited prior schooling.