From Activism to Inequality: This Week's Top 7 Education Stories
The best recent writing about school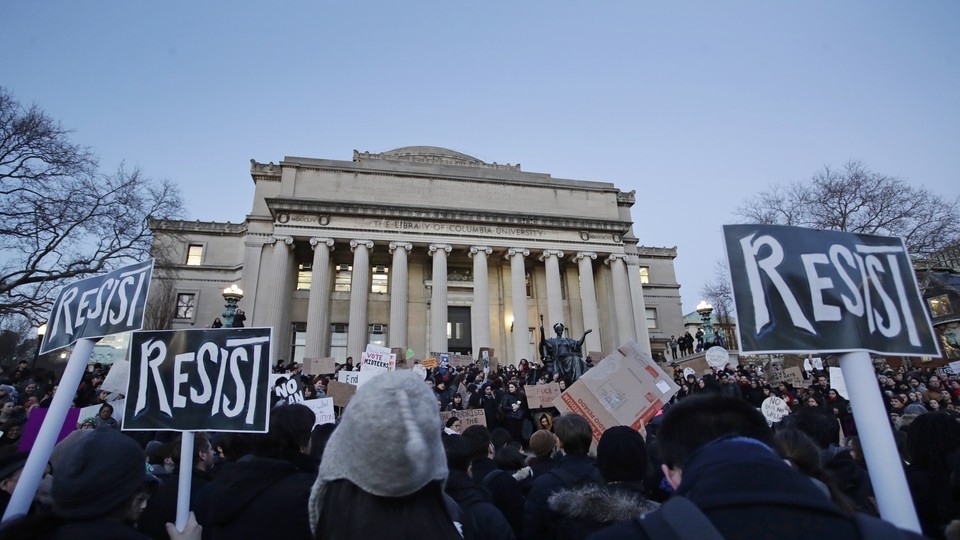 The School that Banned Homework
Nicole Higgins DeSmet | Burlington Free Press
Teachers at Orchard voted unanimously before the start of the school year to end homework for their kindergarten through fifth-grade students. Instead, students are encouraged to read, play games, and be kids.
The principal at Orchard, Mark Trifilio, sent a homework-policy survey to parents in November. Of those parents, 254 sent back answers. About 80 percent indicated they agree with the policy.
* * *
High Schools Are Failing to Prepare Students for Higher Education
Sarah Butrymowicz | The Hechinger Report
The vast majority of public two- and four-year colleges report enrolling students—more than half a million of them—who are not ready for college-level work, a Hechinger Report investigation of 44 states has found.
The numbers reveal a glaring gap in the nation's education system: A high-school diploma, no matter how recently earned, doesn't guarantee that students are prepared for college courses. Higher-education institutions across the country are forced to spend time, money, and energy to solve this disconnect. They must determine who's not ready for college and attempt to get those students up to speed as quickly as possible, or risk losing them altogether.
* * *
How Jeff Sessions Stymied Educational Equality in Alabama
Ryan Gabrielson | ProPublica
A civil-rights lawsuit challenging the system for funding Alabama's schools succeeded, and the state's courts in 1993 declared the conditions in the poor schools a violation of Alabama's Constitution. Governor Guy Hunt, who had battled the litigation, accepted defeat, and vowed to work with the courts to negotiate a solution for equitably funding all of Alabama's schools. ...
Jeff Sessions had other ideas.
Sessions, elected Alabama attorney general just a year after the courts had begun review of reform measures, didn't think the state's courts should have any role in deciding how Alabama educated its children.
* * *
Is This the Classroom of the Future?
Leslie Nguyen-Okwu | OZY
New Harmony High in Louisiana isn't your typical little red schoolhouse. Instead, students live and learn on an armada of barges that floats along the gritty marshes and wetlands of the Bayou State. All the while, workshops on rising sea levels and coastal preservation allow students to confront the realities of climate change face-to-face. A winner of the XQ: Super School Project, New Harmony High's doors are set to open later this year, when students will learn in a living, breathing lab on the water and get hands-on experience in studying biology, river ecology and environmental justice, in addition to the usual reading, 'riting and 'rithmetic.
* * *
The High-School Student Detained Due to Trump's Immigration Ban
Shelby Webb | Houston Chronicle
A 16-year-old Jordanian visa holder, who attends Katy High School west of Houston, has been detained by U.S. immigration officials for more than three days following President Trump's controversial immigration executive order, according to his brother and an attorney representing the family.
Mohammad Abu Khadra, who lives in Katy with his brother Rami, traveled to Jordan last week to renew his visa. When he flew into Bush IAH airport Saturday, officials with U.S. Customs and Border Protection detained him at the airport for about 48 hours. He was transferred to an Office of Refugee Resettlement shelter in Chicago on Monday, where he remained as of Tuesday afternoon. The teen has no access to his cell phone or to a computer, his brother said.
* * *
The Hot New Brand of Higher Education
David Wheeler | The Atlantic
The Harvard Business School professor Clayton Christensen predicts that up to half of the nation's 4,000 colleges and universities will fail in the next 15 years.
How are university administrators and trustees dealing with this turbulent new reality? For one thing, many are realizing that individual schools can no longer be all things to all people. Consequently, some of them are attempting to market themselves better by playing to their strengths.
In 2017, for some colleges, doing so might very well mean advertising their conservative atmosphere.
* * *
How Activist Groups Mobilize for a Presidential Fight
Elizabeth Miles | Yale Daily News
"Nasty women from all walks of life," as one speaker put it, had gathered in Hartford, Connecticut, motivated by a wide range of grievances, fears, and hopes for the next four years. …
But after the marchers across the country and the world put down their signs and went home, a question emerged, posted in the Facebook events used to organize the rallies. Where should those 3.2 million participants in the largest inauguration demonstration in history go from here? In the short week since his inauguration, President Trump has signed or drafted four executive orders and eight presidential memoranda that have alarmed many of those who marched for reproductive rights and the protection of immigrants. Across the state, community-based organizing groups have begun to mobilize just as quickly in response.