States Are Investing More in Higher Education
Though some have cut funds, budgets across the country have allocated an average of 3.4 percent more money toward campuses this fiscal year.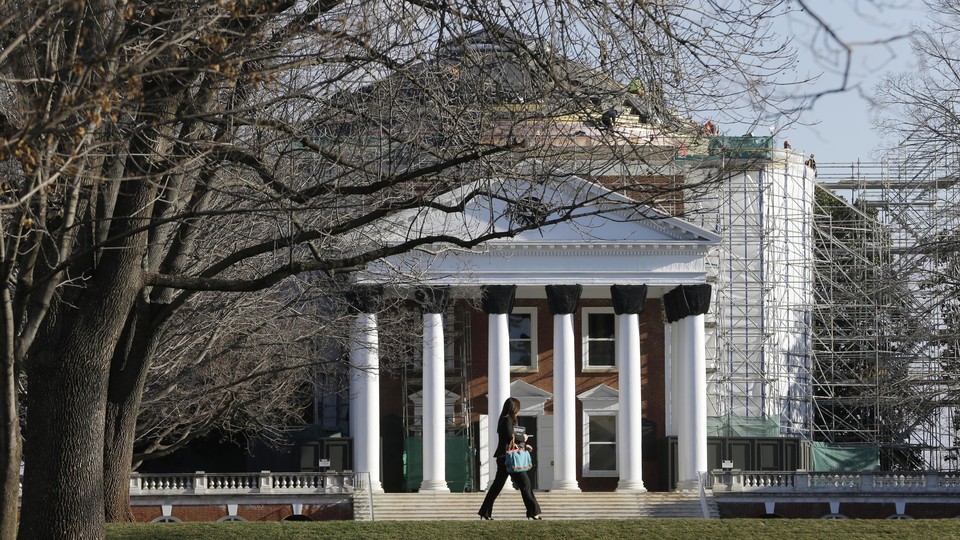 A new report finds that state funding for higher education continues to show growth overall, but each state has its own tale to tell. Support for higher education in state budgets rose by 3.4 percent across the country from the 2015-16 to 2016-17 fiscal years, preliminary data from the latest Grapevine survey shows.
The compilation of state-taxpayer support is jointly produced by the Center for the Study of Education Policy at Illinois State University and the State Higher Education Executive Officers Association, but does not include more in-depth factors like inflation and enrollment.
While the increase is a modest indicator of states resuming financial commitment to postsecondary education following years of widespread cutbacks, it still does not match the faster rates of increase witnessed before the 2008 recession, Rick Seltzer writes for Inside Higher Ed.
In the 39 states that increased funding, the amounts varied wildly, from 0.2 percent in Colorado and Wisconsin to 10.5 percent in Hawaii. Ten states saw decreases—ranging from 0.4 percent in West Virginia to 8.8 percent in Wyoming.
There is one empty spot on the map: Illinois is currently entering its second year of a state-budget stalemate, leaving its universities on the back burner as a result. Makeshift funding for higher education has been secured for the current fiscal year, but that total only equals 29 percent of the previous budget allocations.
"I think this is unprecedented in the history of the Grapevine project," James Palmer, a professor of higher education at Illinois State University and Grapevine editor, told Inside Higher Ed. "I think the Illinois situation is an anomaly. The fact that we haven't had a full state budget for two years is indicative of the fiscal impasse that the state finds itself in."
On the campus of Chicago State University, time is already running out, as Dawn Rhodes and Peter Matuszak reported for the Chicago Tribune. Hundreds of employees have been laid off, and the school might run out of money by the end of the semester.
In Louisiana, one of the states that reported decreased funding, lawmakers are facing a budget hole of more than $300 million as the higher-education system faces a round of midyear cuts. The state's Board of Regents has now proposed a 20 percent payout decrease to freshmen entering the Taylor Opportunity Program for Students (TOPS) program, which offers state scholarships for state residents who attend Louisiana Public Colleges and Universities, if the required full funding for the program is not allocated.
"The Regents' proposals on TOPS create a disincentive to attend Louisiana universities and opens the door for the poaching of our students to rival states," the Louisiana State University student body president Zachary Faircloth wrote this week in a two-page letter to Joseph Rallo, the higher-education commissioner in Louisiana.
Although the future remains unclear, South Dakota is one representative of the opposite side of the coin, clocking the third-highest percentage increase in state support at 9.3 percent. A recent South Dakota State (SDS) University report found that the state's six public universities turned their previous $197 million budget into an additional $2.66 billion in annual economic impact statewide. That total would account for 6 percent of the state's economy, David Owen, the president of the South Dakota Chamber of Commerce and Industry, said in a press release.
However, this boom might not be sustainable as the state's budget enters a period of projected deficit. On the SDS campus, student leadership has already expressed some concerns that appropriations for salary boosts and tuition buy-downs of previous years might not last this season.
"We will be extraordinarily lucky to get a buy-down this year, and we've been really gifted by the state to have two tuition freezes and a buy-down the year before that, which is really unheard of," Ally Helms, the Students' Association president, recently told the on-campus newspaper. "So going forward, we're watching tuition and seeing what the board sets later in March. But we're not expecting a buy-down this year; there's just not room."
---
This article appears courtesy of the Education Writers Association.