What Makes Betsy DeVos Such an Unusual Nominee for Education Secretary
For one thing, she's never attended or taught at a public school.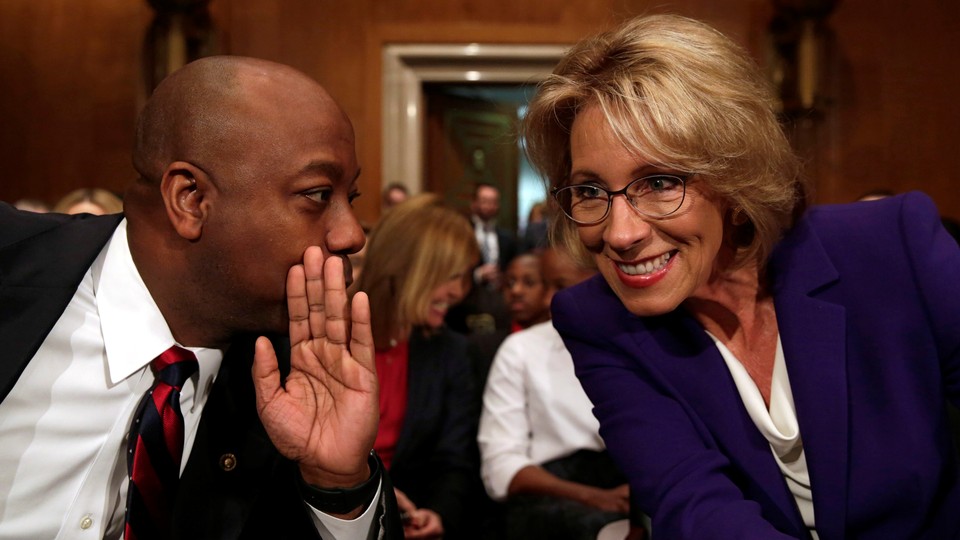 Betsy DeVos is likely to be confirmed as the next secretary of education. There's nothing unusual about the Senate supporting a president-elect's choice to lead the U.S. Department of Education. But DeVos is a more controversial choice than nominees in recent memory.
At his hearing, the outgoing education secretary, John King, faced friendly questioning from the senators on the education committee in charge of moving nominations forward, including from the Republican chairman, Lamar Alexander. King's predecessor, Arne Duncan, was confirmed in the Senate by a voice vote. It's not just Democrats who have had easy confirmations, either. Both of George W. Bush's education secretaries—Rod Paige and Margaret Spellings—were also confirmed by voice vote and received praise during their hearings from Republicans and Democrats alike.
There are a couple of reasons DeVos hasn't achieved the same level of bipartisan support, chief among them her family's vast wealth and concerns around how she will distance herself from potential conflicts of interest. DeVos is a billionaire who grew up in a wealthy family and married into another wealthy family. (The DeVos family co-founded Amway.) Some previous education secretaries, including Alexander, who served in the role under President George H.W. Bush, are worth several million dollars, but DeVos's wealth is on another level.
She has ties to several education companies, including Social Finance, which started out as a student-loan refinancing company, as well as companies that sell textbooks and promote online education. The companies she's invested in will be affected by the choices she makes as the head of the department, including decisions about which companies the government contracts with to handle student loans, and how it oversees different sectors, including online or virtual schooling. Democrats and advocacy groups have pushed for assurances that she will put reasonable distance between herself and those companies while she is secretary.
Alexander, who prior to DeVos had perhaps the most contentious confirmation process in the history of the position, is familiar with similar issues, but on a much smaller scale. As the CQ Almanac noted back in 1991, his confirmation was delayed several months after it came to light that he'd earned significant sums without investing much of his own money during his time as the governor of Tennessee and then as president of the University of Tennessee. But, as the paper noted, his worth was only between $2 million and $3 million, much less than the billions that DeVos is worth, even by today's standards.
Related to tension around DeVos's web of investments and her ability to untangle herself from them as secretary, she is the first of Trump's nominees to sit for a confirmation hearing without having reached an agreement with the government's ethics office about how she'll resolve any potential conflicts of interest. Several senators, including Patty Murray of Washington, the ranking Democrat on the education committee, had voiced concerns about moving forward without a signed agreement. And while Alexander said the committee would not vote on moving DeVos's confirmation forward without a signed agreement in place, Murray and others pushed back at his refusal to bring DeVos back after the initial hearing for future questioning. (Alexander's office has pointed out that Paige, who served as Bush's first education secretary, sat for a hearing before the ethics office was done reviewing his finances, but critics have noted that he was not nearly as wealthy as DeVos.)
And perhaps most significantly, DeVos has less experience with public education than previous nominees. She has not attended or taught at any public schools or universities. Shirley Hufstedler, the country's first education secretary under Jimmy Carter, was a teacher. Terrel Bell, who succeeded her under Ronald Reagan, worked as a school superintendent in several states, and is sometimes credited with saving the department. (Reagan had vowed to eliminate the department, but Bell helped convince him it was worth saving.) William Bennett, after him, had little experience with public education but served as chair of the National Endowment for the Humanities, so he was something of a known entity when he was nominated. Lauro Cavazos, who served under Reagan and George H.W. Bush, was a professor at Tufts University and Texas Tech University, and Alexander after him also boasted higher-education experience at a public institution. Richard Riley, Bill Clinton's education secretary, served as governor of South Carolina, where he made education a focus. (DeVos has never held elected office.) Paige worked in higher education and served as a school superintendent in Houston, while Spellings advised Bush on education policy as an assistant to the president before leading the department. Arne Duncan was head of Chicago Public Schools, and John King served as commissioner of education in New York after leading and teaching in public schools.
Some of DeVos's supporters, though, see her lack of experience with public education as an asset. Eva Moskowitz, the founder of the controversial Success Academy charter-school network, challenged the idea that DeVos's lack of classroom experience is a mark against her in a statement after the hearing. "It does not take years of teaching in the classroom to understand that public education in this country is in deep crisis," she said. "I support her nomination." Moskowitz and other charter-school leaders see her history of pushing to expand access to charter schools as a positive sign.
But as my colleagues and I noted, Democratic senators—including Elizabeth Warren of Massachusetts and Al Franken of Minnesota—questioned her relative dearth of experience. Franken, for instance, tweeted that her "lack of basic knowledge astounded me." (The senator had sparred with DeVos over whether she was familiar with the debate around how student achievement is evaluated.)
Alexander said the committee will not vote on moving DeVos's confirmation forward until the ethics office has completed its work analyzing whether her financial holdings might lead to conflicts of interest (which DeVos has promised to resolve). Ultimately, Democrats' pushback will likely have little impact. But DeVos is slated to be one of the most divisive secretaries in history the moment she takes the helm of the department, which could make pursuing the Trump administration's education goals, including expanding access to charter schools and vouchers, a difficult task.