What Happens to Those Handmade Posters From the Women's Marches
A trio of professors in Boston stumbled across a trove of signs, threw them into a rented van, and created an "accidental archive."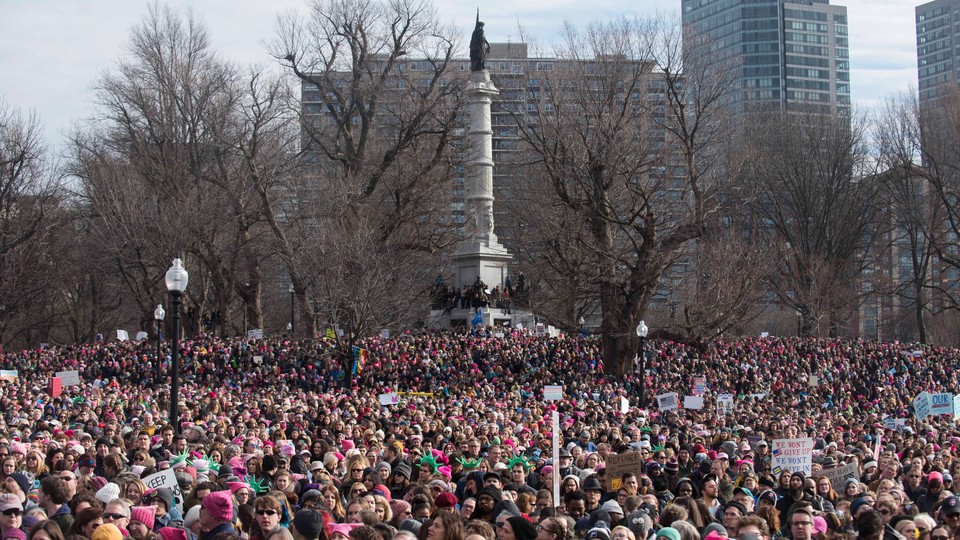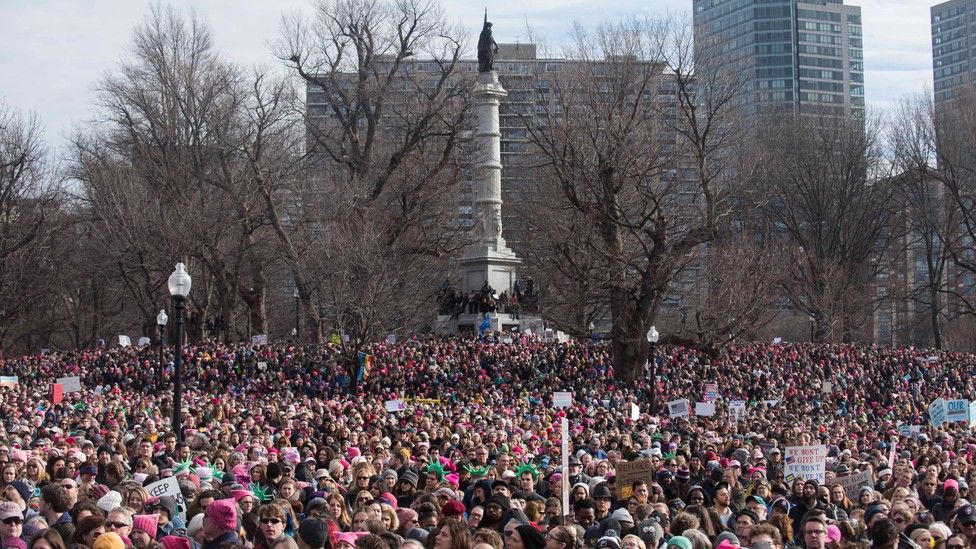 Nathan Felde and a couple of his colleagues at Northeastern University had just finished a late lunch at a Malaysian joint in Boston's Chinatown and were making their way through the city when they spotted something unusual in the distance.
It was late afternoon on Saturday and Women's March participants were slowly peeling away from Boston Common, the park where thousands had gathered to protest Donald Trump's inauguration. But they were pausing—at the southeast corner of the park—to deposit homemade posters and signs along the gates of the Central Burying Ground. Drawing closer, Felde and his companions Dietmar Offenhuber and Alessandra Renzi—all members of the college of arts, media, and design—realized there were hundreds and hundreds of them. (Later, they would put the count above 1,000, perhaps even 2,000.)
"It was like finding a bunch of butterflies if you were a biologist, I guess," said Felde during a phone conversation several days later. Like scientists stumbling across a rare insect colony, the trio began reading closely the signs along with other passersby, struck by the clever phrases and artwork that had been created not by professional marketing firms, but by men and women in garages and living rooms in a relatively short span of time. It felt ephemeral. Impromptu. Exhilarating.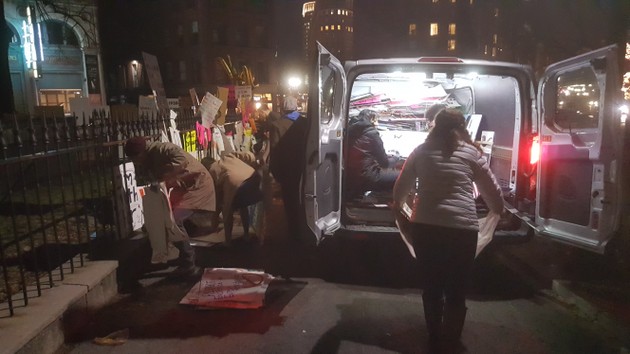 But as dusk approached, they saw city workers assembling to remove the collection, and realized the signs were headed, ultimately, for the trash. To the professors, the posters were a treasure trove, a swell of self-expression created for and on a historic day in a specific place at a specific time, artifacts to be preserved and digitized, curated, and analyzed, not tossed.
A quick conversation revealed that the park staff were open to salvaging them. But where to put so much material?
A couple of calls and 45 minutes later, the professors had rented a van and returned to collect their newly acquired prize. As the three began loading the signs and other artifacts into the back, people stopped to ask where they were headed. Soon, they had several dozen volunteers rounding everything up, and three hours later, a van packed to the gills. The posters spent the night in the rented vehicle while Felde and his colleagues conjured a storage space to stash them. "It was all quite spontaneous," he said.
No matter. The project easily picked up support. The professors reached out to archivists and librarians at Northeastern who, Felde said, were eager to help preserve the collection. Nothing is formalized yet, but the plan is to preserve the signs so scholars and students can study and view them. All three professors, Offenhuber said during a phone interview, share an interest in social movements and the different visual languages they use—how they reflect (or don't) governance. Since this was an almost accidental archive, he continued, they think it's important to involve the public who helped create it in the process of making sense of it, of analyzing the different themes and formats.
Social movements are generally organized in a much less top-down way than formal entities, he pointed out, meaning there's a multiplicity of voices and concerns, and even one slogan can be refashioned to mean multiple things. (Marchers used the phrase "I'm with her" in reference to Hillary Clinton, the women around them, and the earth, for instance.)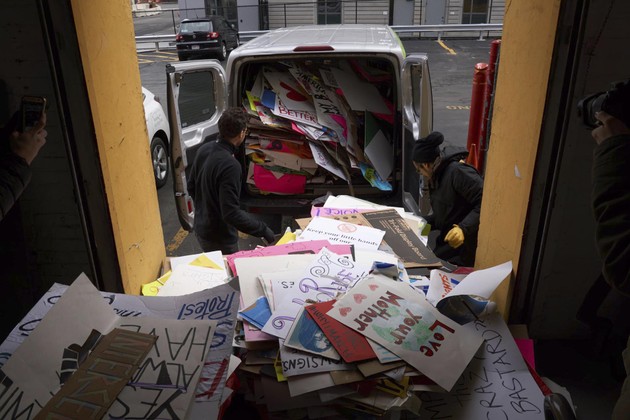 As word of the collection grew, Bostonians called and emailed to offer their own signs and photos from the day. Perhaps there'll be an exhibit or a book. Or, if the scholars create a digital archive, they could form searchable word clouds to see if certain phrases pop and how.
While there are conversations about working with other libraries and schools to study the posters and signs from the hundreds of women's marches that took place around the world that day, for the three professors who found the signs blanketing the cemetery gates, there's something important about archiving and studying these signs in this place. And, as Felde said, there's something extra powerful about the fact that the posters and the messages they deliver began so informally, so spontaneously.
Offenhuber agrees. Often, one or two items from a historic event come to symbolize it broadly, he said, but preserving the context is important. Which means picking just one favorite poster or sign from the collection would be missing the mark. "That's a tricky thing," he said, "because if you pick out a particular poster and say that it's particularly clever, then it kind of loses a lot of the appeal." In other words, the where and the why and the how much matter, too. Regardless of what shape the archive ultimately takes, the fact that it will exist at all is something of a fluke. "This was a kind of accidental archive," Offenhuber said, that now "we have to somehow preserve."