The Free-College Dream Didn't End With Trump's Election
New York Governor Andrew Cuomo unveiled a plan to make the state's public colleges and universities free for families earning less than $125,000.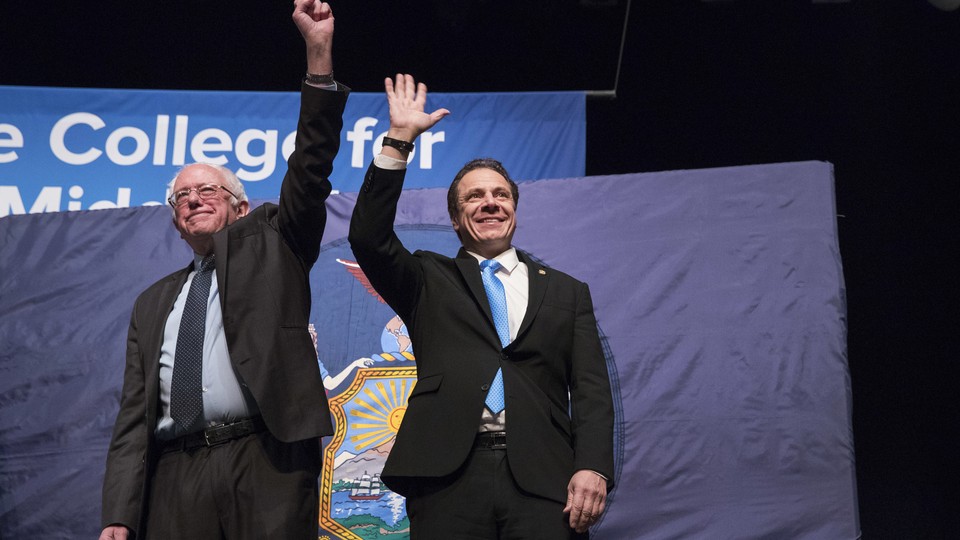 When Hillary Clinton lost the presidential election to Donald Trump, hope that the federal government might make the nation's public colleges and universities free dwindled. The Democratic Party faithful, among others, were dejected.
Until now. In a sign that tuition-free higher education could continue to expand in a more piecemeal fashion, New York Governor Andrew Cuomo unveiled a plan on Tuesday to offer tuition-free degrees at the state's public colleges and universities for residents from families earning less than $125,000 a year.
The idea is significant in part because New York is home to the nation's largest public-university system—serving some 440,000 students—and the plan, which will need to be approved by state lawmakers, could affect 940,000 families with college-age children, according to the governor's office. What's more, Cuomo—a Democrat—and other advocates hope that if New York successfully makes tuition-free college a statewide reality, then other states will follow.
Bernie Sanders, Clinton's main Democratic challenger during the presidential primaries and a vocal advocate of tuition-free public colleges, joined Cuomo, who is reported to be considering a run for president in 2020. The pair explained the proposal in remarks at LaGuardia Community College in Queens. The days when a person could graduate from high school and count on a well-paying manufacturing job "are over," Sanders said. In the current economy, "you need a college education, if you're going to compete."
Despite Trump's campaign-trail promises to bring manufacturing jobs back to the United States, research from Anthony Carnevale, the head of the Center on Education and the Workforce at Georgetown University, and others back up the idea that college is still generally a solid investment. People with college degrees still earn more than those without them, and degree-holders are less likely to be unemployed as more jobs than ever require a degree.
But, Cuomo said, rising college costs and the need for many families to take out costly student loans are making it harder to get a college education than it was in previous generations. He equated beginning college with debt to "starting a race with an anchor tied to your leg." Just as society decided generations ago that it would fund public high school because the economy depended on it, Cuomo said, society should say the same about college today.
While the governor hailed his statewide proposal as the first of its kind in the country, he is not the first politician to advance the idea. In 2015, Tennessee became the first state to make community college free for high-school seniors through a program championed by Republican Governor Bill Haslam. More than 20 of California's community colleges now offer at least some funding and other support, often with help from private businesses and foundations, to local students. And where the Obama administration failed to move forward its plan to make community colleges across the country free—in part because of Republican resistance to Washington intervening in what some conservatives view as a state issue—there appears to be at least some bipartisan support for the idea of free college.
Democrats have long framed the matter of free college as a way of giving all students equal access to educational opportunities no matter their backgrounds, while Republicans have argued that free college benefits local economies.
Cuomo touched on that argument when he said he hoped the New York proposal would be "a wake-up call to this nation" if the United States wants to be competitive globally. In recent years, the United States has fallen behind other countries in the percentage of students who complete degrees, and there are sizable gaps in college completion between white students and students of color, who make up a growing portion of the nation's young people.
Less than 40 percent of students in New York's four-year public universities and less than 10 percent of those at two-year public schools earned their degrees on time in 2013, according to the governor's office, and average student-loan debt in the state had risen to more than $29,000 by 2015. In-state tuition in New York currently ranges from around $4,300 to $6,500 a year.
There is no guarantee, though, that Cuomo will be able to convince state lawmakers to move his plan forward, and not all students would be covered. The governor's office says the plan will cost about $163 million a year once it's fully phased in, which Cuomo would like to see happen by the fall of 2019. Making tuition-free college a reality ahead of a potential 2020 presidential run would be a political boon in a Democratic primary. According to the governor's office, the program would be funded through the state's tuition-assistance program—which provides close to $1 billion in grants to students—federal grants, and other state funds. But whether state lawmakers, who have resisted earlier free-tuition plans, are willing to endorse the idea remains to be seen. And while Cuomo has supported state Dream Act proposals, which would open up such funding to undocumented students who graduate from high schools in New York, they are currently barred from receiving these grants, meaning undocumented students likely would not be covered by the tuition-free proposal.
It's also worth noting that university fees and room-and-board costs often present as much of a barrier as tuition does to college completion, with students of color, low-income students, and first-generation college students less likely to earn degrees than their peers.
But speaking briefly after Cuomo, Sanders, who grew up in New York, said he hoped the announcement would serve as a message to the state's children that, if they work hard, they will be able to get a college education regardless of how much their families earn. "That is a message that is going to provide hope and optimism to working-class families all across the state," he said. If New York makes the proposal a reality, he predicted, other states will implement similar plans.