How Trump's Immigration Order Is Affecting Higher Education
Experts worry about the impact on academia and scholarship.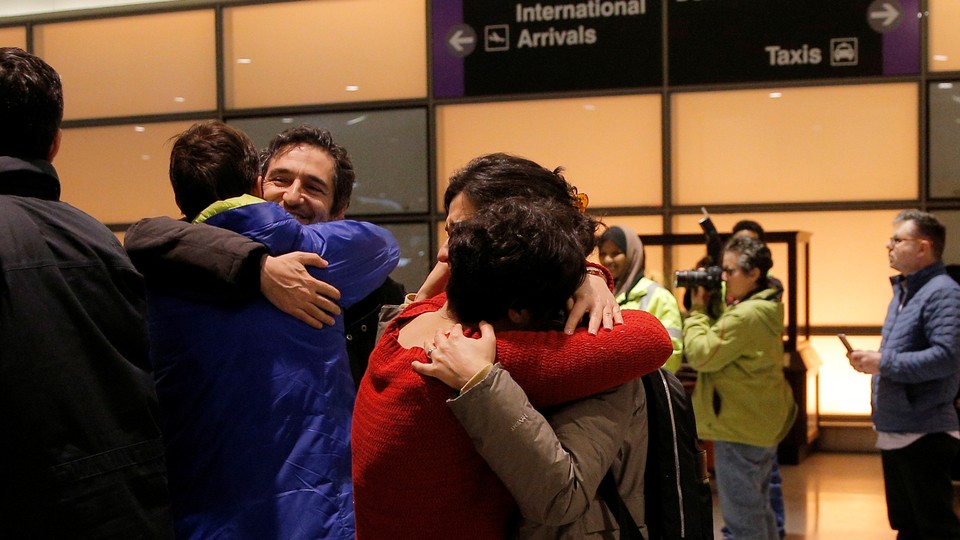 In the aftermath of the Trump administration's executive order temporarily banning immigration from a number of Muslim-majority countries to the United States, universities and scholars across the country are grappling with what the restrictions mean for their students—and for scholarship more broadly.
Fatemeh Keshavarz is the director of both the School of Languages, Literatures, and Cultures and the Roshan Institute for Persian Studies at the University of Maryland at College Park. She was born in Shiraz, Iran, and studied in London before working as a professor in the United States. She secured her first university job in St. Louis in part because of her ability to speak and read Turkish, Persian, and Arabic. She has published a number of books and articles, and now occupies a leadership role at the university.
If she were a student today, under the executive order, she wouldn't have been permitted to enter the country. Iran is one of the countries on Trump's list and, during the 2015-16 school year, sent more than 12,000 students to study at U.S. universities—far more than any other country on the list. The other countries—Iraq, Libya, Somalia, Sudan, Syria, and Yemen—each sent fewer than 2,000 students.
The conservative-leaning National Association of Scholars said the impact of the order is "trivial." The association's president, Peter Wood, said in response to a request for comment that it encourages debate over the issue and not unanimous opposition:
We fear that the academic opposition to President Trump's executive order stems more from reflexive opposition to anything the President does than from thoughtful consideration of the issue, and we fear that progressive censorship of dissenting voices will now spread to include censorship of any student, professor, or visiting speaker who voices support of President Trump's executive order. Academia ought to be presumptively open to the expression of such arguments.
To Keshavarz, efforts to cast the ban as a security issue or minimize its significance don't make sense. By allowing students of different cultures and religions to study with scholars in the U.S., she said, universities accomplish their educational mission of fostering open and lively discussion and teaching students about the world. "I believe a lot of our safety depends on learning these things," she said. Keshavarz said her department is currently considering an Iranian Ph.D. candidate for the comparative-literature program. "I no longer know where that situation is," she said, in reference to the student's application.
Schools across the country have current students who are worried they won't be allowed back into the U.S. if they leave, prospective students who may not be allowed in at all, and faculty who are from the banned countries and fear they will be denied re-entry if they try to visit sick family members or relatives outside the country. A Sudanese student with a green card who attends Stanford University was reportedly detained and handcuffed at an airport in New York over the weekend. "This is what causes, in my opinion, a lot of disconnect, a lot of anger, a lot of discomfort, and once you lose your dignity, you're so much closer to being a bad person. It's just...it's kind of an injury."
Joanna Regulska, the vice provost and associate chancellor for Global Affairs at U.C. Davis, was part of a delegation of academics to Iran several years ago. At the time, professors in both places were hopeful that more cross-cultural exchange would be possible. (The U.S. does not currently send students to study in Iran.). Now, those hopes seem distant. For now, the more immediate worry is what happens to the several post-doctoral students from banned countries who are on fellowships at Davis.
Regulska, who is originally from Poland, said that schools stand to be affected financially, as foreign students typically pay out-of-state tuition at the nation's public colleges. Academically, losing contact with certain regions could limit the production of new knowledge, she worries. And, finally, she said, "there's this sort of isolation in terms of the cultural context and that has implications for cultural understanding." Not every U.S. student has the time or ability to go abroad (only around 10 percent currently do), and bringing a variety of foreign students to campuses allows them to gain cultural and religious understanding without moving physically, she said.
Sara Kurtz Allaei is the executive director of international affairs at Indiana University-Purdue University Indianapolis. The school has a long history of partnering with the University of Tehran and accepting Iranian students to study in Indianapolis. While there aren't any students on campus through the formal partnership right now, there are still nearly 40 Iranians studying at the school; 10 students total from Iraq, Libya, and Syria; as well as an Iranian scholar expected to spend a spring sabbatical at the school.
One Indiana University researcher from Sudan made it back into the U.S. mere hours before the order took effect. As far as the school knows, it doesn't have any students currently stranded, but the order limits the likelihood that more students from those countries will be able to come in the near future and prevents students currently at the school from traveling abroad. "The students find it very stressful," Allaei said during a phone interview. "So students become quite worried about their ability to achieve their academic goals."
The order also throws the school's partnership with Tehran into question. Allaei said Indiana's chancellor sent a note to the college in Tehran conveying support for the program but acknowledged that, at the very least, there will likely be delays in getting students into the U.S. That doesn't mean Indiana will stop admitting students from the countries on the list, though. The school, Allaei pointed out, isn't prohibited from accepting students, it will just need to convey what the current restrictions are, and give admitted students information about deferring enrollment, for instance.

The order, as well as concerns about how Trump's administration will treat students who crossed into the country as children without papers, has prompted concern from students about the climate on campus, and clubs have been holding meetings. "We're trying to promote open dialogue," Allaei said.
Jamal Abdi, the policy director at the National Iranian American Council, said he thinks the order will ultimately "be devastating for scholarship." He pointed out that the order affects a group of countries whose citizens haven't staged attacks on U.S. soil. And while the U.S. certainly doesn't always get along with the countries, he said, the only way to move forward is for Americans and the citizens of those countries to find the things they share in common. Study-abroad programs, he said, nurture those exchanges. The order, he fears, will read to foreign students like a "slap in the face to the people we should be cultivating as friends, who represent a future where we have positive relations."
Temporary bans aren't entirely new. President Jimmy Carter put a temporary stop to the issuance of visas to Iranian students in the late 1970s and early '80s during the Iran hostage crisis. A story about a group of Iranian students being detained at the U.S.-Canadian border was ultimately turned into the film Checkpoint. Before that, during the mid '70s, Iran had been the country to send the most of its students to the United States.
Leila Golestaneh Austin, the executive director of the Public Affairs Alliance of Iranian Americans, said that the ban on students was limited in scope and directly tied to events in the world. This current immigration order, she said, seems to be "coming out of nowhere, really … It makes no sense." And it's not as if there haven't been federal restrictions in place. In 2012, a federal policy indicated some Iranian students would be ineligible for visas if they wanted to study certain fields, such as nuclear science. At least one university temporarily banned such students.
Scott Aaronson, a computer-science professor at the University of Texas at Austin and the author of the popular blog, "Shtetl-Optimized," wrote on his blog that he is no fan of Iran, "but when it comes to student visas, I can't see that my feelings about the mullahs have anything to do with the matter.  We're talking about people who happen to have been born in Iran, who came to the U.S. to do math and science.  Would we rather have these young scientists here, filled with gratitude for the opportunities we've given them, or back in Iran filled with justified anger over our having expelled them?"
During a follow-up phone conversation, Aaronson said he had an Iranian Ph.D. student who came to MIT several years ago visiting him in Texas and was pacing his home terrified about his future. Some students, he said, " have very good reasons to be scared to go back." And others, who might have been contemplating a post-doctoral program in the U.S. might now decide to go someplace like Canada, instead, which could "decimate academia."
His university, he said, had sent out an email saying they were concerned and monitoring the situation. Dozens of schools across the country sent similar notes to faculty and students. The president of Princeton University, Christopher Eisgruber, reflected on his own family in his statement:
Princeton's position on immigration policy issues reflects our conviction that every single person on this campus has benefited from the ability of people to cross borders in search of learning or a better life. That is emphatically true for me. My mother and her family arrived in this country as refugees escaping from a war-torn continent. They would have perished had they been denied visas. My father first came to America as an exchange student from a country that had recently been at war with the United States, and he then studied at Purdue University as a foreign graduate student.
John DeGioia, the president of Georgetown University, wrote:
Our Catholic and Jesuit identity provides the foundation for our lives together.  Guided by our mission, we have placed a special emphasis on interreligious dialogue and our openness to different faith traditions and cultures. This includes our efforts to support a diverse and vibrant Muslim community on campus.
"We still don't know" what the immigration order means, Regulska said during our phone conversation. "We just know that we can imagine certain effects and those are important." Keshavarz, at the University of Maryland, agrees. The U.S., she said, has been a place where different people and different ideas and different religions are welcome. "Now, we're seeing that changing."
Alia Wong contributed to this story.