From Graduate School to Greek Life: This Week's Top 7 Education Stories
The best recent writing about school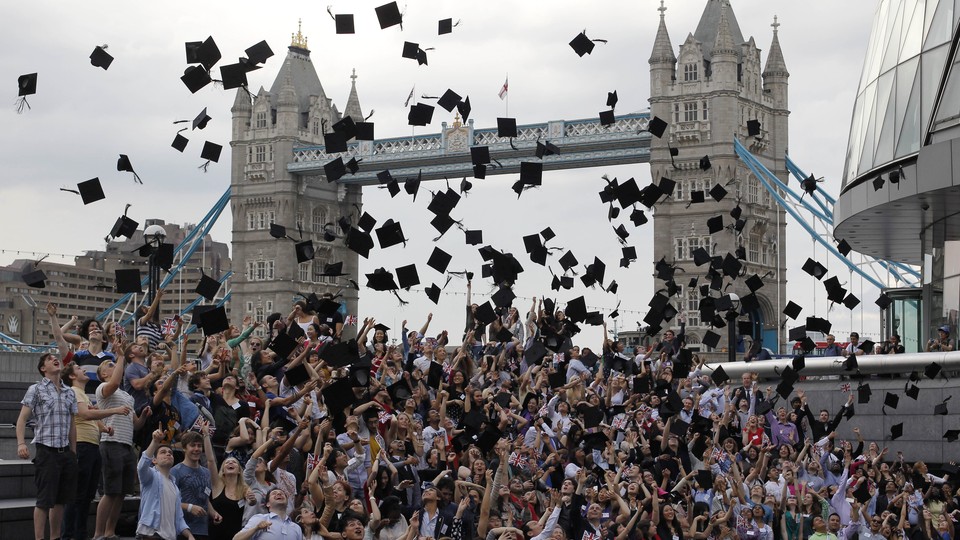 Children's Issues Dominate Texas's Legislative Docket
R.G. Ratcliffe | Texas Monthly
The Texas Legislature will convene in regular session on Tuesday for the 85th time since 1846, and, for better or worse, we should call this the Legislature of the Child. However, with available state revenues down $2.8 billion, they may find themselves, like Charles Dickens's Oliver Twist, pleading for more.
Governor Greg Abbot wants to save children from abusive parents and caretakers by overhauling the state's Child Protective Services. This will be at least the third time the state government has called for drastic changes of the agency since it was recreated in 1993, yet each reform has been a mere bandage that did not save 3,409 children from death by abuse or neglect.
* * *
How Funding Imbalances Plague Washington's Poorest Schools  
Claudia Rowe | The Seattle Times
Though federal dollars help plug the hole, Washington's vast and persistent gap in student outcomes—among the largest in the nation—suggests that kids who arrive at school with low skills are not getting what they need to catch up. … In other words, there is often little logic to the ways state officials distribute money, and a patchwork of unintended consequences.
* * *
The Economic Peril of Schools in Coal Country
Sara Gregory | The Roanoke Times
Every cut far Southwest Virginia school districts make picks the budget closer to the bone. Everything is on the table—in Dickenson County, the school board heard a proposal last year that would have saved about $40.
"We're keeping our school division together with a prayer and duct tape," the Dickenson Superintendent Haydee Robinson said.
Families have been leaving Dickenson and Virginia's seven other coal-producing localities for years, decades even, as coal has fallen out of favor and mines have shut down. But last year the coalfield school districts collectively lost about 3 percent of their students in about six months.
* * *
The Buy-One-Get-One-Free Degree Program
Michael Melia | Hartford Courant
Come for your college education, stay for a master's degree on the house. In the higher-education equivalent of a fast-food value meal, at least one university is dangling tuition-free professional graduate degrees as a way to entice applicants at a time of lean budgets and intense competition.
The University of St. Joseph in West Hartford this week made the pitch, announcing that undergraduates studying business management and accounting will be able to qualify for a fifth-year master's degree with no additional tuition.
* * *
Betsy DeVos's Deep and Powerful Pockets
Noam Scheiber | The New York Times
In announcing his intention to nominate [Betsy] DeVos, [Donald] Trump described her as "a brilliant and passionate education advocate." Even critics characterized her as a dedicated, if misguided, activist for school reform. But that description understates both the breadth of DeVos's political interests and the influence she wields as part of her powerful family. More than anyone else who has joined the incoming Trump administration, she represents the combination of wealth, free-market ideology, and political hardball associated with a better-known family of billionaires: Charles and David Koch.
* * *
The Longstanding Crisis Facing Tribal Schools
Alia Wong | The Atlantic
Havasu Canyon is home to turquoise waterfalls, billowing cottonwood trees, and red sandstone cliffs that attract thousands of tourists each year. It's also home to the Havasupai people, a federally recognized Native American tribe allegedly subject to education conditions so dreadful it's as if many of the reservation's children don't attend school at all.
That's according to a lawsuit filed in Arizona's U.S. District Court on Thursday, which accuses the Bureau of Indian Education (BIE)—the federal agency responsible for funding and overseeing tribal schools—of repeatedly failing to improve the learning environment at Havasupai Elementary School.
* * *
Confronting Greek Life's Gender Binary
Julia Jacobs | The Daily Northwestern
On Tuesday night, hundreds of Northwestern women were invited to join a sorority. For five days, they had devoted themselves to a long, intricate, and sometimes below-freezing recruitment process hoping the common belief would hold true: that a bid will be given to nearly everyone who goes through formal recruitment.
Adam Davies, who identifies as transgender female-to-male, did not get a bid. …
"They say every woman gets a bid," Davies said. "But I'm not a woman."