From Diversity to Desk Chairs: This Week's Top 7 Education Stories
The best recent writing about school.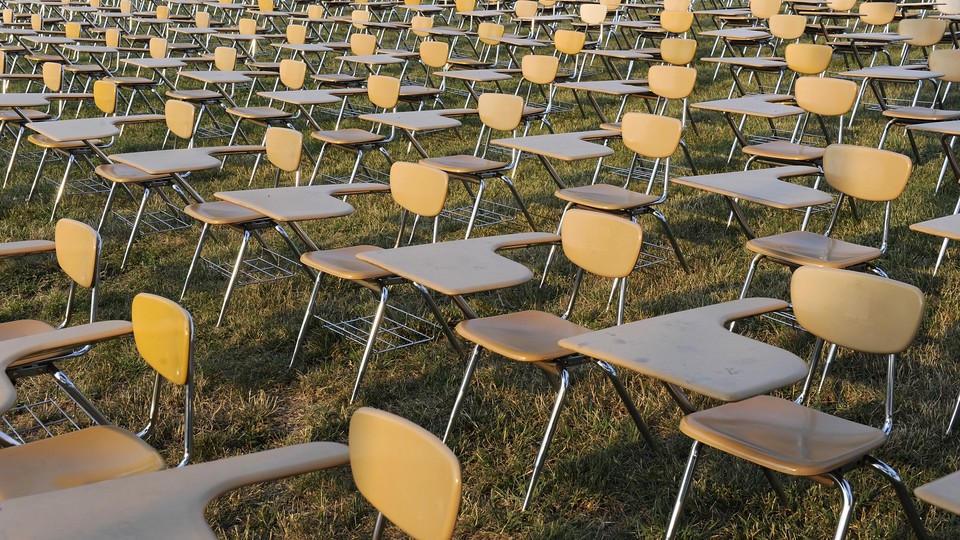 A School Championing Diversity in a Town That Resists It
Steve Kolowich | Chronicle of Higher Education
The majority of the Somali students at St. Cloud State [in Minnesota] had spent most of their lives in America. … They are part of a generation of refugees who are trying to do what immigrants in the United States have done for years: get educated, expand their horizons, and build better lives for themselves while also staying connected to the culture that sustained their elders through the traumas of war and dislocation. For the younger Somalis, a college degree represents a chance to avoid the powerlessness of life in the non-white working class.
What it might not offer them is a privilege afforded to many Americans regardless of education: the freedom to speak for themselves, and no one else.
* * *
The Grassroots Movement to Get Black Men to the Front of the Classroom
Kristen Graham | The Philadelphia Inquirer
Black male teachers in Philadelphia would reach out to [Sharif El-Mekki] periodically, asking to talk about the often lonely spot in which they found themselves. El-Mekki didn't go out looking for peers—they all gravitated toward one another.
The dinners at 48th Street Grille began—talks about how to get beyond being pigeonholed as disciplinarians, about what it's like to be constantly called upon to be experts on black culture or diversity, about how to bring their experiences to the table without being viewed as "hardheaded and uncoachable," as El-Mekki said. Eventually, the group formalized its work into the fellowship, now a nonprofit with 50 paid members.
* * *
Melissa Harris-Perry | Elle
"Just think about that scene [in It's a Wonderful Life]," Secretary King told me as we sat in his office at the Department of Education. "If you are 22 years old and just out of college, you may not have the perspective that if you are calling a parent at 7 p.m., you are not calling a blank slate." That parent is like George Bailey, King says, living his own life, filled with challenges. "If the parent just got an eviction notice, it is not going to be a very productive parent-teacher conference!"
Using this unexpected film as an object lesson in empathy perfectly captures our current secretary of education. He is an unapologetic nerd. Spend more than a few hours with him and you will likely hear some version of his self-identity: "I was a teacher, I'm the son of teachers, and teachers saved my life." You'll hear King say this, not because it is a practiced mantra, but because it is the truth of who he is.
* * *
Replacing the Antiquated Desk Chair
Megan Raposa | Argus Leader
Students in Sheremy Haas's classroom don't work in rows of desks with chairs. Many don't sit in chairs at all.
The first-grade Harvey Dunn Elementary School teacher encourages choice in where her students sit. Some find cushions on the floor. Others sit on yoga balls or wobble chairs, hard plastic stools shaped like empty spools of thread that tip gently side to side and require both feet to stay firmly planted on the ground.
* * *
The Most Unequal Schools on Earth
The Economist
[In South Africa] the gap in test scores between the top 20 percent of schools and the rest is wider than in almost every other country. Of 200 black pupils who start school, just one can expect to do well enough to study engineering. Ten white kids can expect the same result.
Many of the problems have their roots in apartheid.
* * *
How Design Thinking Became a Buzzword at School
Jessica Lahey | The Atlantic
At a recent teaching conference in Richmond, Virginia, a session on "design thinking" in education drew a capacity crowd. …
Many of the teachers in attendance were flummoxed, however. As we filed out of the room and headed toward our next sessions, I overheard one woman remark to another that while the urban-design project looked like something she'd like to try in her own classroom, "I think I missed something. I still don't understand what design thinking is. Do you?" The other teacher shook her head and said, "I think it's a curriculum, but I'm not really sure."
* * *
Student-Athletes on Their Heart Conditions
Tori McElhaney | The Red and Black
Having one athlete with a heart condition is uncommon. Having two athletes with heart conditions on the same team is almost unheard of, and that is where we find Georgia.
Junior forward Mackenzie Engram and freshman forward Kortney Eisenman have both battled through various heart conditions in the past year.
The heart conditions have left one, after months of recovery, finally able to come back to the game she loves this season, and the other with the prognosis of never playing basketball again.