Five Cabinet Nominees Who Could Affect Education
The U.S. Department of Education is not the only office with power over student-related policy.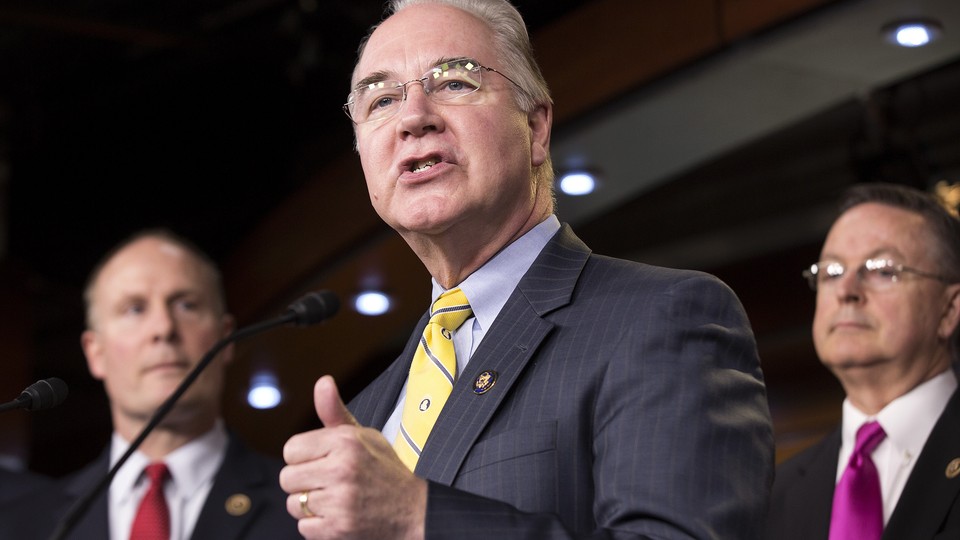 Control of school-related issues is spread across a number governmental agencies, and President-elect Donald Trump's nominee for U.S. education secretary, Betsy DeVos, won't be the only member of his cabinet to have a say in student-facing policy. The Michigan philanthropist and billionaire will face her Senate confirmation hearing next Tuesday, and many of her fellow nominees already have education records of their own. We examined five of the potential cabinet members who could influence America's schools and what their past actions might mean for students around the country.
Jeff Sessions - Nominated for U.S. Attorney General
Some civil-rights groups are concerned the Education Department's Office for Civil Rights could be moved to the Department of Justice, meaning Jeff Sessions—who has an incredibly controversial record on civil rights—would oversee it. The former Alabama senator claimed in a 2009 National Review interview to have "filed 20 or 30 civil-rights cases to desegregate schools and political organizations and county commissions when [he] was a United States attorney." However, as The Atlantic's Adam Serwer explained, this doesn't appear to be true. There is no evidence suggesting Sessions filed any new desegregation lawsuits or made meaningful legal contributions to integrate what are today some of the nation's most segregated school districts.
Sessions also harshly criticized the Individuals With Disabilities in Education Act (IDEA) in a 2000 speech on the Senate floor. IDEA protects the education of children with special needs, ensuring they receive appropriate resources, help, and evaluations. In his speech, Sessions denounced the behavioral issues he said IDEA allowed to proliferate and said the law "may be the single most irritating problem for teachers throughout America today." He argued IDEA—which has since been amended— permits children with disabilities "to commit crimes, to disrupt classrooms, to curse teachers, principals and students, and abuse them, and do so with impunity."
Additionally, during his confirmation hearing on Tuesday, Sessions said Deferred Action for Childhood Arrivals (DACA), which was developed by the Obama administration and offers temporary deportation relief to some young people, including many students, is constitutionally objectionable. He said the Department of Justice would have no issue ending the program should he be confirmed. DACA grants recipients work authorization and has helped many students gain access to in-state tuition at their local public universities.
Tom Price - Nominated for U.S. Secretary of Health and Human Services
The Administration for Children and Families wields significant control over early-childhood-development policy and is housed under the Department of Health and Human Services. If the Senate confirms him as secretary, Tom Price will have influence over funding for Head Start, which provides early-childhood education to low-income children; the Children's Bureau's welfare initiatives; and federal foster-care dollars, among other areas.
During his eight-year tenure as a state senator and representative in Georgia, and then as a representative in Congress since 2005, Price had a limited record on education issues. However, some of his other positions could reveal what is in store if he becomes the Health and Human Services secretary. He voted against paid parental leave for federal employees, relevant given the fact that the department handles grants related to responsible parenting. Additionally, he introduced a bill in 2009 to repeal the Emergency Fund of the Temporary Assistance for Needy Families (TANF) program, another area that would come under his jurisdiction. Price also opposed a bill to expand health care for children, a move in line with his conservative approach to welfare.
Rex Tillerson - Nominated for U.S. Secretary of State
The State Department runs a number of federally funded study-abroad programs and initiatives, and State Secretary-nominee Rex Tillerson's chance to either roll back or increase money to these areas could have a significant effect on American students interested in studying overseas. Not only does the State Department fund grants like the Fulbright Scholarship, but it is also home to the broader Bureau of Educational and Cultural Affairs, which facilitates cultural-exchange programs. ExxonMobil, which Tillerson lead for a decade, sponsors corporate cultural-exchange programs and offers international scholarships for students around the world.
Having not held public office before, Tillerson—whose controversial ties to Russia and Vladimir Putin are well-documented—has no legislative record on education or family issues. However, in 2013, he wrote an op-ed in the Wall Street Journal praising the Common Core standards—a now-unpopular opinion among his conservative colleagues.
Ryan Zinke - Nominated for U.S. Secretary of the Interior
Ryan Zinke, the nominee for secretary of the interior, could have one foot in the classroom via the department's Bureau of Indian Education (BIE). The division is responsible for ensuring the lifelong learning of tribal children and can provide grant money to tribal education departments. The Montana congressman is against Common Core and advocated for provisions in the Every Student Succeeds Act (the nation's K-12 education law) to strengthen technology in rural schools. The first-term congressman has a very limited education record, but his prior attention to Native American-related issues suggests he would be sympathetic to the BIE.
Ben Carson - Nominated for U.S. Secretary of Housing and Urban Development
The link between the Department of Housing and Urban Development (HUD) and education is perhaps less apparent than some other connections. However, current Education Secretary John King and current Housing and Urban Development Secretary Julian Castro have worked together on a number of projects ranging from discussions of chronic absenteeism to racial diversity in schools. (It's unclear whether or not HUD Secretary-nominee Ben Carson would prioritize similar issues.) Plus, HUD's purpose is to support sustainable cities and maintain fair housing practices there. Students at urban schools generally did not perform as well on recent math and reading assessments as their suburban and rural peers, according to 2015 data from the National Center for Education Statistics. A child's zip code and community inherently affect access to quality education, and HUD's responsibility for fighting predatory lending practices means the department could also increase families' opportunities to access better schools.
While running for the Republican presidential nomination, Carson supported school choice, a position that would be inherently intertwined with his cabinet position should he be confirmed.