Can Vouchers Save Failing Schools?
The Obama administration invested $7 billion in a school-improvement initiative that didn't work. Is there a successful replacement?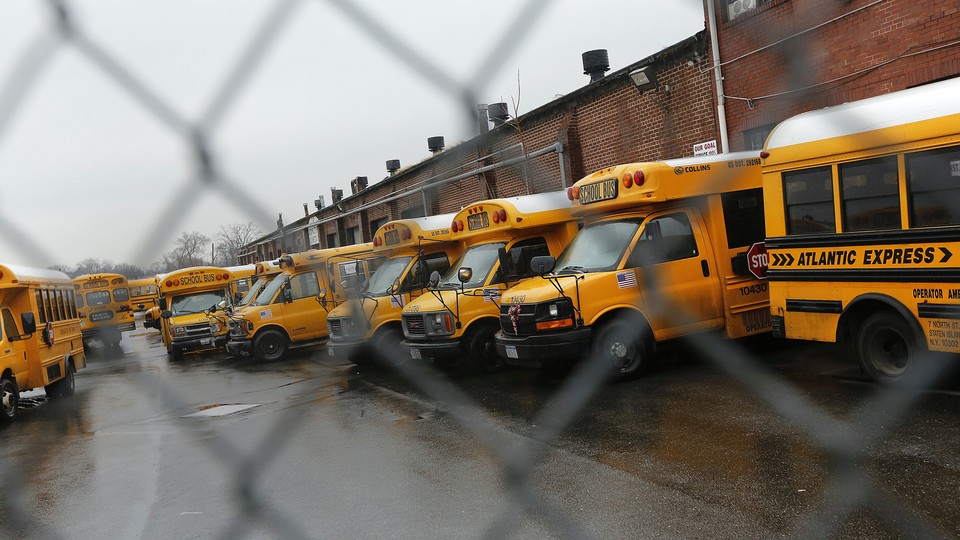 As the Obama administration came to a close, it quietly released a study finding that its biggest education initiative—a $7 billion program to dramatically improve the performance of struggling schools—was a failure. The massive School Improvement Grant investment "had no significant impacts on math or reading test scores, high school graduation, or college enrollment," the study concluded.
The finding was a major rebuke to what former Education Secretary Arne Duncan called his "biggest bet": an effort to improve performance in the nation's worst performing schools by one of four options—firing at least half the teachers, allowing charter schools to take over management, closing schools, or terminating the principal to bring about a "transformation" under a new school leader.
On one level, the results were stunning. How do you spend $7 billion, Andy Smarick of the American Enterprise Institute asked earlier this month, and end up "with results no better than similar schools that received zero dollars"?
Paradoxically, the results were also utterly predictable given the reform strategies on which it relied. Duncan's preferred approaches for reform consciously ignored the finding of Brown v. Board of Education and 50 years of social-science research: that separate schools for black and white, and rich and poor, are almost always unequal. When he launched the program, Duncan bragged that as chief executive officer of Chicago Public Schools, one of the most highly segregated school systems in the country, he and his colleagues "moved the adults out of the building, kept the children there, and brought in new adults." Duncan's whole idea of keeping the children there was premised on the belief that economic school segregation is either irrelevant to student performance or impossible to address.

Duncan has since acknowledged that failing to tackle segregation is one of his greatest regrets. Educators have long known that reducing poverty concentrations of children improves their chances of success; today, as my colleague Halley Potter highlighted late last year, 100 school districts and charter schools are acting on that knowledge.  High-poverty schools are 22 times less likely to be consistently high-performing as low-poverty schools, according to a study by the economist Douglas Harris of Tulane University. Meanwhile, data from the 2011 National Assessment of Educational Progress in mathematics show that low-income students stuck in high-poverty schools are as much as two academic years behind low-income students in more affluent schools.  Given the right environment, however, low-income student achievement can improve significantly.  Giving low-income students access to economically mixed schools exposes them to peers who are, on average, more academically engaged; a parental community that has the flexibility to be actively involved in school affairs; and stronger teachers.
Building on this research, Duncan's successor as educator secretary, John B. King Jr., last December launched a small but important $12 million grant competition to turn around struggling high-poverty schools by adopting magnet programs aimed at integrating their student bodies, thereby, in theory, improving performance of disadvantaged students. A number of school districts are planning to apply, with the department planning on doling out grants to as many as 20 of them. (I am part of a team helping Pasadena Unified School District in California prepare an application.)
Can middle-class families realistically be attracted to struggling schools that adopt a new magnet theme or pedagogical approach? If well-conceived and well-implemented, the answer is yes. Several districts—from Wake County in the Raleigh, North Carolina, area to Lansing, Michigan, and Cambridge, Massachusetts—have been successful in such efforts, according to my own research. A struggling, segregated school in Lansing, for example, became economically and racially integrated after it adopted a Montessori program; test scores improved for minority and low-income students.
The favored school-reform strategy of President Donald Trump and his nominee for education secretary, Betsy DeVos, is very different. They are likely to cite the failure of Obama's school-turnaround strategy as a major justification for a $20 billion program to allow low-income students stuck in failing high-poverty schools to choose a different school, including a private school. The program would distribute block grants, which states could then use to fund options such as charter schools and school vouchers.
Some argue that this could prove itself an effective reform tactic. Frederick Hess of the American Enterprise Institute told me that randomized controlled trial studies of private school vouchers are "more promising" than the research behind Duncan's school turnaround strategies. And you "couldn't get worse results."
But others disagree. Although Duncan's approach yielded no improvement, a study of private-school vouchers in Louisiana suggested the strategy actually led to reductions in achievement. Writing in The New York Times, Tulane's Harris noted that "students who participated in the voucher program had declines in achievement test scores of 8 to 16 percentile points." Ohio also had negative results.
To be sure, academic outcomes have been more favorable for other voucher programs. In Washington, D.C., for example, vouchers have been found to increase graduation rates, though not to increase student achievement. (The program in Washington, D.C., is currently the only one in the country that relies on federal funds.) Hess also argues that choice might "enable rethinking and new models" for educational improvement in a way that Duncan's school-turnaround strategy did not.
Creativity is indeed a potential virtue of school choice, but some of the new models may not be ones that Hess or other voucher supporters would themselves endorse. For example, in North Carolina, as my colleague Kimberly Quick has documented, publicly funded vouchers have been used to support schools that blatantly discriminate based on religion and sexual orientation. Fayetteville Christian School, for example, received more than $285,000 of public money in 2015–16 even though it declares on its website that it "will not admit families that belong to or express faith in non-Christian religions such as, but not limited to: Mormons (LDS Church), Jehovah's Witnesses, Muslims (Islam), non-Messianic Jews, Hindus, Buddhists, etc." The taxpayer-supported school also says it "will not admit families that engage in illegal drug use, sexual promiscuity, homosexuality (LGBT) or other behaviors that Scripture defines as deviate and perverted."
The whole voucher discussion may, however, spur a healthy debate that moves the United States beyond either Duncan's failed school-turnaround strategy or voucher programs that support discriminatory private schools. Trump's full-blown private-school voucher proposal is unlikely to pass Congress, Hess predicts. (Congress has never passed a national school-voucher plan.) Indeed, the Hoover Institution's Terry Moe, a strong supporter of vouchers, has argued that Americans have a "public-school ideology": They believe in the idea of public education and want it to work better.
Perhaps the debate over school vouchers can yield a compromise that accepts the premise of voucher advocates—poor kids trapped in bad high-poverty schools deserve something better—and calls for more choice within the public-school system.
The best forms of public-school choice, like that in Cambridge, include fairness guidelines that ensure that choice is used to give rich and poor the chance to go to school alongside one another. In Cambridge, students do well academically, and low-income, black, and Latino students graduate at far higher rates than do their counterparts nationally.
Imagine what could happen if, the next time a $7 billion program is created, it were used to create new programs and transportation opportunities to bring kids of different backgrounds together. At a time of declining social mobility and social cohesion, such a program might be just what the nation needs.